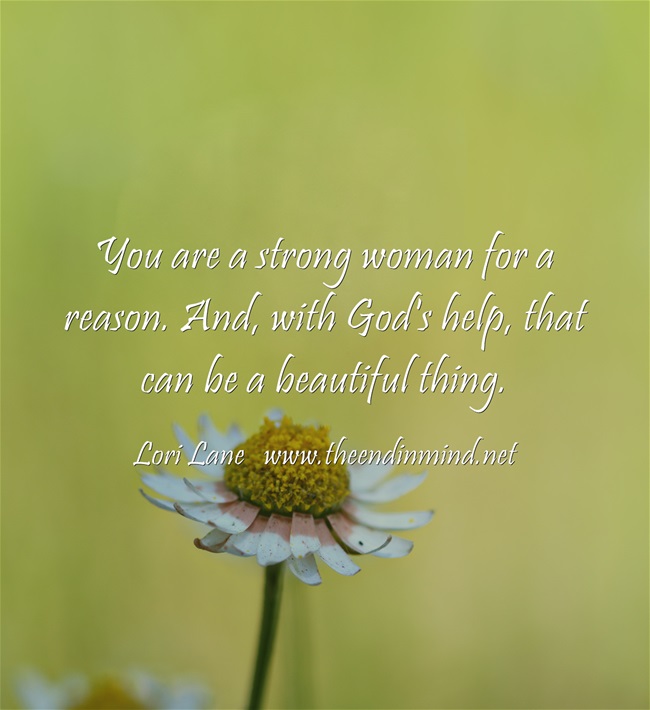 For years in Christian circles, and even more so in homeschooling circles, being a "strong" woman has had a stigma to it…a negative connotation.  It has been widely assumed that if you are a strong woman (one who is more driven, vocal or opinionated) that you couldn't possibly be in submission to your husband and that you probably "wore the pants" in your family.  If you were a go-getter, then it was automatically assumed that you were running over your husband or neglecting your children and your duties at home.
I know…I've had those assumptions made about me.  And, although I'm not perfect, nothing could be further from the truth.
Now, before I dive into this topic, let me make a few things clear.  I believe in the Biblical roles of a man and a woman.  I believe the man is the head of the household.  I believe in Biblical submission (not "patriarchal" submission in case you were wondering.)  I believe that my first priority is my relationship with God and that my most important roles and responsibilities in my life are in the areas of being a wife and mother.  I believe that anything that distracts me from my primary roles as a wife and mother needs to be either brought into line with Biblical priorities, or eliminated from my life.  And no, I don't believe in women preachers and will even go so far as to say that I don't believe that women should teach the Bible to men as Paul describes in Scripture.  (Although I know there are many who disagree with me…and we will all go to heaven together!)  Last but not least, I don't think being a "strong" woman is a more positive thing than being more "mild-mannered. Let me also say that I do not want to put "anyone" into a box because of my descriptions.  Nor, do I think the description of a "strong" woman is quite as simplistic as I have explained here. Being a "strong" woman has a lot of different looks.  However, this is my starting place…so please bear with me and hear my heart.
There is something special that happens when you turn 50!  You finally figure out who you really are.  The best part is that you are finally "okay" with it.
So here is my confession!
I am a "strong" woman and I'm okay with it.
And guess what else?
My strong (but introverted) husband is okay with it too!
(Those that know my husband are now chuckling and smiling to themselves…since when John Lane speaks, the world listens…including his "strong" wife.)
I guess I can understand the negative assumptions that I listed above…at least to some extent.  After all, we have all encountered those women who do indeed use their strong and driven personalities to nag and manipulate everyone around them. We've met those women with strong and driven personalities whose tongues are out of control and who have never learned the concept of tact or timing.  We've met those women who do neglect their families for other priorities.  They make me cringe just like they do you!  
Not every woman with a strong personality is like that.  Yet, unfortunately, we are often lumped into one big negative pile to endure negative assumptions, rumors, and sometimes ostracism.  I've experienced it…I'm sure many others have as well.
Yet, when I study Proverbs 31 I see a strong woman. I don't see a woman who doesn't make decisions on her own. I don't see a woman who isn't involved in the community or involved in a business.  I see a woman that is confident, godly, loves her husband, loves her family and understands Biblical priorities. By doing so, she is true to who God made her to be without "wearing the pants" or being out of wack in her priorities.
Let's look at a few of the phrases used to describe this famous and yet sometimes intimidating Proverbs 31 woman.
She considers a field and buys it; out of her earnings she plants a vineyard.
She sees that her trading is profitable, and her lamp does not go out at night.
She makes linen garments and sells them, and supplies the merchants with sashes.
She watches over the affairs of her household and does not eat the bread of idleness.
Her husband has full confidence in her and lacks nothing of value.
Seems to me, her husband is okay with her being a strong woman.  He trusts her judgement.  He trusts her speech. He trusts their marriage and her willingness to submit to his leadership.  He isn't threatened by that. In fact, it appears that he is blessed by it.
So why this post on this topic!
Well, it's not to give you permission or a free pass to turn your nose up at Biblical submission.
It's not to give you permission to do anything you want to outside of the home despite what Scripture says about Biblical priorities.
It's not to give you permission to be disrespectful or disparaging to your husband.
It's not to give you permission to act contrary to Scripture.
It is to tell you that it is okay to be a strong woman…a strong woman with Biblical priorities and principles at play in every area of your life.  It's okay to be the godly version of you!  God created each individual and each individual family for a unique purpose.  By necessity, that means that we are supposed to operate on Biblical principles. However, sometimes the way those principles play out within a family dynamic may look different from another family.  At the end of the day, I answer to my husband and to God in this area.  I don't answer to those who are whispering or gossiping or making faulty assumptions.
Nope, I'm not mad, frustrated or even irritated.
I just don't want you to have false guilt in this area.  I don't want you not be a true Proverbs 31 woman just because there are those around you who see her differently.
You are a strong woman for a reason.  And, with God's help and the guidance of His Word, that can be a beautiful thing.
Faith and Courage, Lori
Lori Lane – Managing Editor for Heart of the Matter Online and Founder and Executive Director of Artios Academies
Lori and John Lane have been married 30 years and live on a small ranch in the beautiful Colorado Rockies where John coaches the local high school baseball team and together with Lori, works with Artios Academies. They have four sons ranging in age from twenty-eight down to sixteen, two beautiful daughter-in-loves, and a three precious granddaughters. Lori is the author of the book, Beginning With The End In Mind, and the founder and executive director of Artios Academies. The Lane family oversees the ministry of Heart of the Matter Online. You can follow Lori at The End in Mind where she blogs about a variety of topics including life on the ranch, arts education, a Biblical worldview of education, home education and more. Her blog also offers many free resources to encourage you on your journey.