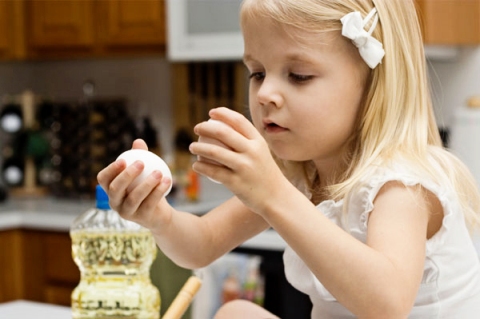 I love it when I'm not rushed and stressed to cook…but instead have an entire afternoon blocked off to bake and cook for a few hours at once. The kids are always eager to jump in!  Our 6-year-old son loves to help slice and peel vegetables and fruits for casseroles or soups.  Our 4-year-old daughter adores to "mix things" with a rubber spatula.  The smells of baking bread, the sight of cookies puffing up in the oven, the crackling sound of chicken in the pan never cease to amaze them…every time.  I am always reminded that everyday, commonplace happenings are so new and special through the eyes of a learning child.  I love how cooking with my family can not only be deemed science and "home economics," but uninterrupted quality time, as well.
Here are some ways I let our children help me cook and bake. If the task is too complicated or dangerous so that they can't join in, there are other activities they can choose to do alongside me…so at least we're still spending time together.
– Place unbreakable pots, pans, and lids in the bottom of the cabinets. The kids can pull them out and "cook," or use them as instruments. Most days I can tolerate the noise it creates!  This is a fun activity for even the littlest of chefs-in-training.
– Let them mix colored water in clear glasses. Some droppers or a turkey baster is all you'll need for this.  They'll have a blast and also gain an art lesson!
– Introduce a soap and water activity. Dump some powdered detergent in a bowl with warm water, and hand your child some hand-powered egg beaters. Watch the suds appear! (Kudos to my mom for showing me this one!)
– Make paper soup. My childhood friend, Christy, and I used to make "Cabbage Patch Kid Soup" quite often. It mainly consisted of ripped up loose leaf notebook paper, paper clips, eraser tips, colored water, and pennies. Mmmmm.
– Flour play. We've done this on a much grander scale (in the bathtub!), but you can do it at the kitchen table with some large bowls and sheets of newspaper spread out. Add some plastic snow-dwelling toy animals for some polar play!
– Get some fun fridge-based toys for them to play with. Go beyond just magnetic plastic letters and numbers. There are magnetic marble runs, battery-powered gear kits, fridge poetry kits for kids, and electronic phonics toys that stick to the refrigerator front, as well.
– Teach them how to set the table. Incorporate fun accessories for special meals such as chopsticks, fancy folded napkins, and elaborate (kid-designed) centerpieces.
– Let littlest ones help with large motor skill activities. Fun, accessible tasks for preschoolers include crushing crackers, tearing lettuce, putting ice into glasses, peeling bananas, or spreading with a spreader.
– Have them watch cooking shows with you. I have a television in the kitchen, so many times I'll have on a cooking show while I prep and cook. Martha Stewart, Emeril Live, and Alton Brown are some of our favorites. You can help explain new words and actions that they see on screen, and they'll be able to watch the entire process from ingredients to finished product in a condensed, child-friendly time frame. (Surprises may come along, too — I'll never forget the look of joy and surprise on my two's faces when Elmo walked onto Emeril's set!)

Meg Wilson is a devoted wife to her husband, Ken, of 10 years, and mom and homeschooling teacher to her 5-year-old son and 3-year-old daughter. When she's not writing or creating something, Meg loves to cook for, host and entertain friends and family. She also enjoys reading, the outdoors, eclectic music, yoga, and studying history. You can read all about her adventures (and misadventures) at her blog, Muses of Megret and read her product reviews at Muse Reviews.