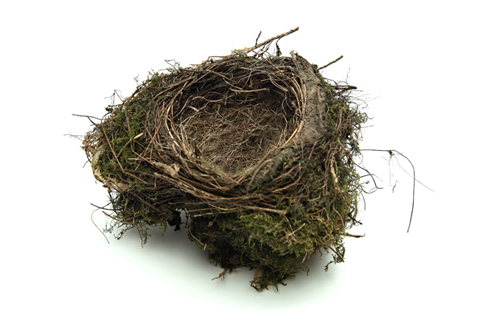 Yesterday was great!
John was gone for the day for the All-State baseball game down in Denver.  He had THREE of his players from South Park High School make the team this year and he was helping with coaching.  GO BURROS!  So, that left me at home alone…free to do…well, WHATEVER!
One of the things I had planned to do during my "empty nest" preview was to really declutter and simplify the house.  As I have mentioned numerous times, (so many times that you are probably despairing of hearing it again,) this school year was a marathon.  I bit off way more than I could chew without choking…a problem that seems to be familiar to many women.  So during the second semester, when I was literally choking and couldn't breathe, I really came to accept the fact that there were some things that were going to have to just wait until summer.
Yesterday was a day to face some of what I had put off. 
Yesterday I found myself with a house that looked pretty good through the eyes of the casual observer. But I knew that behind the closet door, in the cupboards, in the drawers, and yes, even in storage, life had become cluttered and complicated.  Now remember, one of the reasons we moved to Colorado was to get out of the rat race and simplify.  I haven't been very successful at that over the past three years.  Challenges too numerous to mention seemed to cloud the horizon of "simple living"….(a phrase I'm not sure I'm even fond of because of the guilt it brings me). This idea of decluttering and simplifying isn't new. I've been doing it as needed throughout our entire married life.  But this time, the process of decluttering and simplifying seems a bit more permanent…because instead of the family that lives within these walls growing, it is shrinking.  Soon, it will just be John and me.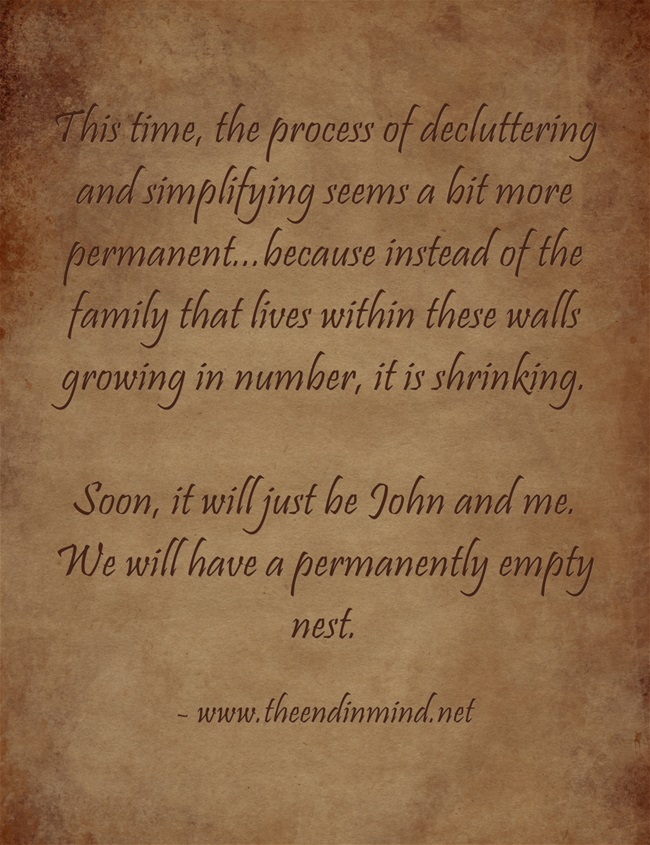 So, instead of organizing and finding new ways of storing the items we already owned and new ways of finding places for new things that were coming, this time….THIS TIME…I'm paring down.  I mean really…how many casserole dishes do you need with just two or three people?  How long do I need to keep a toy or book that someone has outgrown?  Oh dear, as I write these words, I felt sad and nostalgic.  But yesterday, all I felt was joy.  
Now, I'm not an organizing or simple life guru…I'm not even one that has to have all her ducks in a row and everything organized and magazine ad perfect.  But there comes a time, when clutter on the outside starts to multiply and make clutter on the inside and that's how I have felt for the past several months.  I have felt like my home, my heart, my mind and even my soul has become cluttered. So, yesterday I decided to dive in.  I almost got lost in what felt like inches of dust on all the wood just in my kitchen alone.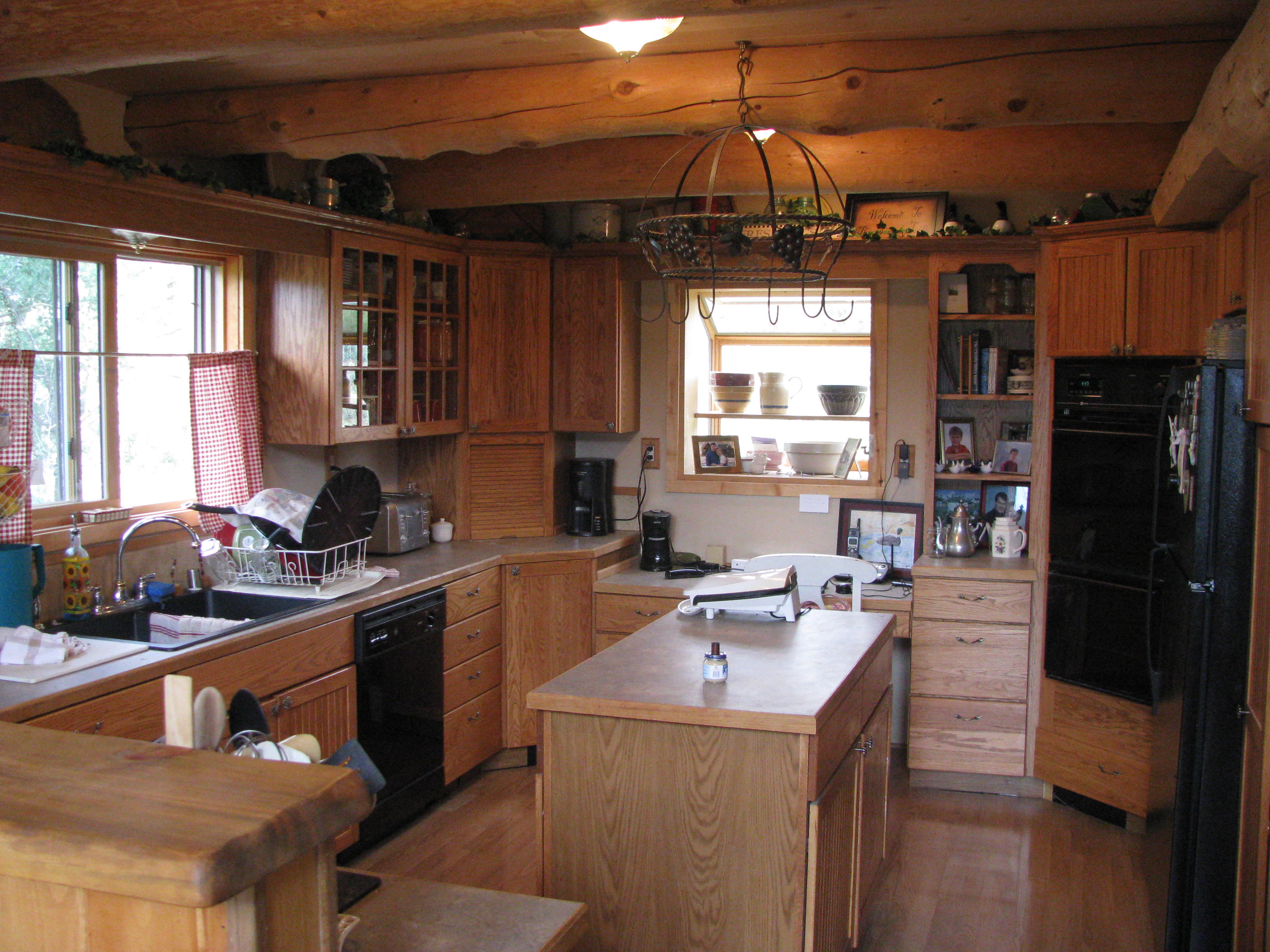 (Our home has alot of millwork in it.  It is absolutely beautiful but it is also can become a permanent resting place for the dust.  So, the chore of dusting takes on a whole new meaning.)
I could have dusted for hours. However, yesterday I didn't want to get caught up in normal chores. I didn't want to just get everything dusted. I wanted to make some real progress in the kitchen.  The dust and clutter hidden behind those cupboards and in those drawers was enough to choke a horse and it was definitely choking me. And so I began!  I didn't finish but I made significant progress. I'll share more about my process and progress later.
But today, I want to share this.
When I woke up this morning!  I realized that although I currently have an empty nest, it is rare that I go more than a few days without hearing from them.
They call to visit.
They call to talk about sports with their dad.
They call for advice or counsel.
They call to share something one of the granddaughters has done.
And, since we work together in various ways, they call about business…which usually dissolves into a visit.
You see, they may be gone from home but they are not gone from my heart and we are not gone from theirs. Yesterday was no exception! I may be decluttering and simplifying because of an empty nest…but I'm still making room for new things.
Room to focus on all that comes with Jared's last two years at home.
Room for grandbabies.
Room for more hospitality.
Room to have the mental bandwidth to gracefully enter a new phase of life.
Room for new relationships and opportunities.
Just because my kids aren't here…just because they are busy building lives where they are self-sufficient does not mean that we do not love each other. We are permanently connected. Our nest will always have room for them, their spouses and their children…and they will always have room for us.  Oh, it may look different than it was.  At times, it may look different than I want it to.  But heaven FORBID, that I become one of those moms that fails to recognize the stages of life and instead clings to those of the past and ultimately alienates her children.  Lord, please help me embrace these changes and to continue to realize that an "empty nest" is not the end…it's the beginning of something new.
Remember those days, (perhaps you are still in them) when you wished for a quiet house and sometimes wished away the present for the future?  Well, I don't want to wish away my current present, wishing for the past.
Well, this post is a bit of a wander through my mind….and you can tell, my mind is NOT decluttered or simplified.  It may never be.  But, I'm thankful that I'm sorting through it and thankful to have a place share.
Faith and Courage,
Lori