Tis the season for giving! This time of year we have many opportunities to support good causes. We've all seen those little red kettles and heard the ringing bells, right? Perhaps it's supporting missionaries, buying items for an angel tree, filling shoeboxes with goodies, or caroling through the halls of a nursing home that interests us. Whatever we choose, we'd have to admit there are many great options to help our kids understand the joy of giving.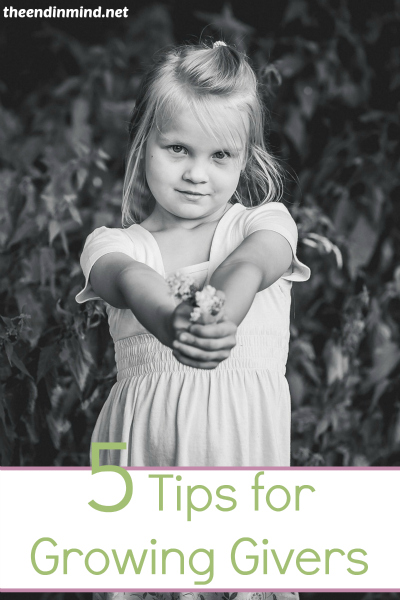 Truly there's something so precious about seeing children carry cookies to a neighbor, pick out a gift for a needy child, or sing a sweet carol to friend. Yet, often times these cute ideas, sweet gestures, and kind deeds seem to get vanish as we head into the new year.
We move on to the next holiday, birthday party, or school project. We don't mean to do it. We don't want to forget the less fortunate, but it's so hard to keep a giving mindset when life is so busy and we are so distractible.
We desire to grow children whose very heartbeat is a life of giving their time, talents, possessions and love. However, as a culture, we are doing a much better job of creating consumers than growing givers.
Consumers consume. We focus on ourselves.  We take without giving back. We seek opportunities for fun with the goal of being entertained. We look at every opportunity to see if it will work for us, fit into our schedule or benefit us in some way. When it doesn't, we are disappointed and often complain.
Givers give.  We are focused on others. We enter every situation asking questions such as, What can I do to make this better? Who can I help? What do I have to offer? We look at less than perfect organizations, relationships and circumstances, not with disappointment, but excitement; a chance to roll up our sleeves and jump in. We seek to encourage the defeated, love the lost, and provide hope to the hurting. We seek to carry God's grace wherever we go. We believe we are the hands and feet of Christ, and that we have the ability to make a difference!
Growing givers may start with a Christmas spirit of generosity, but it is cultivated over many years, lessons and seized opportunities. Here's a few tips for nurturing generosity is your kids:
OTHERS FIRST: Teach your children to go into situations, looking not for what they will get, but what they can give. Every Sunday as we drive up the hill to our church we tell the kids to remember what it feels like to be a new kid. We remind them that it's fun to see our friends and hang out with them, but it's not the most important thing. We encourage them to look for and include kids who seem new, shy or rough around the edges. They'll get to be the hands and feet of Jesus!
LISTEN AND LEARN: Teach them to converse with others. A good friend is a good listener who asks a lot of questions. Help them to make a point of finding out something new about the person with whom they are conversing. (see conversation helps here)
PRAY TO BE USED: Pray together for opportunities to be God's hands and feet. And when, not if God answers that prayer, take time to talk about how cool that is! Last week we prayed before going into the mall, and God led us to invite someone to church. We prayed for the salvation of a gym teacher, and had a neat opportunity that very week to share our faith. The stories go on and on. God is always working, but when we pray specific prayers—we get to privilege of seeing specific answers.
SERVE TOGETHER: Some of my friend's love going on mission trips, or serving down at the soup kitchen once a month. These are both great ideas—but they weren't me. Serving needs to be a natural use of the special way God made us.  I'd much rather visit the elderly widow down the street, create a gift basket for a discouraged friend, or write a weekly letter to a sponsored child. If you are doing what comes naturally, you are more likely to do it consistently.
TRADE NITPICKING FOR BRAINSTORMING: Many years ago I joined a homeschool co-op. Week after week I'd drive home and sulk over the fact I felt left out. It didn't seem as if anyone made an effort to befriend me or my family. Quite honestly, I was ready to look for other options when the Lord stretched me a bit. It's easy to do this, isn't it? What if I took my, It's all about me attitude, and instead chose a few other mothers to invest in and encourage? Sure enough, a few months went by and began making some really great friendships. Although more difficult, what if we trained ourselves and our kids to use those opportunities as brainstorming sessions to see how God might want to use us to bring about positive change.
________________________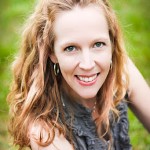 Lorrie Young – Encouragement
Lorrie is a former nurse turned homeschooling mom of three under the age of 8. She adamantly declares the two best decisions she has ever made were accepting the Lord as her Savior, and marrying her best friend and husband Ben. She is passionate about writing, family, flowers and Jesus. She primarily spends her time managing the homefront, but in her spare moments you might find her scouring garage sales for good deals, reading a book on the porch or enjoying a long walk with a friend.  She is the leader of the Women's Ministry at her local church, and she blogs about her life, and the lessons God has taught her along the way at  Life and Lessons Learned.