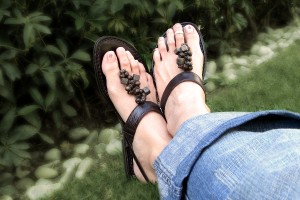 In the last two months, thoughtful home educators have published a wealth of articles on treasuring the holiday season, on establishing the right balance of rest and worship during these days, and on dealing with homeschool burnout. I wrote a blog entry myself on this last reality of the homeschooling journey. The beauty of what happens when we rest, and especially when we worship, is that our Lord begins to restore.
"I am sending you grain, new wine and oil, enough to satisfy you fully… "Joel 2:19a
How important is rest before beginning a new season of homeschooling? Think of it as the Lord explained to a group of people when he was asked why the disciples did not follow the same old rituals as the Pharisees.
No one tears a patch from a new garment and sews it on an old one. If he does, he will have torn the new garment, and the patch from the new will not match the old. And no one pours new wine into old wineskins. If he does, the new wine will burst the skins, the wine will run out and the wineskins will be ruined. Luke 5:36-37
The Lord was saying to those curious about the disciples that while He was with them, there was no need to relish what was old. Instead, they should be in a state of expectation for the new things that are about to occur. And make no mistake about it, dear friends: as He walked with them, so He walks with us in Spirit today, and we should constantly expect to move to new levels—new levels of intimacy, new levels of faith, new levels of revelation, and yes, even new levels of trial and tribulation. All of this growth changes who we are as people, and consequently, it changes who we are as home educators.
Centuries after the wisdom of Jesus, educator Charlotte Mason had much to say about rest (and nutrition) and its impact upon education. In fact, she begins with the importance of rest before she begins her discourse on educational best practices. If rest is important for a child, how much more important is it for the one who will help lead that child on a journey of ideas?
"If mothers could learn to do for themselves what they do for their children when these are overdone, we should have happier households. Let the mother go out to play! If she would have the courage to let everything go when life becomes too tense, and just take a day, or half a day, out in the fields, or with a favourite book, or in a picture gallery looking long and well at just two or three pictures, or in bed, without the children, life would go on far more happily for both children and parents…" Charlotte Mason, The Original Home Schooling Series by Charlotte Mason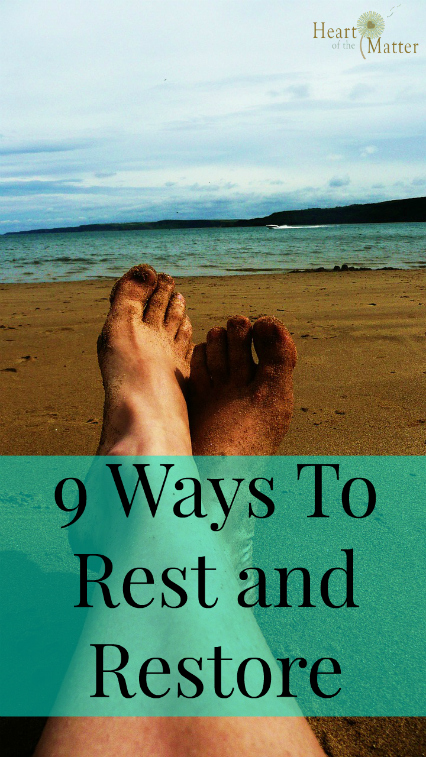 Restoration is not just about us; we may be quite comfortable with ourselves and our methods of educating our children. Yet, we sometimes need restoration so that we can restore life and energy to what is around us. Think about it: attitude is a reflection of leadership. Are those "younger mirrors" in your home reflecting what you want to see? Perhaps that attitude problem you complain about has less to do with a child and more to do with someone else in the house, n'est ce pas?
What dreams and gentle nudging bring peace and laughter to you in the wee hours of the morning as you think about your homeschool day? What did you want to be different about your homeschool, and what stands in the way? Here are just a few ways from a non-creative mom on building in new wineskin to that old methodology. Fill in your own blanks and subsets of the generic ideas listed below. I would love to see parents more gifted in this area chime in via the comments section.
Rise and shine. Getting up before the kids is HUGE for me; it literally changes the course of our day (remember that concept of attitude being a reflection of leadership?) This is praise and worship time, this is time to make breakfast and have it ready before the family rises, and this is time to think through the day and make any last-minute adjustments without feeling harried when I have to make changes in-the-moment.
Use food as education and fun. Where are you in your history studies? What foods do they enjoy in the area? Can you serve them or find some similar dish available? Also, there are foods that are served around the world, like corn or potatoes. You can travel the globe with a twist on a recipe!
Play games. I once saw a parent on a homeschool loop comment on how her friends and neighbors thought her even stranger when she explained that not only was she a homeschooler, but that her children's primary school teacher was Milton Bradley! What can you teach over a board game?
Change locations. I will confess that we have had hits and misses when moving our location from home. The last time we did this was due to an extended internet outage at our home. We sequestered ourselves in a study room at the library and had a very productive day. Other times? Not so much. Something about mixing up the location periodically revives everyone's energy about what they are doing, and generates fresh brain juice, so to speak, for managing the task at hand. Have a school day at the library, or at the park, or perhaps just get outside on the porch.
Add color. Colored, dry pasta makes a great math manipulative, as does candy (and a child might eat a small bit as a reward for work done well). A small design or free graphic on your self-created printable might spark great notebooking ideas or meaningful doodling.
Keep it simpler with pictures. Is your child covering a topic that he/she finds difficult to understand? What pictures might help illustrate the concept? The internet is such a vast world of visual-audio resources that can educate children and build upon the content of any textbook. Especially for older children, a puzzle or children's picture book can break down information into more easily digestible pieces.
Bring a map. There are so many ways to use maps in the day, and to develop mapping skills, during any study. Besides illustrating areas from the backyard to the neighborhood park, a map can be used to discuss imports and exports, foods such as spices or corn (see above), animals, land masses and various terrains, and of course, discoveries of new countries or states.
Embrace an occasional rest. Again, rest transforms into restoration. Allow a day for kids to catch-up, or simply to read, or to work on a school-related project. A break from the routine can be refreshing, and can be critical in helping build momentum and increase productivity.
Change your perspective. Have you ever thought about telling a Bible story from a different perspective? How might the story of Abraham's sacrifice sound if told from Isaac's perspective? How about having an animal nearby tell of witnessing the birth of Jesus, or describe one of His miracles? Similarly, how would American history read if told from a Native American's point of view, or an immigrant from a part of Asia? The end of the lesson would still be the same, but it would allow you and your children to see a different side of the same event.
Whatever new wineskin you pour, know that the Lord is with you, and as you step in what you believe is His will, He will bless every fish and each loaf you bring. Rest and restoration to each of you.
Belinda Bullard is a wife and homeschooling mother of three, Belinda is an author and the owner of A Blessed Heritage Educational Resources, a literature-based historycurriculum featuring African-American presence in history, as well as the contributions of other races to American history. A chemical engineer by formal education, she also serves as adjunct faculty for college distance learning programs. Belinda blogs at Simply Belinda and Chronicles of a Blessed Heritage.