Over the spring our small group went through a bible study called Respectable Sins by Jerry Bridges. Bridges shines the light on sins such as unthankfulness, discontentment, pride, selfishness, anger, gossip, and many other sins that seem more acceptable than the blatant obvious sins. As we worked through the book I had many take-aways, but the one area I especially wanted to target, and work on was the area of irritability and frustration.  I have long since made excuses for these respectable sins, stating reasons such as:
 It's only one day a month—must just be hormones!
If the kids weren't acting like that I wouldn't have this tone!
 At least I'm not as bad as the mother I saw in the Wal-mart parking lot!
Unfortunately, sin is sin, and until we acknowledge areas in our lives that don't line up with God's will for us as mothers, we are doomed to repeat and struggle with those same sins. We shouldn't accept what isn't acceptable no matter the magnitude or frequency of our outbursts, harsh tones, or momma fits.
My goal was to work, (with God) on being more gentle in my tone,  and make sure at the end of the day the kids would knew, even on the bad days, I was on their team and loved them unconditionally.
We've all heard the saying, If Momma ain't happy, ain't nobody happy! Sadly I'd say in most homes that's probably a correct assumption. Mothers set the tone for their homes and for many of us that tone can sound frustrated, angry and irritable if we aren't careful. Even those of us who claim to be sweet and gentle most of the time know there are still days, seasons and circumstances that cause irritability to creep into our hearts.
So began my journey and after about six months of soliciting prayer, combing through and memorizing specific scriptures, and journaling my frustrating moments, I've learning a few things I thought I'd share:
PRESS ON  Bridges says of dealing with these respectable sins: It always gets worse before it gets better. When I started journaling after each harsh word or annoyed thought or sharp tone I noticed there were more incidences than I wanted. This led at first to feelings of defeat. But slowly the journal entries became more scattered, and I noticed specific verses would pop into my head at just the right moment and serve as a reminder to take a deep breath and make the wise decision. With any area of sin in our lives, Satan wants us to feel defeated so we'll quit. Yet many times victory is right around the corner, if we'll press on.
SHARE  James 5:16 says when we confess our sins one to another we shall be healed. In sharing, sin is brought out of darkness, and into the light. Chances are, our humble sharing opens the door for others to openly share their struggles (even if different than ours).
PRAYER  God loves a humble heart that is willing to ask for help. And where one or more pray—BIG things happen.  Not only do I pray specifically to God for these sin areas, but I solicit the prayers of my nearest and dearest friends as well.
PLAN  People don't lose weight unless they work at it. No athlete gets better without training. Growing in godliness is no different. The bible instructs us to rely on the Holy Spirit, yet to make every effort as well (2 Peter 1:5-15) I have a stack of note cards I read often with promises, verses and quotes to encourage me in gentleness and patience. I journal the times I feel most vulnerable, and prepare for those times I am most tempted to struggle with irritability.
EMBRACE THE GRACE For many years I didn't understand the balance between God working in me, and me just working really hard and hoping for results. I was happy as long as I was doing well, but if I stumbled I was utterly discouraged. It was only when I understood God's strength to work in me, and his forgiveness when I messed up that I could let go of the guilt, and embraced the grace of the gospel to help me keep moving forward.
DIG IN   Proverbs 27:19 says, "As water reflects the face, so one's life reflects the heart."  I knew that the real root of irritability wasn't my kids' behavior or my circumstances, but something deeper. After many months of searching, praying and journaling I uncovered the root issue for me. My goals and expectations matched. I had goals for my kids and I expected the goals to be lived out. No wiggle room. And I've heard that when your goals and expectations are equal you can expect to become irritable and frustrated every time! Instead we must seek to make and keep high goals (there's nothing wrong with high goals), but we must lower the expectation well below our benchmark goals.  In doing this our expectation is that they aren't going to get it, the first second or hundredth time, and we will have to continually correct, repeat and  work with them until we begin to see progress. This changes our perspective and shows us the value in our role as both parent and teacher.
I say often, The goal is_________, but my expectation is actually_______.
If you're a momma that struggles with snappiness or irritability be encouraged God can give you victory over this area, and change the tone of your home or home school for good.
__________________________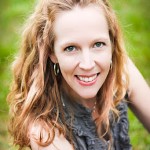 Lorrie Young – Encouragement
Lorrie is a former nurse turned homeschooling mom of three under the age of 8. She adamantly declares the two best decisions she has ever made were accepting the Lord as her Savior, and marrying her best friend and husband Ben. She is passionate about writing, family, flowers and Jesus. She primarily spends her time managing the homefront, but in her spare moments you might find her scouring garage sales for good deals, reading a book on the porch or enjoying a long walk with a friend.  She is the leader of the Women's Ministry at her local church, and she blogs about her life, and the lessons God has taught her along the way at  Life and Lessons Learned.