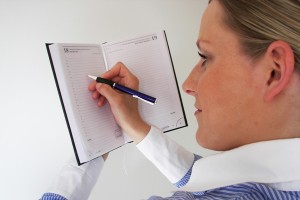 It's that time of year … the most wonderful time of the homeschool year … Christmas break!
In our house, that means a whole month of no school. A month of playing in jammies, of enjoying our Christmas trees, baking cookies, wrapping gifts, reading every Christmas-y book we can find, and decompressing from the usual grammar/math/history/geography/science schedule. The kids are thrilled to have a break in their routines, and I have to admit—so am I! No matter how much planning I do, or how relaxed I try to be, Thanksgiving finds me ready for a big long break.
Might I encourage you, dear mom, to do something else as you celebrate this Christmas season, no matter how it looks in your house?
Take a bit of this time, whether it's a few hours at a coffee shop or maybe even a week of contemplation and journaling, and devote it to your homeschool.
I don't mean you should break out the teacher guides—nope, those should probably remain on the shelves for at least a little bit. What I'd like to suggest is a mid-year homeschool tuneup.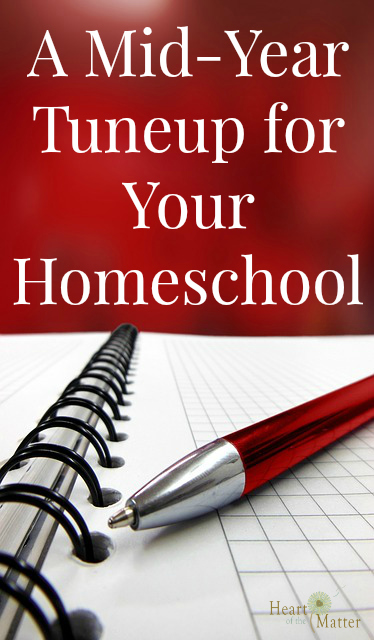 Here are some questions you might ask yourself during this time:
What's working for us so far?
Do you love the new curriculum you chose? Is he finally through crying over math lessons? Are those busy bags just what you needed to occupy the toddler during afternoon reading time? Write it down.
What's not working so well?
Is that twice-weekly dance class leaving you with no time to grocery shop? Does your son not understand science as this year's book is presenting it? Were you too ambitious in scheduling that all-inclusive curriculum and find yourself pressured every day to fit it all in? Write those things down, too.
What's my goal for my children this year?
Perhaps you want your children to improve their work ethic by developing diligence and faithfulness in their chores. Or you're really wanting them to memorize several scripture passages this year. Maybe you've seen a need for a child to develop a skill or talent that's really "their thing." You may have one major family goal in mind, or several. Seeing them on paper can help you make some determinations.
Does our schedule, budget and effort reflect those goals?
Ouch. This can be a tough one. Right now as I'm just beginning this process myself, I'm a bit baffled as to how I've let Bible study fall to the wayside at my house. Goal #1 is getting way too little attention! Yikes.
Now that you've written these things down, it's time for some thought and prayer!
I know you're already a good ways into this school year. But I mean this with all my heart—you shouldn't be afraid to make a change! In fact, if something truly isn't working for your family, the thing to be afraid of is *not* changing and being miserable or just completely ineffective in your school time. You're the one in charge of your children's education and your family's schedule, mama—if it's broken, fix it!
You'll be glad you did.
Misty Krasawski is the overly-blessed mom of eight children whom she homeschools in sunshine-y Florida. She has been clinging tightly to the hand of her Lord since she was knee-high to a grasshopper, homeschooling for the past fifteen years, and has fifteen more years of homeschooling ahead of her with the children who are glad she will have done most of her experimenting on those who went before. Her wonderful husband Rob has much treasure laid up for him in heaven for having been called to such a daunting task. She also is the author of Back to Homeschool, an ebook designed to help moms plan their homeschooling year; Community Director and a writer for MomHeart Online; hostess of an online mentoring program for moms called Titus 2 University, and a regular contributor to Home Educating Family Magazine. When the house goes to sleep, she can often be found blogging at www.encouragingbeautifulmotherhood.com.