It seems to have become a holiday tradition. Each year as I turn the calendar page to December immediately panic hits me! And each year when that happens I always wonder why I didn't schedule our schooling off for the month of December. Of course, each summer while I'm scheduling our weeks for the school year I do actually consider that fact, but while I'm sitting there sweating in the heat of August I quickly think it couldn't have been all that difficult to work on our schooling in December. Right? HA!
As I sit here writing this on the eve of the calendar page turning, well, I'm feeling that familiar panic once again. You know, it's not that our family goes hog wild with the holidays. It's pretty standard Christmas stuff…..write the family newsletter, address the cards, pull out the advent activities, buy and wrap presents, do the special baking and cooking, go to special events.
The dilemma is that all these activities are added to our regular family activities which for our family includes working on our schooling daily. Just how much can we pack into a day?
And then the month of December begins rolling along and surprisingly we fall into a holiday rhythm. Schooling a bit in the mornings and working on other activities in the afternoons. Once again I'm thankful for the flexibility of being a homeschooling family as I watch the initial panic of this holiday month disappear.
Spending time on old traditions such as hanging the stockings on the fireplace or placing favorite decorations in familiar places while we listen to Christmas music.
Or spending time trying new traditions such as making a new cookie recipe each day until Christmas and discovering new favorite treats along the way.
Enjoying the trip to the post office each day as we catch up on friends and family through their Christmas cards and letters.
Working on gifts for one another as secrets are kept.
Watching the snowflakes fall while sipping hot chocolate with marshmallows which are being stirred around with peppermint sticks.
Ahhh, there is peace found in the midst of this holiday rhythm.
But most important is the heavenly peace found our family's focus is turned toward the reminder that our Savior came to this earth as a baby. It is the remembrance of God's perfect plan that we can celebrate through the use of an Advent calendar or devotional as we look back through the Old Testament promises of a Savior, acknowledge the fulfillment of those promises in the New Testament, and rejoice in our forever future secured by the One who arrived as a baby placed in a manger over two thousand years ago. A miraculous birth is the center of our Christmas celebration as indeed Jesus is the heart of the matter!
What are your favorite old Christmas traditions? Perhaps as you share them here those traditions can become favorite new Christmas traditions for someone else! Enjoy the peace found in this season!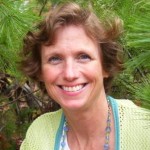 Married in 1980 and still living in the same house in a woodsy rural setting, Tammy's homeschooling journey began in the fall of 1987 when her oldest turned six years old. As rather new believers professing Jesus Christ as Lord and Savior, homeschooling was a way to live out the principles found in Deuteronomy 6:4-9. Through all the challenges of life Tammy has stayed the course growing to a family with nine children who presently range from preschool age to college graduates married with children. Her role has transitioned from learning everything she could about homeschooling to becoming an encourager to others coming along the way. Please visit Tammy at Garden Glimpses.
– originally published December 4th, 2008