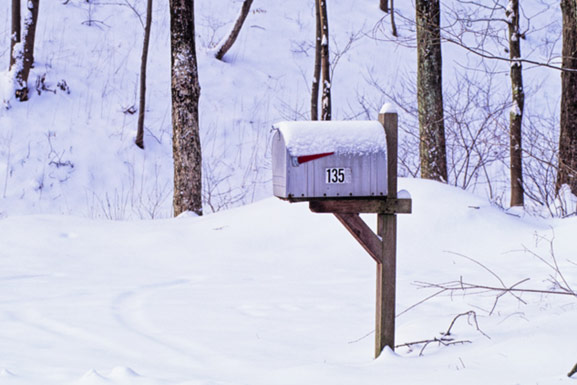 'Tis the season for writing and receiving newsletters!  While I've never gotten on the bandwagon of writing lengthy newsletters about our family's happenings over the past year to stuff in Christmas cards, I do enjoy reading those that show up in my mailbox.  And that got my mind turning one day…
My children don't crave writing time.  They will dutifully write when assigned, but would much rather do something else – anything else.  While striving to come up with some ways to make writing assignments more fun and more meaningful, I decided to assign the creation of a newsletter.  It was such a big hit with my kids that newsletters have become a staple in our homeschool.
Most computers come with a newsletter program of some sort.  The one we currently use is an option that came with Word.  If your computer doesn't have a newsletter option, you can find inexpensive software at an office supply store.  I think I paid about $10 for a program called Perfect Pro Office a few years ago and it was fantastic.
The assignment: Create a two-page newsletter for family (grandparents, aunts and uncles) telling them about your recent homeschool experiences.  Add anything you like – creative stories, book reviews, descriptions of fun activities, lists of things you've learned, field trip synopses…You must include graphics in the form of photos and clip art.  The final newsletter needs to be attractive and worthy to send to others.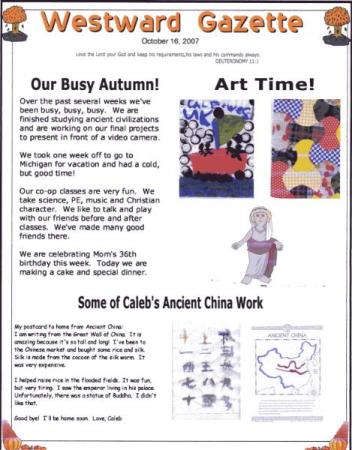 We first started writing newsletters when my children were 10 and 7.  We worked together the first couple of times so I could teach them the ins and outs of newsletter design, changing fonts, changing colors, adding graphics and more.  (Don't worry if you have never used a newsletter program yourself!  They are typically very self-explanatory and easy to learn.  You and your children can learn together.)
The photo I included is from the first year we started writing newsletters (and only shows one of two pages.)  Their skills in writing and knowing their way around a computer have definitely improved since then!  My children look forward to this assignment – even today – because it's not your typical writing assignment.  They get to be creative, they get to type rather than physically write, they get to share things that are important to them, and they have a "real" audience.  Outside family members enjoy learning about our homeschool in this unique format, too.  (And it doesn't hurt that we brag a little about homeschooling to our "non-homeschool-believing" family either.  In fact, I think some of them are becoming believers after seeing the great things we share in our newsletters!)
Whether you have hesitant writers or eager writers, newsletters can be a motivating writing assignment.  I can't wait to hear about your newsletter experiences!
Cindy West is an eclectically Charlotte Mason mom of three who loves learning alongside her children. You can find her blogging at Our Journey Westward and find her nature study curriculum at Shining Dawn Books.