Heart of the Matter is more than just a homeschooling site. It is a site dedicated to helping all of us block out the noise, blow away the fluff and get to the "heart of the matter."….the heart of the matter in homeschooling, parenting, marriage, health and most importantly….those things that God considers to be the "heart of the matter."
We hope to accomplish this by presenting you with motivational and inspirational posts, encouraging articles from "real" parents, resources so that the parents can take 100% control of their child's education, and so much more. We provide a blog that is updated daily, a quarterly digital magazine, online conferences, how-to tutorials, reviews, giveaways, and a new podcast featuring speakers who can encourage us all on our journey to the find the "heart of the matter."
The ministry of Heart of the Matter is overseen by The Lane Family.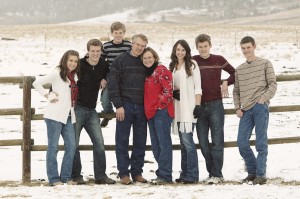 The Lane family has a deep passion and commitment to family, discipleship, and Biblical living. These passions resonate with the original mission of Heart of the Matter. They look forward to a continuation and deepening of that mission.
John and Lori have been married for 30 years and live on a ranch in the central Rockies of Colorado. They have been home educating their four boys since the fall of 1993. Three of their four boys are homeschool graduates and their youngest son is currently a sophomore in high school. They have worked with hundreds of families and their children through church, scouting, theater productions, and home education programs relating to academics and the arts including Artios Academies.
John has a lifelong passion for the discipleship of young men and fathers in their role as leaders of their homes and community. Through 20 years of involvement with the Boy Scouts of America, outdoor education and his role in home education both within the home and in outside programs, he has had the privilege to work with dozens of young men. Most importantly, his leadership within his home and with his four sons is evident in the lives of his sons.
Lori has always been heavily involved with art and education and has taught and directed choirs and theater productions in SC, GA and now, CO. In 1999 she founded Artios Academies, an arts education program designed specifically for homeschoolers.   Eventually, Artios Academies expanded to include an accredited academic program which Lori designed based on her experience as an educator and homeschool mom. She has been a speaker at various home education conferences and events and is the author of the book, Beginning With the End in Mind as well as the Artios curriculum including the Artios Home Companion Series.
John Michael (28) is the eldest of the Lane boys and he, his wife Windy and their daughter Riley May,  live in Atlanta, GA where they work and teach at Artios Academies of Gwinnett and Johns Creek. John Michael is passionate about his role in teaching Biblical Worldview classes as well as mentoring other young men and women throughout their formative years. He teaches classes in theater, economics and worldview as well as serving as the Director of Development for Artios Academies. His wife Windy teaches dance and works as a choreographer for the various theater production put on by the Atlanta area Artios Academies. John Michael also has an active role in the development of HOTM.
Jeremy (26) and his wife Jessica, along with their daughter, Emma, live in Santa Clarita, CA where Jeremy works in programming, tech support, web design and IT consulting. He and Jessica are active in Grace Community Church and lead a Bible study group with college age young people. Jeremy continues to pursue a ministry through independent film in the Los Angeles area and also works with the computer programming needs of Artios Academies.
Jordan (20) graduated from high school in May of 2011.  During high school along with his regular school studies, he also studied equine management and was active in arts related activities and classes.  Because Colorado allows home educated students to participate with local school sports, he was able to play on both the Buena Vista High School and South Park High School baseball teams where he made the All-Conference team in his position as catcher.  He along with his two older brothers are Eagle Scouts.   Jordan enjoys almost all outdoor activities including backpacking and hiking.  He currently attends college in Colorado where he is studying music and audio engineering and hopes to pursue a career in teaching and audio engineering.
Jared (15) is the last one "Lane boy" at home and seems to enjoy his new found independence. He is currently in tenth grade where his favorites subjects are not math and English but are history and music. He spends his free time outside on his horse Tokie or working with his other animals on the ranch. He continues to work toward his rank of Eagle in BSA and will complete it by December 2013.
The Lane family believes in the mission and ministry of Heart of the Matter and have followed its progress for years. Lori was one of the speakers on the first HOTM online conference several years ago and was impressed by the organization and content of HOTM. HOTM and the Lane family share the same mission of assisting parents in raising children who are grounded in a Biblical worldview and can be future servant leaders of God's kingdom. They, along with their staff have a shared commitment to the mission of HOTM, its writers and readers.