Intentional Living for Everyday Moms…..
The End in Mind is an online community for moms wanting to make each moment count…for moms wanting to live, love, and learn with intentionality.  
It is our prayer that the articles, resources, podcasts, conferences, and our upcoming quarterly digital magazine will help you in the quest to live life intentionally.
The ministry of The End in Mind is overseen by John and Lori Lane.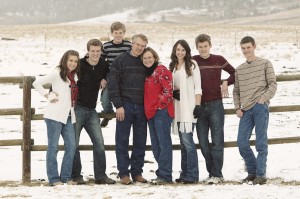 The Lane family has a deep passion and commitment to family, discipleship, and Biblical living. These passions resonate with the mission of The End in Mind.
John and Lori have been married for 32 years and live on a small ranch in the central Rockies of Colorado. They have been home educating their four boys since the fall of 1993. Three of their four boys are homeschool graduates and their youngest son is a senior in high school. They have worked with hundreds of families and their children through church, scouting, theater productions, and home education programs relating to academics and the arts including Artios Academies.
John has a lifelong passion for the discipleship of young men and fathers in their role as leaders of their homes and community. Through 20 plus years of involvement with the Boy Scouts of America, outdoor education and his role in home education both within the home and in outside programs, he has had the privilege to work with dozens of young men. Most importantly, his leadership within his home and with his four sons is evident in the lives of his sons.
Lori has always been heavily involved with art and education since 1983. She has taught and directed choirs and theater productions in schools, churches, and community theaters.  In 1999 she founded Artios Academies, an arts education program designed specifically for homeschoolers.   Eventually, Artios Academies expanded to include an accredited academic program which Lori designed based on her experience as an educator and homeschool mom. She has been a speaker at conferences and events and is the author of the book, Beginning With the End in Mind as well as the Artios curriculum including the Artios Home Companion Series.