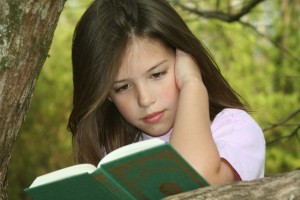 My sweet 10 year old daughter has loved books as long as she can remember. My husband and I made reading to her a priority in our home before she could even hold a book, and since then have surrounded her and our son with as many quality books as we can. The library is one of our favorite haunts, and Amazon's success is largely due to our family's book purchases, I'm convinced.
She took off with reading early and hasn't stopped. We've tried to foster reading in our home by selecting the best books we can find and by providing lots of time for relaxing with a book. Our kids have definitely bonded with books.
So when my husband, a self-proclaimed techno-geek, gently suggested a while back that she consider an eReader such as a Kindle, my daughter was, well, less than interested.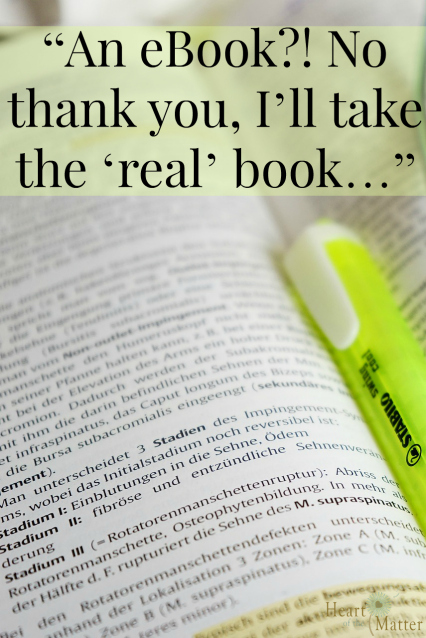 She has never been a huge fan of technology, being much happier with a book than TV, drawing with pen and paper than doodling on the iPad, writing rather than typing, and talking in person rather than over the cell phone. She loves reading about history and I am convinced would fit nicely into several of the past centuries she enjoys learning about.
Now, don't get me wrong. I don't imagine that reading from an eReader will ever evoke the cozy-comfy feelings of holding actual paper with ink, the motion of turning each page, or the sound of a binding opening to bare its contents, but there are some benefits to electronic reading. In his quest to reduce the amount of stuff (in this case, books) cluttering our house, my husband tried to explain these to her. She would hear none of it. She insisted she would never read from any sort of eReader.
Then that changed. She read a book over the summer we had ordered last year from Sonlight but hadn't been able to fit into our schedule during the school year. It quickly became one of her favorite books. She was soon asking to read all the books in the series. Hoping to keep her enthusiasm from slipping away, I tried my best to find more books in the out of print series for her. I found a few here and there, on ebay or a used-book site, but she had eagerly made it her goal to read them all, not just one or two more. Then—the good news: I found them! All 40 of them! The bad news (to her): they were only available on PDF. More good news for me is that they were significantly less money per book than the print copies would have been.
The books that did the trick? Trailblazer books by Dave and Neta Jackson. These are, according to their site: "action-packed historical fiction novels introducing great Christian heroes. Each page-turning book portrays a significant period in a hero or heroine's life and ministry as seen through the eyes of a young protagonist. A page in the front of each book explains exactly what is fiction and which events and characters are historical, and a 'More About' chapter at the end provides a brief biographical overview of the hero's life. We want kids to learn about pioneer missionaries and other important Christians . . . and have fun doing it."
These books certainly deliver what the authors promise. I love that my daughter is so zealously reading about Christian heroes and their ministries. She has read about ten of the books so far and has been enthralled by each new character. She has called them intriguing and captivating. In the process, she has learned to appreciate the technology of her generation. How? Since they were in PDF format, it was trivial to upload them to my personal Amazon digital storage and have them sync with the Kindle. Her love of the books overcame her skepticism of the eReader. She likes being able to look up difficult words on the spot, the portability and compactness of the Kindle allows her to easily take all 40 books with her into the car or to a new reading spot, and she even appreciates the search function when she wants to find a particular spot in a book. Reading in bed is even easier now, since she only has to close the Paperwhite Kindle when she's done, saving her a climb out of her cozy bed to turn her bedside lamp off.
While I was initially dismayed that these books were only available as eBooks, I am now so thrilled to have found them—less than $40 for the whole set, plus 8 curriculum guides to help with homeschooling and/or unit studies. My daughter is learning about amazing Christ-followers of the past, while stepping gently into the technology of the next generation—it's a perfect combination. My husband is also happy – saving money on a book collection and coaxing our daughter to wisely use technology.
Have the readers in your family embraced eBooks?
Katrina McAllister writes from the foot of the Colorado Rockies, where she lives with her husband and two kiddos she educates at home. She has a particular fondness for children's books, dark chocolate, and nature, and is on a perpetual quest to learn more about healthy eating and cooking. She is currently "between" blogs and looks forward to sharing her new home on the web soon. She is daily in awe that she knows a Savior who would love her enough to save her.