I hear it all the time when I tell someone that I homeschool my boys. They look at me and say,
"I just don't know how you do it."
When I mention that I'm a single mom their eyes go wide and that usually say "Wow! You must be superwoman!" The truth is that most days I don't know how I make it either. And I absolutely do not have a cape or superpowers.
When I made the decision to homeschool my boys it had nothing to do with me feeling capable and everything to do with answering a call from the Lord.  Homeschooling was not on my radar growing up. I didn't know that there was an option other than private school or public school.  Even when I went to college I didn't know anyone that was homeschooled.  It wasn't until my first baby was a born that I started to learn more about this thing called homeschooling.
I had an idealized concept of what homeschooling was supposed to look like. I was devastated when I first got started and my reality was as far from the ideal as you could get. The days are long and sometimes hard.  As a single mom I have a lot of responsibility on my plate.  As a mom of a child with special needs there's a little more piled on top.
The one thing that I have learned over these last few years of homeschooling is that there's no way that I could get through an hour or a day without God's guidance. Each day I have to lean on Him to know what to do and how to handle each new situation.  On the days when I'm ready to throw in the towel and chase down the nearest school bus I remind myself of the calling.
People ask how I manage to do it all. The answer is that I don't. I do the best that I can then leave the rest up to God.  Am I a supermom? Nope! Not even close! But I serve an all mighty God that never fails me.
A God that equips those that He calls. 
Here's the thing that sticks with me the most: when we walk in obedience to the call that God places on our lives we can be assured that He will be with us. I am constantly amazed at the things that we accomplish as a single parent family. And I am equally as blown away when I see the amazing things that my friends and other homeschool families are doing.
What about you, was homeschooling a calling for your family?
LaToya Edwards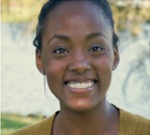 LaToya Edwards is a certified biblical life coach, writer and speaker with a passion for encouraging and equipping women to find their passion and purpose. She is also a single, homeschooling mom of two boys. You can find LaToya blogging about homeschooling, parenting and learning to find God's purpose and plan in broken circumstances at www.LaToyaEdwards.net ..