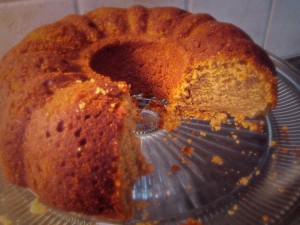 It's that time of year again! Crisp, cool, fall days when the leaves are changing and the skies are blue….and apple trees become heavy with fruit. We're packing up our little family this week and heading an hour up the road to the closest full-service apple orchard, where hay rides, fresh-made cake doughnuts, and apple cider tasting awaits us…along with lots of apples to pick, of course!
One of our favorite things to make with apples (besides the quintessential apple pie) is apple butter!
No need for fancy canning equipment or tricks…you can keep homemade apple butter in regular jars in the refrigerator for 2-3 weeks. (If they even last that long!)
Here is a fool-proof recipe for homemade apple butter. When you get tired of smearing it on warm biscuits and butter toast, use the rest of it to make the other recipe below: Apple Butter Pound Cake. It's such a unique treat! It's one of our favorite cakes to take to Thanksgiving dinner.
Enjoy!
Slow-Cooked Apple Butter
5-1/2 to 6 pounds apples, peeled, cored, and finely chopped
2 cups sugar
2 t. ground cinnamon
1/4 t. ground cloves
1/4 t. ground nutmeg
1/4 t. salt
Place the apples into a lightly greased slow cooker. Combine the sugar and spices; pour over apples and mix well. Cover and cook on high for one hour. Reduce heat to low and continue to cook for 8-10 hours, or until mixture is softened, thick, and darkened to a golden/dark brown.
Take the lid off and cook on low for another hour. Spoon into jars or other storage containers; let cool 20-30 more minutes. Refrigerate or freeze. Makes about 4 pints.
Apple Butter Pound Cake
2 c. all-purpose flour
1 c. yellow cornmeal
2 t. baking powder
1 t. cinnamon
1/4 t. salt
1 c. apple butter
1 t. vanilla
1 c. granulated sugar
1-1/2 c. butter, softened
8 oz. cream cheese, softened
2 eggs
1 c. chopped pecans (optional)
Glaze:
1 c. powdered sugar
4-5 T. milk
1-1/2 t. corn syrup
1/4 t. vanilla
Preheat oven to 350 degrees. Grease a 10 to 12-cup Bundt pan (or tube pan) well, and set aside.
Combine flour, cornmeal, baking powder, cinnamon, and salt. In a separate bowl, combine apple butter and 1 t. vanilla.
In a large mixer bowl, beat butter, granulated sugar, and cream cheese until light and fluffy. Add eggs, one at a time, beating after each. Add flour alternately with apple butter mixture. Mix on low until blended. Stir in pecans (if using).
Spoon batter into prepared pan, spreading evenly to edges. Bake 60-70 minutes. Cool in pan 10 minutes. Remove and cool completely on wire rack.
In a small bowl, combine glaze ingredients; drizzle over cake.
Meg Wilson is a devoted wife to her husband, Ken, of 12 years, and mom and homeschooling teacher to her 7-year-old son and 5-year-old daughter. When she's not writing or creating something, Meg loves to cook for, host and entertain friends and family. She also enjoys reading, the outdoors, eclectic music, yoga, and studying history. You can read all about her adventures (and misadventures) at her blog,   Electric City Academy, http://www.musesofmegret.com/reviews,  http://electriccityacademy.blogspot.com