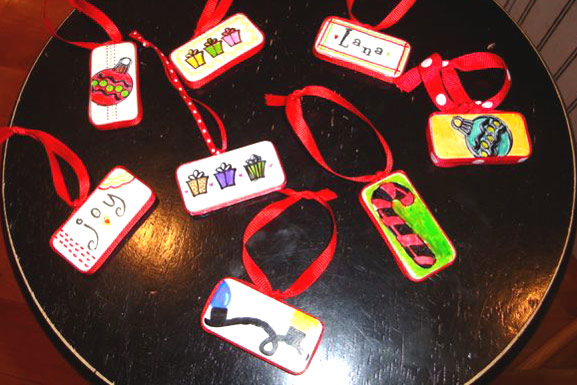 photo courtesy The Homeschool Classroom
Domino Christmas Ornaments – The Homeschool Classroom – If you're looking for fun, simple Christmas projects for your kids, this post from The Homeschool Classroom, part of a series of posts, will get you started. These ornaments are so cute and will make the perfect addition to your tree or a simple homemade gift project for the kids to give to their grandparents, aunts, and uncles.
In Praise of Free Play – Blogging 'Bout Boys – In a day and age where the expectation is that kids will be involved in organized, structured activities nearly every minute of every day, this post on Blogging 'Bout Boys points out the benefits of unstructured free time.
Powerful Words – Raising Homemakers – This post by Jamie (See Jamie Blog) brought tears to my eyes. It's an intensely powerful reminder of the weight of our words – whether positive or negative. Perhaps more often than we realize, those around us need to hear how much they mean to us.
Toni's Biggest Homeschooling Mistake: Doubt – Simple Homeschool. It's an ugly word that clouds every homeschooling parents' thoughts from time to time. In this encouraging post, Toni cautions us not to doubt our abilities without first making an attempt at those things that strike fear in our hearts.
What Kneeling on a Department Store Floor Taught Me about Gratitude – Conversion Diary – I really appreciated this insightful (and, as usual, amusing) post that points out that gratitude isn't exactly what we often assume it is.
Training Children to Overlook an Offense – The Better Mom – I only wish I'd read this article a few years ago. One of the scripture references (Proverbs 12:6) has already made its way into our scripture box for memorization.
Five Everyday Items for Toddler Learning – In a Nutshell – With supply costs ranging from free to really cheap, you'll love these simple, but engaging activity ideas that will keep your toddlers productively occupied while you school your older children – or join your little one for some fun one-on-one time.
10 Days of Language Arts – Jimmie's Collage – In case you missed it, Jimmie offered ten incredible language arts posts in the recent "10 Days" series. She has provided enough information to effectively design your own personalized language arts curriculum. Don't miss this series!
50 Rules for Dads of Daughters – From Dates to Diapers – A must-read for dads of daughters.
30 Truths about Homeschooling – The Homeschool Classroom – This post, by yours truly, shares several truths that I've learned during my nine years of homeschooling. I hope you'll be encouraged.
Kris Bales has been married to her incredible husband for 20 years. Together, they're raising their three Weird, Unsocialized Homeschoolers, who range in age from 10 to 16. Kris is Christian, Southern, and sweet-tea-addicted. She enjoys reading, writing and photography. In addition to blogging about life as a homeschool mom, you can find her at Eclipsed where she chronicles her transformation from a morbidly obese couch potato to a runner in training for her first half-marathon.