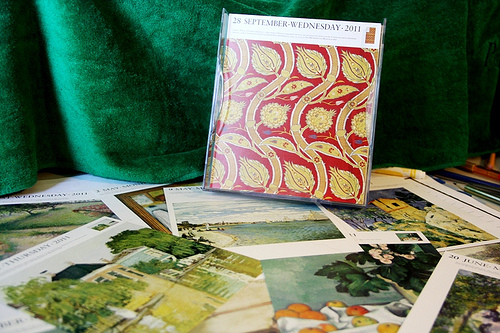 via www.jimmiescollage.com
Thirteen Ways to Reuse a Page A Day Art Calendar by Jimmie's Collage – I keep intending to order one of those Metropolitan page-a-day art calendars that Jimmie has recommended so highly. Now, I have 13 more reasons to quite procrastinating.
Cinnamon Roll Bread by Money Saving Mom – I have a friend who makes the most incredible cinnamon rolls. I've tried her recipe and mine never turn out as good as hers, plus, they're a lot of trouble. I'm thinking I might be able to handle this cinnamon roll bread, though. I bet I've got some willing taste-testers.
12 Ways of Christmas: Greeting Cards! by See Jamie Blog – Need some ideas for unique Christmas cards to send out this year? Jamie's got 'em! From fun, simple cards the whole family can help with to elegant cards that will bring out the artist in you, these greeting card ideas will get your creative juices flowing.
Get Ready! What "What to Expect" Doesn't Tell You about Preparing for Birth by The Mommy Memos – I wish I'd read these 7 practical tips before my three births. Numbers 2 and 5 would top my list these days.
Making Books in Your Homeschool by The Homeschool Classroom – Simple tips for five different types of books you and your kids can enjoy making together.
Life's Not Fair by Blogging 'Bout Boys – A mom's reflection on her role in helping her boys navigate a world that isn't always perfectly proportioned slices of pie for everyone.
Raising Strong Kids by We Are That Family – Reading this touching account of Kristen's son grappling with his "weirdness", I couldn't help but think of Isaiah 11:6, "…and a little child will lead them."
5 Things Homeschooling Has Taught Me by The Homeschool Classroom – Homeschooling is about more than academics and oftentimes it's Mom who learns as much as the kids.
Do This Today and Change Everything by Steady Mom – Do you have problems with peace in your home or is it just me? Jamie shares a simple, but profound truth about peace vs. productivity.
Strawberry Baked Oatmeal by Smockity Frocks – We love baked oatmeal! I don't make it very often anymore since it's not the most calorie-friendly breakfast choice and my kids don't like it when I mess with the basic recipe, but I'm going to have to make this strawberry version soon. Yum!
Kris Bales has been married to her incredible husband for 20 years. Together, they're raising their three Weird, Unsocialized Homeschoolers, who range in age from 10 to 16. Kris is Christian, Southern, and sweet-tea-addicted. She enjoys reading, writing and photography. In addition to blogging about life as a homeschool mom, you can find her at Eclipsed where she chronicles her transformation from a morbidly obese couch potato to a runner in training for her first half-marathon.