For the first time in my life, I was at a breaking point. All my strength and hope had been extinguished by one phone call. All of a sudden I was empty and unsure. Tears flowed without permission or cessation. When my brother told me that our mom had gone to be with the Lord, I was stunned. There are pros and cons to being blindsided. There's no worrying or wondering, but there are no goodbyes either. You're just left to deal with what has occurred. Thankfully, our last conversation ended as they all had, with love.
So when this life altering event happened, I had to make a decision about what I believed. Was God still good? Was He good even in the midst of my despair?
It was in the middle of the night, one night, when I had to make a choice. I woke up on a blowup mattress in the middle of my parent's living room. It took me a moment to remember where I was and why. My dreams were still fresh in my mind and the world of dreams blurred the present lines of reality. You see, my mother was in my dream. At first, everything was normal, then I remembered that she wasn't supposed to be there. I began to get upset and tried to figure out how I was seeing her. Then I awoke. I remembered after a moment or two that she was no longer here. I remembered with a stinging pain that I would not be seeing her again this side of heaven. Sleep was no longer an option, so I got up and quietly exited the house filled with my grieving family.
I walked along a familiar path, that I had taken many times throughout my life. It consisted of houses that had not changed a whole lot since I was a kid riding past them on my bicycle. I began to cry out to my Father asking Him why He had taken someone who did so much for Him, and who had blessed countless people with her encouragement and wisdom. To put it bluntly, I was complaining. I was wallowing in the tragic reality that my children would never know what kind of a grandmother they had.
In that moment of raw emotion, I felt like the Lord gave me a choice. I could either be grateful for the incredible mother I had for twenty-seven years, or I could grow bitter and angry over what could have been. Although I teeter back and forth at times, I know where my mind must stay. Grateful. Grateful for a mom who loved without measure, and taught me what to value in this life.
I still have so much left to learn, but one thing I have realized, (out of necessity and not my own cleverness) is that my emptiness, weakness and lack of faith, is where Christ really begins. A song that I listened to many times in the months that followed my mom's death was one that portrayed how I felt perfectly. It is a song by the well known Christian artist, Mandisa, entitled Where You Begin. The lyric that stuck with me was "I'm here again, here at my end, Where You begin." He desires for you and me to just come to Him, with our brokenness, worries and tears. I believe that He was crying right along with me when I couldn't hold back my sadness any longer.
Because my mom was such a source of knowledge and wisdom, I might have relied too much on her insight and not enough on the source of her wisdom. (If any of you lacks wisdom, let him ask of God, who gives to all liberally and without reproach, and it will be given to him. James 1:5) Although I no longer have her advice, I still have the same source she did.
Where do you feel weak today? Do you wonder if your current hardship will ever end? Are you struggling with thoughts of inadequacy? Maybe you're just about ready to give up on this thing called homeschooling. My mom would say to you…
"He who calls you is faithful, who also will do it." 1 Thessalonians 5:24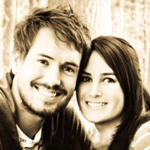 Ashley Wiggers – Encouragement
Ashley Wiggers grew up in the early days of the homeschooling movement. She was taught by her late mother, Debbie Strayer, who was an educator, speaker and the author of numerous homeschooling materials. It was through Debbie's encouragement and love that Ashley learned the value of being homeschooled. Currently, Ashley is the Editor-in-Chief of Homeschooling Today magazine, Public Relations Director for Geography Matters and the author of the Profiles from History series. Ashley makes her home in Somerset, KY, with her husband, Alex, and their faithful Golden Retriever, Mandy.