As I was pondering what to write for a post this month, my five-year-old sat on the floor nearby playing with some frozen orange juice lids that I had made into math manipulatives.  He set them up from 0 to 9 going one way, then rearranged them so they were going backwards.  So I took the opportunity, since it was available to me, to review another concept with him and asked him to remove all of the even numbered lids.  We talked about what "even" and "odd" mean, he completed the task and shortly after that, he went on to a different activity.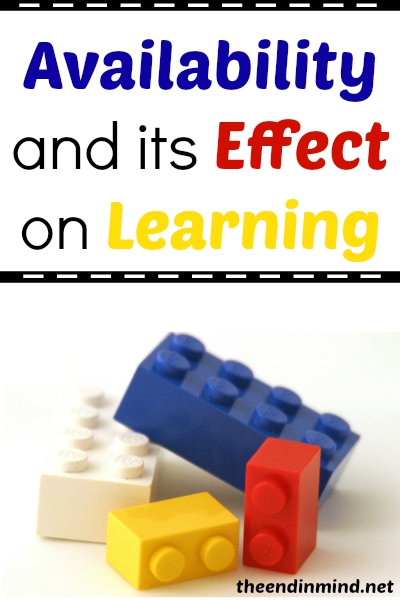 These lids just happened to be out this particular day because we had family in town.  I had given my toddler-nephew a Tupperware container and the lids to pass the time and keep his attention while his mom was away.  Both my five-year-old and four-year-old on separate occasions chose to work with them simply due to their availability.
One of the best things about homeschooling is that we are with our children for most of the hours in a day and have a unique relationship with them and their learning.  School doesn't run on a set schedule, and a little bit of planning and inspiration can go a long way toward catching those moments of focused learning that might just "pop up" throughout the day.
There are two basic ways to take advantage of these opportunities:
Availability of Materials:
I've heard this concept referred to as "strewing".  I'm not even sure if it's a word, but it simply means the intentional (and often surreptitious) laying out of materials in the hopes that our children will notice and be inspired to work with them.  With the immense amount of "stuff" in our homes, educational and otherwise, it's easy for kids to be overwhelmed and not know what to work with, often complaining of boredom amidst plenty.  Here are some ideas of materials to leave out for little hands and minds to find:
games that haven't been used in a while
Legos, wedgits, blocks, or other building toys
marble runs
cereal boxes, scissors and tape
art books with paper and pencils or crayons beside them
a challenging puzzle
play-doh tubs
CDs/books on tape
origami or kirigami supplies
tangrams
comic books, or the comics in the paper, and a book of blank comic plates to make their own
Availability of Self:
This is so simple, but much more important than the materials above.  We, as the teaching parents, need to always be mentally and emotionally available to our children, open to every question and learning-sensitive moment.  If it's true that children have sensitive periods when learning is easier and more organic (and I believe it is), we need to be there to recognize them and take advantage of them.  When my boys were working with the number lids, they were engaged and interested and actively working their minds around math concepts.  Guiding them to discuss even/odd (or skip counting, or measurement, or word problems) used those minutes, helping to make more mental connections than sitting down with them in a formal lesson would.
I am by nature a structured mom and homeschooler.  I like having a plan and sticking with it.  Sometimes I don't want to answer the spontaneous questions as fully as I should, and sometimes I miss the "pop-up" moments, but if I'm intentional to work toward that goal, I'll catch them more often than not.  And truly, being a part of the active learning process is a gift, rewarding and fruit-bearing in my children's hearts and minds, and in mine as well.
What are some ways you have taken advantage of learning moments in your home?
Christine Hiester is a Christian, homeschooling mom to three boys and a girl, ranging in age from 10 to 3 years old. She is a musician by trade, eclectic in homeschool style, and continues to grow and learn along with her children in this journey of life and discipleship at home. Visit her blog at Fruit in Season.