"All done baby!" This is the phrase people in our family use if they have had a particularly difficult/challenging day or are physically worn out. Our family shares a very unique collection of words, phrases, and quotes to communicate with one another. Sometimes it seems like our dialogues are little more than one inside joke after another. It is amazing to me how a few words can trigger a collective memory of an event. But, what is even stranger is when we adopt another family's phrase and incorporate it into our family language! Recently one of my kids said, "All done baby," a phrase borrowed from another family, and then immediately asked, "What was the story behind that again?" Although this phrase is often tossed around, for my child, the original meaning and context were foggy in details.
I realized the same thing can and does happen in the common language of the family of God. Sometimes labeled as, "Christianese," there are unique words and phrases used within the church and Christendom. Words like salvation, sanctification, or propitiation. We adults hear them and say them. Our children hear them, pick them up and begin to say them, too. But if we don't pay careful attention, they (or even we) will speak a language without truly understanding the context and meaning.
Being a visual learner, I am always grateful for word pictures that help deepen my understanding of the language surrounding my beliefs. One such word picture landed in my lap just last week.
Last Saturday, I went to a nearby airfield to observe a search and rescue training exercise. I am a member of the Civil Air Patrol and, being an auxiliary of the U.S. Air Force, wear military style uniforms. Even though I was not participating in the exercise, I was required to wear an uniform and opted to go with the easiest and most comfortable for myself, BDUs (Battle Dress Utilities) or, as they are often called, camos or camouflage. After observing for a few hours, I left the airfield and headed towards Costco, which was on my way home. I had planned to purchase only a container of blueberries for a friend that needed them for an event I was attending at her home in a few hours. But, once my husband learned I was making a Costco stop, he asked if I could pick up a few things. With list in hand, I grabbed a cart and started shopping.
Let me interrupt myself to say I rarely ever go to Costco. My husband is our official Costco patron. Health issues have made trips to Costco too exhausting and overwhelming for me. But I have turned a corner in my health and the thought of stopping at Costco seemed more like an adventure to have. . . on a Saturday morning. (Was that a gasp I heard?) Yes, since I rarely go, I had completely forgotten how crazy it is to go to Costco on a Saturday morning. . . in black combat boots and camouflage from head to toe. . . in a city where there is no military base close by and no one else is in uniform. I was already in the building when the thought entered my mind that this could be awkward, but I brushed it away and pursued my blueberries.
I was so focused on finding everything on my list that I wasn't aware that other people had "noticed" me. Imagine my shock when I was approached by an older woman and thanked for my service. What?! Oh.dear. I recovered enough to mutter a, "Thank you," before turning eight shades of red and breaking out into a cold sweat.
My "service" is simply volunteering some time and participating in activities with cadets in our unit. I think it's fun. Although we do have members that fly and are involved in risky situations, my involvement isn't dangerous. When I think of the people that wear camo that should be thanked for their service, I think of the men and women that risk their lives for my freedom. I think about the untold numbers of soldiers that have died for this country.
I hurried to get the last few things on my list not daring to make eye contact with anyone. But, it didn't matter because people went out of their way to thank me for my service. I was so embarrassed and humbled. I wanted to "explain" that I don't really do anything worth being thanked. However, our training was clear: when given a salute by someone not required to salute you, simply return the salute. If thanked for your service, receive it politely. But everything in me wanted to shout, "I don't deserve any of the respect and honor you are all bestowing on me!"
And then it hit me.
Propitiation.
According to Merriam-Webster, propitiate means "to gain or re-gain favor or goodwill of."
Scripture says, "For He hath made Him to be sin for us, who knew no sin; that we might be made the righteous of God, in Him." 2 Corinthians 5:21
The work, the sacrifice, the blood of soldiers serving this country was attributed to me by virtue of wearing a uniform I was given by an organization I voluntarily joined. The work, the sacrifice, the atoning blood of Jesus is attributed to me by the robe of righteousness I wear obtained by faith and confession that He accomplished what I could not–being made acceptable to a holy and perfect God.
The same way the people at Costco saw me through a lens of sacrifice and service of soldiers past, our Heavenly Father sees us through the lens of Christ and His perfect, sinless life and perfect, sacrificial death. All that Jesus accomplished on the Cross–payment for the penalty of sin–has been graciously attributed to any and all that choose to accept it on their behalf.
I came home and shared my experience with my family. They continue to enjoy a good chuckle at the experience. But, the illustration has been effective. We all have a "picture" of propitiation now. It is no longer a "Christianese" word of vague definition.
And I have a new found awe for all that has been given to me through the work of Christ on my behalf. It was humbling being thanked for my service at Costco, but the truth of the matter is, that experience pales in comparison to hearing, "Well done good and faithful servant," knowing it was His good and faithful service that I undeservedly share.
I hope and pray I will be diligent to make sure that my children understand not only the words of our faith, but the context, meaning, and most importantly, the person of our faith, Jesus, who is the Christ.
____________________________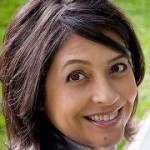 Lainie Magsarili is wife to Karl, and mom to 17,15, and 13 year old children. She has been educating at home for eight years and counting. Although her cyberpresence has faded during these busy teen years, her home school journey can be found at Mishmash Maggie (www.mishmashmaggie.com) and devotional podcast, Pause and Ponder, on iTunes. She enjoys teaching women's bible studies with her local church, as well as, sewing, cooking, knitting, and is an active member of the Civil Air Patrol in the beautiful Pacific Northwest.