I love the idea of year-round school, but summer is so broken up with activities and events and visits that it's hard to keep a routine. Plus, we're surrounded by great outdoor wilderness here in Oregon, and the sun just keeps calling us out!
I've recently come upon a fun and educational way to celebrate the events of the summer with my daughter: Kit gifts – themed goodies with inspiration and tools to explore the world around them. These are things I might be giving her anyway, but the presentation makes it exciting. Plus, the kits are available to quickly grab the next time we head camping or to the beach.
The kits can be presented in one attractive package, or on a long road trip I may choose to wrap the components individually and space out the giving. Also, I'd go for a balance in the contents: something to do alone, with someone, quietly, aloud, energy buster, etc.
You can get really specific depending on the event, but below you'll find a few general ideas.
All-Purpose Items for any kit:
Journal with pen (travel log, weather documentation, record of nature findings, etc.)
Ziploc baggies for nature specimen collections
Note cards with applicable scripture texts, game/craft/activity instructions, etc.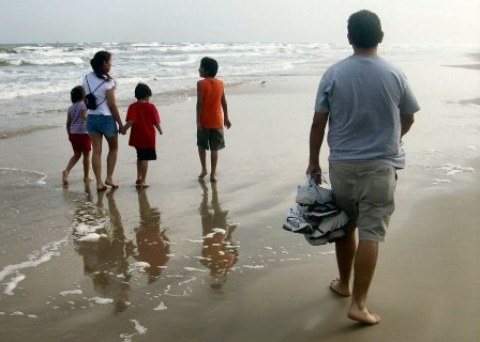 Beach Kit:
Bucket or beach bag to carry it all
Shovel, funnel, and other sand tools
Field guides – birds, shells, rocks
Tide chart for your area (find online and print)
Magnifying glass to examine sand, rocks, and shells
Science activity cards with supplies: the effect of oil versus water on feathers; melting chocolate in sun versus shade; making "sand" by rubbing sandstone or sugar cubes together; analyzing sand composition using magnets, vinegar, etc.
Empty jar and glue for making a vase with shells and/or stones
Camping:
Water-resistant camping-gear bag to carry it all
Bug catcher – or materials and instructions to make one
String to play Cat's Cradle or practice making knots
Old phone book for flower pressing
Field guides – wild edible plants, rocks, birds, etc.
Glue, string, and markers to make crafts from recycled items: phone from stringed cans, puppets from paper bags, rock collection display from egg carton, etc.
Visit to Family:
Stationery, stamps, thank you cards
Gift craft kits: cards, candles, soaps
Baking kits: ingredients for brownies, etc.
Materials to make a family tree
If multiple children: activity kits that will entertain a variety of ages, such as bubble art, cookie decorating, etc.
Road Trip:
Draw-string bag – large enough to carry it all!
Dry erase board/book with markers
Instructions for paper games
Books and CDs – a joke book is a fun variation
Crayons, pencils, stickers, stencils
Mini toys, dolls, action figures
Puppets and a book/printout of action songs to go with them
Action items for "rest" stops – large ball, frisbee, jump rope with book of jingles
Collection starter: postcards, matchbook covers, keychains, maps, rocks
The ideas are endless – almost as endless as the summer seems right now! Here's to a terrific, fun, and educational summer.
When she's not battling too-sticky play dough and untangling herself from the hot-glue webs surrounding her too-cute felt ladybugs, Jane contemplates how to instill in her four-year-old daughter a heart to change the world for Jesus. Her family has circled the globe and landed in rural Oregon where the grass is green and the sky is blue, though not usually at the same time. Their eclectic homeschool adventures are chronicled at Mozi Esmé.