Christmas in Spain is celebrated much differently than in America. One major difference? Santa Claus is no where to be found! In Spain, the Christmas season is marked by several special days of celebration. From beginning to end the Christmas festivities last about a month long.
It officially begins on December 8 (that's tomorrow!) for Inmaculada or The Feast of the Immaculate Conception. At the great cathedral in Seville, a city in the southwestern part of Spain, a special dance called Los Seises is performed by ten boys in honor of the Virgin Mary, patron saint of Spain. The boys' costumes are very elaborate. The dance has precise movements and never varies from year to year.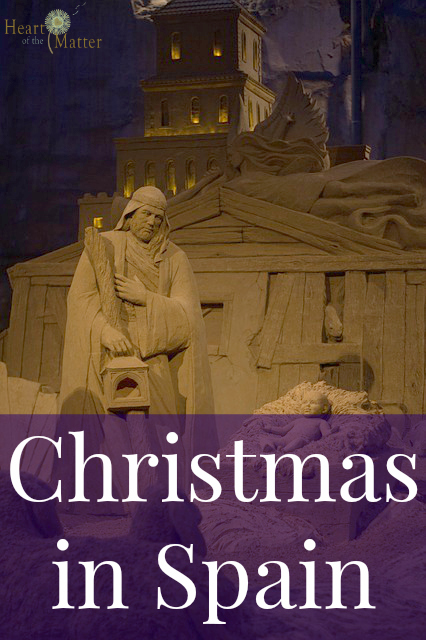 Nativity scenes called nacimientos are set up in public squares and homes throughout Spain. The nacimientos are also called "Belen," for Bethlehem, because they are very detailed and contain more than just the traditional figures. They represent the whole town of Bethlehem! Women doing laundry, olive harvesters, open markets, bullfighters and other scenes of everyday life are depicted.
(
Flower Nativity in Malaga, image credit Andalucy
)
(
Life-sized Chocolate Nativity in the little town of Rute. Image credit, Andalucy
)
Aren't those amazing? The towns of Murcia in Andalucia and Olot in Catalonia traditionally make most of the Spanish nativities.
Christmas Eve is known as Nochebuena, "The Good Night" or "The Blessed Night." It is a time for families to gather together. As darkness falls, bonfires will be lit in public squares while oil lamps or candles are lit in homes. Many families will fast all day. At midnight the festivities are interrupted by the chimes of the local church calling worshipers to "La Misa Del Gallo" (Mass of the Rooster).  Spanish tradition states that a rooster crowed the night (not the morning) that Jesus was born. The Benedictine monastery at Montserrat near Barcelona holds the biggest misa del gallo with a boys' choir performing the Mass. After Mass families will return home to break their fast with a wonderful Christmas dinner where they will feast until the early hours of the morning. An old Spanish verse says…"Esta noche es Noche-Buena, Y no es noche de dormir"  ("This is the good-night, therefore it is not meant for sleep!") The menu of the Christmas meal varies depending on the region of Spain: seafood and fish on the coast, suckling pig and lamb in Castile and Leon, birds in Andalucia. A traditional Christmas treat is turron, a kind of almond candy.
Christmas Day or Navidad is set aside as more family time, feasting, and church going. Some gifts might be exchanged among adults, but children must wait 12 more days until January 6th.
There is a tradition in Spain of eating twelve grapes at the twelve bongs of midnight on New Year's Eve, one grape with each bong. With each grape eaten a wish is made for the new year.
As mentioned earlier, Santa Claus does not play into the Christmas festivities in Spain. Children receive their gifts from the Three Kings instead! Three Kings Day, or La Dia de Los Reyes, also known as Epiphany is January 6th. The festivities begin the day before with a big parade welcoming the Three Kings to town. Here are the Three Kings at the Cavalgata, or Three King's parade, in downtown Malaga this past January 6th.
On Epiphany Eve (January 5th) children will leave their shoes out filled with straw, barley, or carrots for the camels of the Wise Men. The next morning the children will wake to find the straw, barley and carrots have been replaced with gifts for them.
I have enjoyed sharing some of the traditions of my cultural heritage with you! A HUGE thank you to my friend Andalucy for providing all the photos for this post. She lives in Spain right now with her family.
Below you will find other ideas to incorporate in your study of Christmas in Spain.
* Vocabulary – look for the bold Spanish words above. Find the definitions either right before or after them to learn what they mean in English.
* Geography – Find Spain on a map or globe of the world. Now on this more detailed map of Spain find the cities that were mentioned in the article.
* Music – My grandfather, Avi, grew up in Barcelona. (My name, Montserrat, comes from the monastery just outside of Barcelona) One song Avi always sang at Christmas was the Catalan Christmas Carol Fum, Fum, Fum. Here is a recording my sister made of him singing in Catalan three Christmases before he died. My father is playing the guitar. Be sure to turn the volume up as the recording is rather quiet.
It is one of my favorite Christmas songs so here is another dose, in English, sung by the famous Mormon Tabernacle Choir.
* Art
– Watch this video to see how to make paper plate crowns to wear on Dia de Los Reyes or Three Kings Day.
And for older children follow the instructions at Scribbit for making
Tiny Gift Boxes
to represent the gifts given on Three Kings Day.
Montserrat Wadsworth is completely devoted to her wonderful husband, Joseph, and their eight children (seven girls and one boy!). They live on a 4,000 acre alfalfa farm nestled in a small Northern Nevada valley. They've been homeschooling for 11+ years. Montserrat enjoys, photography, cooking, crafting, chocolate, and sloppy goodnight kisses. She strives to live each day as God would have her do following Mary's biblical supplication, "Behold the handmaid of the Lord; be it unto me according to thy word." (Luke 1:38) You can find her at her blog Chocolate On My Cranium.
Podcast: Play in new window | Download