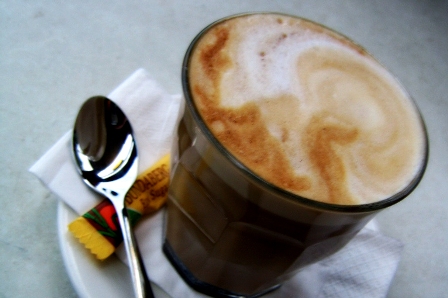 Sometimes I make great plans for a unit of study. Sometimes I wing it. Usually, in the month of November and the days leading up to Christmas, I find myself winging it a bit more. These are the days of cookie exchanges, winter plays, and impromptu sledding dates. It's hard to focus on schooling when there's fun to be had.
One of our remedies for staying on task is to take our schoolwork to a coffee shop. I choose days when I know we can accomplish assignments like coloring maps, keyword outlines, spelling word activities, math games, and online webquests or virtual activities. The big projects and our read-alouds stay at home, but we've found that because we are up early to go to the coffee shop we get home early enough to do any leftover projects at our leisure. It actually seems to create more time in our day.
Teaching different ages away from home requires a little bit of preparation on my part the night before. For my first grader I bring along any compact manipulatives I can incorporate into the day; math card games or word tiles are good choices. I also pack in some minor cutting and pasting activities and some coloring work. If you choose the right corner of the coffee shop, you can make a mess that doesn't bother others as long as you clean up as you go.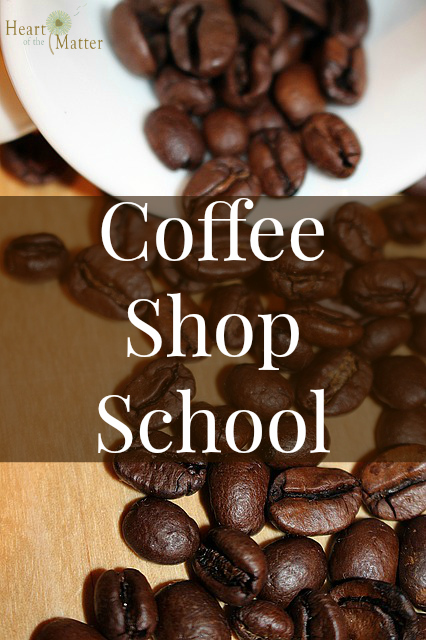 For my fifth grader I can pack more independent work: his math workbook, spelling word lists, short lapbook elements, and word searches. I bring my laptop along so we can look up answers instead of toting around the atlas and thesaurus. In fact the computer is useful for my first grader as well, who often finishes up his short work quickly and enjoys playing an educational game online while his brother finishes his work.
When I take the kids to the coffee shop it's a treat for all of us. Yes, we rise early. But the kids just need to throw on clothes and get in the car. We eat a simple breakfast at our chosen table (or sometimes we go to a shop with a cozy couch area) and then pull our work out. After completing a few tasks we stop to play a card game together. The kids sip hot chocolate while I read the lesson to them. I am more present to them because there is nothing from home distracting me. They can't wander off and get distracted either. When we leave the shop a couple of hours later, we know we're done for the day and because we're already dressed down to our shoes we stop at the grocery store or run other errands without having to motivate everyone to get out of the house.
On days like today when there's new snow outside and it feels right to let them sleep in, I'm happy to be a homeschooler who can ease up and flex with the needs of the day. But on other days when we need to power through some material and rid ourselves of distractions, taking it all away from home seems to help our focus and interest.
Debra Anderson has three sons ages 13 and younger. Her passions are education, spiritual formation, marriage, writing, and missional living — not in that order. She has her seminary Masters degree in Christian Education, is married to her pastor-husband of 18 years, and resides in Denver, CO. In spite of moves between four different states, she has always home educated her boys — even on the hard days. She maintains a blog at www.emergent-homeschool.blogspot.com.