Are you looking for a fun way to teach the primary, secondary, and tertiary colors? Want a fun, hands-on color mixing activity? Are you teaching about the color wheel? If you answered yes to any of these questions, perhaps you would be interested in this printable color wheel activity!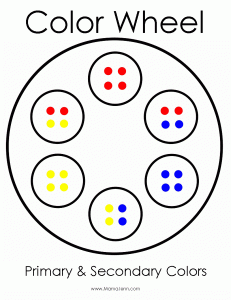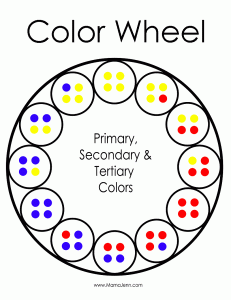 First, download and print the color wheel I made from my
Color Wheel Activity page
. Laminate it or slide it into a sheet protector. Now, get your supplies together. In addition to the color wheel printable, you will need the following:
food coloring (red, yellow, and blue)
a dropper (we used an old medicine dropper)
3 containers/cups for the food coloring
Once all of your supplies are ready, dilute the food coloring a bit. Use the dropper to place a drop of each color onto the corresponding dot on the paper (For example, drop one yellow on each yellow dot; drop one blue on each blue dot… and so forth) until all of the dots are covered with the appropriate color. Be sure to clean the dropper in a cup of water each time you switch colors.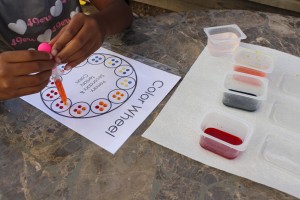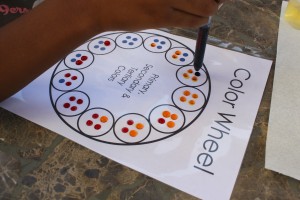 Next, use the toothpicks to mix the colors in each circle. We found that it works best if you turn the toothpick a bit on its side rather than trying to mix while holding the toothpick straight up. Use a different toothpick for each circle.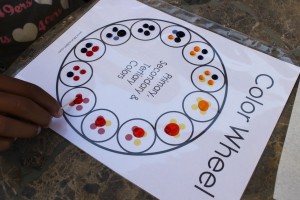 Once all the circles of color are mixed together, place a paper towel over the paper.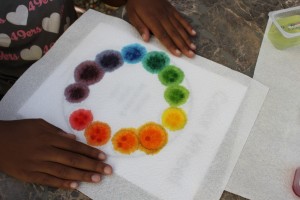 Finally, lift up your color wheel and discuss how each color was made!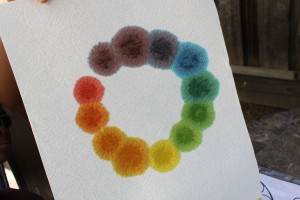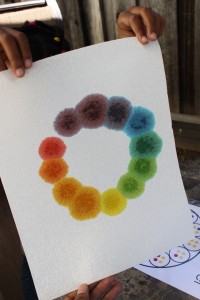 Jennifer is a happily married, Christian, homeschooling mama of five little ones (ages 7,5,5,3,3). Yes, two sets of twins! She has a BA degree in Mathematics and holds a masters degree in Education. A former high school math teacher, she now uses all her education to teach her own kids! In her "spare" time she enjoys scrap-booking, though blogging seems to be taking its place. She currently has five blogs. Mama Jenn is her main blog. Education Cubes features customizable learning blocks. The Homeschool Resource List is a collection of free online resources. The "Brown Like Me" Book Review showcases books featuring "brown" characters. The Living Math Book List is a collection of living math books.