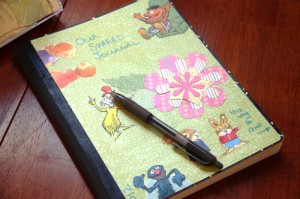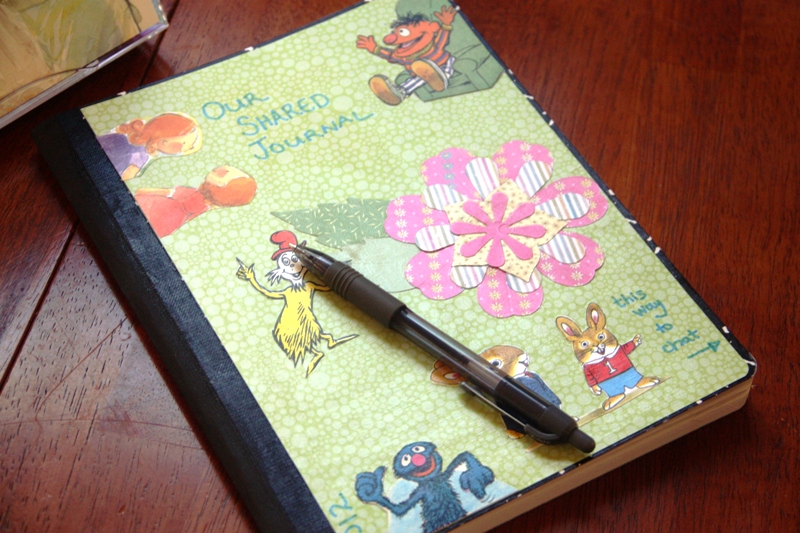 When our children go through adolescence, they seem to change dramatically. Even very close parent-child relationships are tested during the tween and teen years as children push their boundaries and grapple with conflicting emotions. Although they long to share their hearts with us, teens are often caught in an awkward sense of embarrassment. It is so hard for them to realize that we, too, went through this difficult stage. And to be honest, sometimes we grow impatient with their moodiness and trivialize their very real frustrations.
My twelve year old daughter and I have started communicating with a shared journal. So far it has been a great way to keep the lines of communication open. I snagged a composition book from my back-to-school stash and added some fun decorations with Mod Podge. The journal itself is not the key, of course. You can use any blank book or notebook. Whether you decorate it or not, it's the ideas inside that are essential.
On the first page of the journal, I wrote a note to my daughter, explaining what this journal was to be about.
Our Conversation Journal
This journal is for both of us to have conversations back and forth. It is not an assignment; there are no due dates. When you get the journal, you can reply and give it back to me. Then I can reply back to you. It may take a few days. Sometimes the journal may even get lost. But we will keep going as long as we can. Then you will have a treasured record of our ideas.
Love, Mom
To start off, I wrote the first entry. It shared my pride at how Sprite has been handling a tough situation in a godly way. I added a few Scripture verses that applied to the situation, and passed the book on to her. The very next day, she replied with some concerns about her future career.
Yes, it does seem silly for a twelve year old to be worried about such far away issues, but that is the point of the journal – each person can share what's on her heart. If I were face to face with Sprite as she shared these things, I would likely discount her concerns as premature. But when I read them in a journal, I can be more careful about my reactions and write things to encourage and uplift rather than dismiss and criticize.
And so it continues. In the few short weeks we have used the journal, it has already recorded disagreements when we were angry. Fortunately it also holds the apologies that came later. I fully expect the journal to be a treasure both during these tough years of adolescence as we struggle to keep the lines of communication open and also in the future as we look back at our dialogues.
I wonder if a shared journal might benefit you and your tween or teen? Give it a try and let me know how it works for you.
Jimmie is a former public school teacher turned homeschooling stay-at-home-mom. Her only child, Sprite, is a creative middle school student who loves the arts and living books. Jimmie uses a loosely Charlotte Mason approach with lots of notebooking and field trips. Visit her blogs Jimmie's Collage and The Notebooking Fairy.