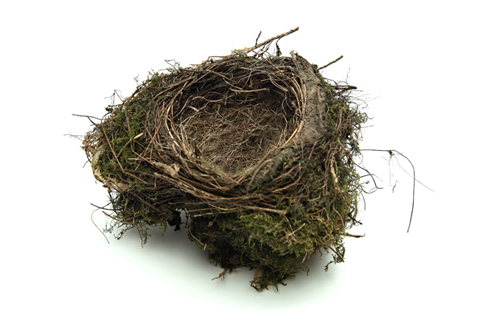 I wish I was more eloquent…more succinct, and more able to communicate my thoughts and feelings on this topic.  I think it is a topic that needs to discussed more often and in more settings.  Alas, I'm going to do my best to share my heart with you on this very important topic.  I hope you will stick with me to the end of the article, so that you can join in the discussion on…
Community.
I grew up with it and never realized what it was.  I am a private school graduate so I didn't attend our local public school growing up.  My community revolved around church and school and many of the same people were involved in each.  (that does have some "problems" to it…but I digress…)  Some of these people saw me grow up since I started to school there in the fifth grade.  They saw me grow, change, make good AND bad decisions, succeed and fail.  They saw me happy, sad, single and "in a relationship." They saw me perform in the band, in the choir, and on the piano.  They saw me graduate, go off to college, come home, get married and move away.  It was not a perfect community.  But for me, it was an important community.  In many ways, it gave me a sense of home, a sense of stability, a sense of security.
Yesterday, I attended the graduation ceremony of the Class of 2014 at what I consider to be our local high school.  (25 miles away)  The graduating class contained some special young men that John has coached on the high school baseball team throughout their high school careers.  There were 24 graduates in all…about the same number of graduates as Artios of Gwinnett had for 2014.  Throughout the ceremony, I was reminded time and time again of the importance and significance of community…not just for students but for parents and families.  
We moved to Colorado 8 years ago now.  We moved for many reasons but one of the most significant reasons was to find a simpler and slower pace of life.  You've heard me talk about that before.  Not everyone has the choice to choose where they live, but at that time, God had opened the doors for us to be able to do just that.  John worked for a corporation that allowed him to work from home and we had structured Artios in such a way that I could also move to a different role and work from anywhere.  Door after door opened, and we walked through them joyfully.  So, we moved to what many would consider the middle of nowhere and began a search for a new community.
Community can happen anywhere.  It doesn't have to be a specific small town.  It doesn't always happen within a church.  It doesn't always happen at a school or a particular program that you are involved in. But it does need to happen.  For me, growing up, it happened at our church and school, not within the neighborhood where I lived.  For my two older boys, it happened within Artios.  There was a group of kids that had grown up together there.  They had been involved in the program for years and when it was time, they all graduated together.  To this day, MANY of them still stay in touch and some still get together. It became a lasting type of community and association.  For our third and fourth sons, it happened in a completely different way…and when it wasn't there, we all felt it.
What am I getting at?
Yesterday, at this small town graduation, I was once again reminded of the importance of community. The speech given by the salutatorian really hit on this point.  60% of that graduating class had been in that school system since preschool.  That means that some of the teachers there had seen those kids grow from preschool through high school.  That means that some of the families had known each other that long and had encouraged each other along the way.  That means that in attendance at this graduation, were "empty nesters" who were still a part of that community even though they no longer had their own children enrolled.  They knew that it was important to stay involved in these kids lives.  The salutatorian mentioned how all of those things had given her security…that being in a small school had never bothered her…that she didn't feel the need to get away from small town living.  Community had given her roots and lasting relationships.  It gave her a place to come home to.
And, I thought of homeschooling.  Now, you know I am an advocate of homeschooling!  For pete sake, I've been doing it for 20 years, I better believe in it.  Although, I don't believe it is the answer for everyone, we believe it has been the right answer for us.  But I also know that there is a bit of a speed bump that homeschoolers often get stuck on because they don't see it and they don't recognize it…and that's the need for community for their children.  Yes, I know that family is EXTREMELY important.  If you have read my writing, you know I believe that with all my heart.  But children also benefit from a sense of community.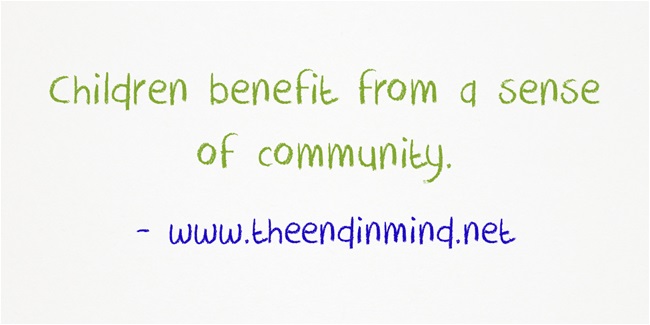 The problem that I see is that we have a very transient society which makes finding true community difficult.  This is even more true with homeschoolers as they feel more free to make their own choices, as they make themselves transient and jump from program to program, teacher to teacher, church to church and never allow true community to form.  I understand the need to find community that "fits", that has positive influences on our children.  I get it!  I do it!  But, I also am concerned because I see homeschoolers without a sense of community…anywhere…not at church, not in homeschooling, not in outside activities…no where.  They won't stay put long enough to develop it.  They see a problem or an issue and instead of being part of the solution…they run.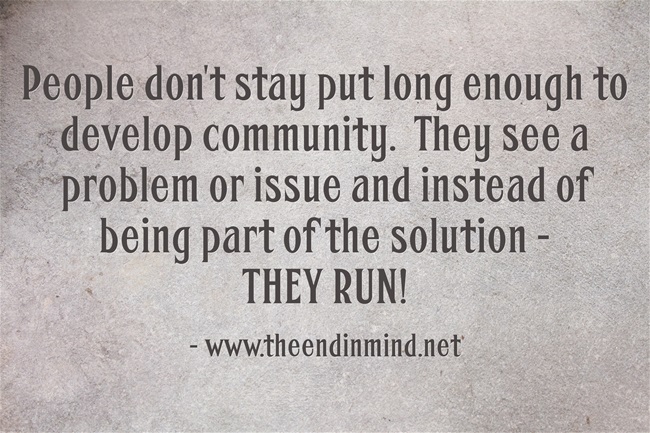 Now, there is a difference between "socialization" and community.  The whole "socialization" issue is pretty ludicrous for most homeschoolers.  Most homeschoolers are socialized out the whazoo!  But that's not what I'm talking about…I'm talking about roots and relationships.
We've made some mistakes in this area with all the boys along the way.  But one of the things we did right, was to find a group that were "our people" (do you know what I mean) and stick with them. That group developed into Artios of Gwinnett over the years.  When we moved, we started over and that community looked differently in Colorado than it had in Georgia.  In the case of our last son, we actually had to make that group by starting Artios of Littleton, knowing that we would find "our people" by doing so.  We had to stick with Scouts and baseball even when it was difficult…because we knew we would find "our people" by doing so. And, we did! We had to cultivate our own community…and I believe it has made a difference…to our family, to us as parents, and to our boys.
Yesterday, I saw a local community who within their public school had 24 graduating seniors.  I also saw a community that had come together and created community related scholarships for those seniors that totaled over $64,000.  (not counting scholarships given by colleges themselves) I had never, NEVER seen anything like it.  That may not sound like much to you…but we live in a very, VERY rural county. In our ENTIRE county there are approximately 16,000 people with a per capita annual income of approximately $25,000.  Instead of focusing on the problems inherent with living in a rural setting and the smaller amounts of money available per household, they created solutions.  There were local scholarships given for as little as $250 and local scholarships given totaling $12,000.  There were about fifty local scholarships in all.  Why?  Because this community loved these kids…they KNEW these kids…and they cared about these kids.  They are committed to their community.
Community doesn't always look or develop exactly the same.  This year I also attended the graduation ceremony of the Class of 2014 at Artios of Gwinnett this year.  I was privileged to have been asked to be their graduation speaker. The same cheering for individual graduates that I saw yesterday at the local public high school was the same type of individual celebration that I had seen at Artios of Gwinnett. There was a sense of community at both graduations.  There were families and students that had started at Artios of Gwinnett in kindergarten and had been together all the way through. I saw families who had given countless hours in order to help to build a program in Gwinnett that would both meet their families educational needs but also their need for community.  Both communities, our local high school and Artios of Gwinnett, had experienced triumph together and had also experienced loss and grief. There was the same sense of celebration for the individual student.  There was the same sense of "home"….a sense that although they were leaving that community, at least for a time, that there would be hundreds of people "back home" that would be cheering them on. I know this community also exists at other Artios campuses, in other programs and at other local schools. However, I'm afraid that across the country, a true sense of community is the exception and not the rule because community necessitates commitment to one another…and people are afraid of long-term commitment.
You are probably still wondering what I'm getting at.  
Because of our propensity to independent thinking, homeschoolers often forget about the importance of long-term community for them and for their kids.
If you aren't a homeschooler, this applies to you too!  How often do we sit and criticize what is wrong with our local communities, schools, churches and more, but NEVER get involved in finding a solution.  Let's be part of the solution.
Community gives roots and relationships.
Community doesn't mean there aren't problems and issues.  It does mean that there is a core group that are committed to each other to find solutions to those problems and issues.
If you can't find community, you can create it!
True community looks different for different individuals.
Understanding the importance of community means you realize that it isn't about YOU.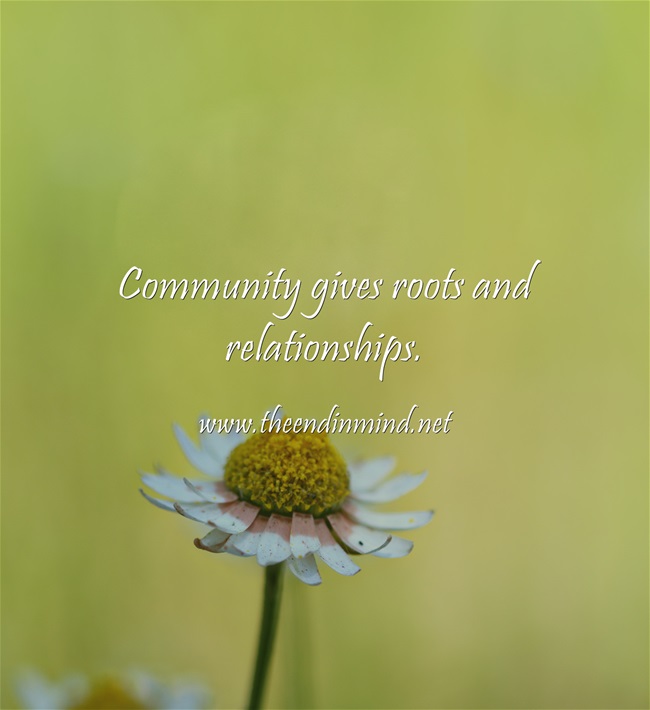 Again, I wish I was more eloquent…more succinct, and more able to communicate my thoughts and feelings on this topic.  I think it is a topic that needs to discussed more often and in more settings.  I think we must realize the importance of community both for us and for our children…both now, and during the empty nest years.
Where do you find your community?
Faith and Courage,
Lori