Here is a simple idea to spice up your homeschool lesson – make a cootie catcher! All you need is a square piece of paper, folded according to these directions.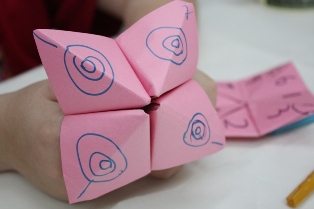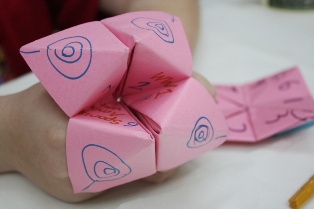 Usually the person holding the cootie catcher asks his partner to choose a number. Then he opens the cootie catcher back and forth that many times. Next the partner chooses a numbered flap from the exposed sections and answers the question underneath. You don't have to use numbers. You can use colors, symbols, or letters to label the flaps.
Your cootie catcher has four flaps, each with two portions. So in all, you've got a maximum of eight sections for information.
Think of all the ways you can use them:
Math Facts (times nine multiplication facts, for example)
Fraction and Decimal Equivalents
Spelling practice
State abbreviations
Actually, cootie catchers work well for questions on any topic. Have your child select the questions and write them inside the flaps. Then let her manipulate the cootie catcher as you choose a flap.  Since your child has the cootie catcher, she has to say if your answer was right or wrong. Then switch roles and quiz your child.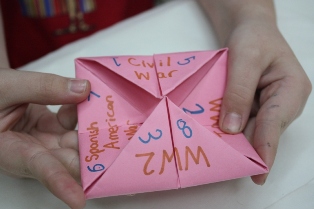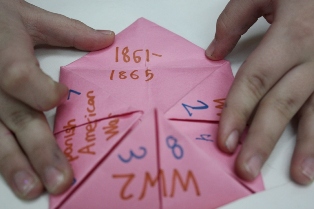 See how much repetition is happening? You child chooses the questions, writes the questions, asks you the questions, and verifies your answer. These cootie catchers are wonderful, sneaky things!
For variety, try these altered cootie catcher ideas:
Use a BIG square for a super sized cootie catcher.
Use colored paper or decorate the cootie catcher with stickers, stamps, or sequins.
Have you ever tried using cootie catchers for homeschool? What topic did you use? Have any photos to share with us? Your comments are always welcome.
Jimmie is a former public school teacher turned homeschooling stay-at-home-mom. A sense of humor, faith, and creativity keep her "pressing on" in her unique situation — living and traveling abroad with an only child in a bilingual environment. Visit her blog at Jimmie's Collage.