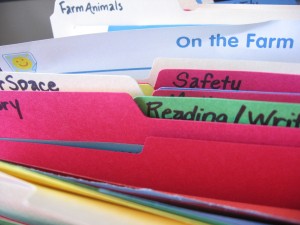 Homeschooling is fun, isn't it? Especially for those of us who feel as if we were "born to teach." Yet even amidst the best efforts of a highly organized person, it's very easy to quickly become overwhelmed with the amount of paper output!
I wanted to share with you today the system I set up for keeping control of the paper clutter (this method works for the younger set, when preschool worksheets and craft "how-tos" are abundant…and also for those of you who utilize unit studies for your older ones).
I utilize a simple folder and file system to organize the "loose curriculum" I've accumulated (by "loose," I mean pieced together worksheets, activities, craft ideas, etc. that I pull from different areas). I took an empty drawer in our file cabinet and dedicated it to homeschooling curriculum and craft ideas. I made up folders for each "unit" (weather, Christmas, safety, manners, etc.) and started adding. I find my material from a host of sources, some borrowed from my aunt, a former teacher, some online (via Pinterest, as well as other education and homeschooling sites), some books I buy for photocopy, and yet more from curriculum-by-mail companies. This helps me easily plan activities for every day, as well as spot units which would be good to try next, since the tabs stare at me each time I open the drawer.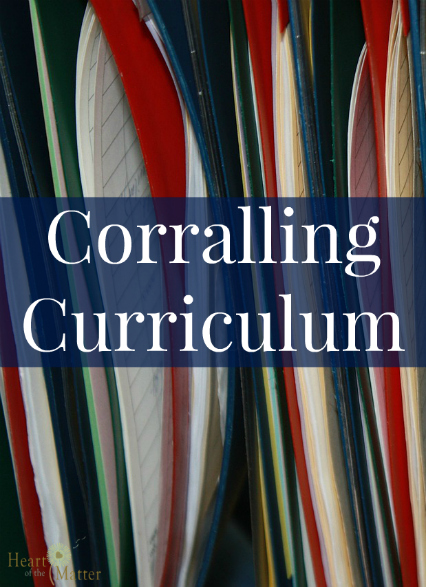 When we finish a unit, I put craft "samples" in the folder for future reference (or sharing with friends!). I also throw in any notes I took during the process, themed snack recipes, and book lists showing books on that subject that we checked out from the library.
It's a breeze to find crafts and educational activity supplements for any theme — or season or holiday — now that I have this organized! Less stress equals more fun…for the kids AND for Mom!
Meg Wilson is a devoted wife to her husband, Ken, of 12 years, and mom and homeschooling teacher to her 7-year-old son and 5-year-old daughter. When she's not writing or creating something, Meg loves to cook for, host and entertain friends and family. She also enjoys reading, the outdoors, eclectic music, yoga, and studying history. You can read all about her adventures (and misadventures) at her blog, Electric City Academy, http://www.musesofmegret.com/reviews, http://electriccityacademy.blogspot.com