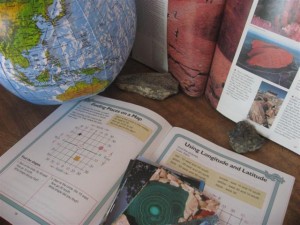 Learning Centers for us is a great break from the monotony of the average day. It is also the best way for me to use those great Dollar Tree finds and the other items I get on clearance from our local teacher supply store. You know the stuff… the inflatable globe you found for a quarter, the photos and rocks your mom-in-love mailed to you from Arizona, and those great books that don't fit into your curriculum but yet have such awesome information. Basically it is all the great items that are filling your shelves and you haven't quite figured out how to incorporate them. All of those things can be placed into a learning center where the child has 30 to 45 minutes of free time to explore the bounty.
Speaking of bounty, during our pirate adventure I created a learning center that had dozens of great items for my little matey to explore and they were all nestled deep within a treasure chest: one that I had found on sale at School Aids for only $3. It was definitely a treasure! I only wish I had taken photos that day so I could share them with you.
When I create a learning center I always set up a plain white folding posterboard so that it truly is set apart from the distractions of books and school time. This gives my child the freedom to explore without being concerned with what is going on around him. I find it helpful to fill it with items and books that further explore whatever theme or subject we are currently studying.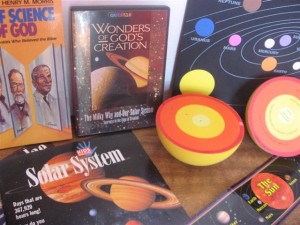 To make it easy on me, I keep two medium sized Rubbermaid containers just for learning center materials. At the beginning of each week when I layout our lesson plans I also decide which learning centers we will use for that week (usually only two days worth since we have Co-op one day) and I fill the containers with the material. That way I don't have to dig for anything "the day of" and I can put everything back into the container when we are done and then put it away when I go to refill for the next week.
I have shown here things that can be done for children doing intermediate studies but I can think of lots and lots of things that can be done for primary studies and I think for teens in the upper grades this would be a great way to set up in-depth studies that could lead to a book report. The possibilities are endless when you begin to explore the options. Don't eliminate language arts and math from learning centers either. I have been using a great product called Hands On Equations. I was going to simply include a blurb in this article about it but we have loved it so much that I want to give it it's own review. It is great. I can't recommend it enough.
So, when you begin planning for next school year, be sure to pencil in some time for learning centers. It will give you an opportunity to check over work or load the dishwasher and it gives your kiddo a chance to explore. If you have experience with learning centers and would like to add to the ideas mentioned here, please leave us a comment and let us know! We'd love to hear from you!

Married to her best friend and "main squeeze", Amy Bayliss is a 4th year home/co-schooling mom to three boys. She enjoys writing about the eclectic teachings that bring a glimmer of curiosity to the eyes of her sons. In addition to being the co-owner of Heart of the Matter, she writes for Internet Cafe Devotions. Be sure to visit her blog, AmyBayliss.com and her family's homeschool blog: Integrity Academy.