There are so many reasons why mini-offices are beneficial to our children. But the main one is commitment to memory.
When I was in college I learned all about memory tactics in my advertising classes. You have to see/read something three times before it is available for recollection. After seeing it three times or more you are cementing it in your brain long term. This is why bulletin boards in classrooms are so fundamental. I can't tell you how much I learned simply because I read/saw the same thing day in and day out for an entire school year. Mini-offices serve the same purpose.
The way we make our mini-offices is to place three manila folders in such a way that you get four sections out of it. You can then fasten it securely with glue or tape but before you do that make sure it will fold properly. If it doesn't then make sure you adjust it before permanently adhering it. Once it is complete, laminate it or cover it with contact paper. Place pieces of velcro on the mini-office every few inches.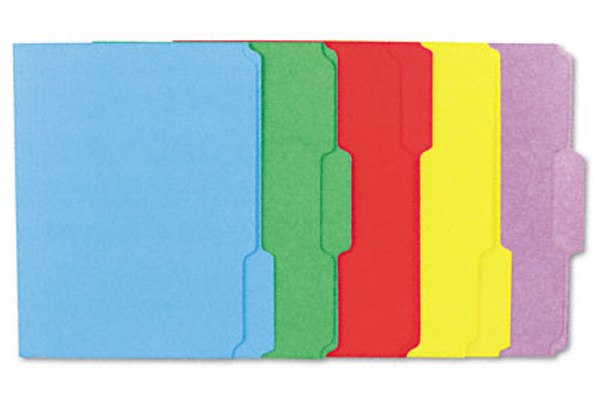 Next gather up the resources that you would like to put on the mini-office. You can find a wide selection by simply googling "mini-offices" but you can also use many common things. I buy classroom posters with the intention of cutting them up to place on the mini-office or our learning centers (coming up next week). Laminate them. Place a piece of velcro on the back of each piece. Place them on the mini-office where desired.
By using the velcro you can get more use out of your mini-office and change out the scenery every so often.
Here is a video from Lapbook Lessons that describes a mini-office. The only thing that I do differently is use the velcro instead of permanently adhering them to the office.
Here is a project from Bethany LeBedz…
Create a mini office for mom! When you're all working at the kitchen or dining room table, wouldn't it be nice to have a nook for YOU? You've created mini offices for each of your children, so why not create one for yourself? Create your own reference spot for cheat-sheets, favorite Bible verses, calendars, schedules, etc.
I realize that most of the resources available for mini offices utilize manila file folders. I also realize that they're mostly geared towards the younger crowd. But, as children get older and taller (i.e., able to see over the top of the folders easily) they might enjoy making offices on a slightly larger scale. By using cardboard project boards, you can create dividers for the inevitable "Moooom, she's looking at me" moments. Kids can personalize them with resources appropriate for their grade level and tastes. So, buy an extra project board for yourself and join in the fun!
Here's a list of the things I put on my mini office and the sources:
Year calendar with holidays circled or highlighted, or month calendars to include more details
Basic schedule of what each kid does when, deadlines, quarter/semester end dates
Bible verses
Here are some other ideas of things to include in your mini office:
Timelines of art and music eras
Color wheel
Basic grammar rules
Other math rules for whichever topic your kids are currently learning
Specific science helps (biology classifications, chemistry formulas, etc.)
Measurement equivalents and metric conversion factors
Character definitions and Bible verses
Some of these resources can be printed right from the source, while some may need to be cut and pasted into a word processing document. Trim away excess white paper and annoying ads then mount onto colored construction paper or directly onto the project board. Before you make anything permanent, lay your board out flat on the floor or table and arrange all of the pieces on it. You may have to try several arrangements before you get it to look the way you want it to look. For durability, use glue sticks to attach the papers to the project board, but if you think you might want to change it up some later, use staples. Go ahead, dip into the stickers and stamps—you know you want to! Make it pretty as well as practical.
That's all there is to it! Now you've got your own little nook at the kitchen table.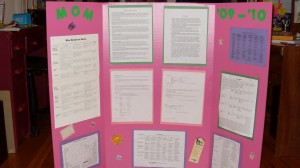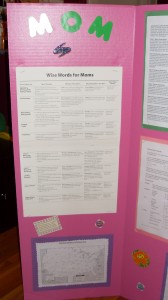 Married to her best friend and "main squeeze", Amy Bayliss is a 4th year home/co-schooling mom to three boys. She enjoys writing about the eclectic teachings that bring a glimmer of curiosity to the eyes of her sons. In addition to being the co-owner of Heart of the Matter, she writes for Internet Cafe Devotions. Be sure to visit her blog, AmyBayliss.com and her family's homeschool blog: Integrity Academy.