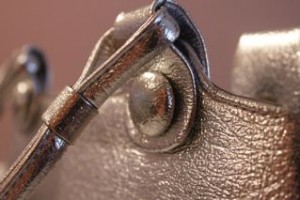 Back in August I began shaping lessons for my Thursday-in-the-Guild arts workshops. This year I would lead my apprentices on a yearlong journey, an exploration of medieval aesthetics. We would begin by dispelling the "dark ages" myth making every effort to put ourselves in the shoes of the people who, despite the ruggedness of the times they dwelled in, cared deeply about aesthetics.
And my mind set off imagining the possibilities…
We will weave and stitch wearable art. We will re-fashion abandoned furniture, DIY style. We will make jewelry. We will paint diptychs and triptychs. We will explore medieval music and compose original collaborative music, raise our voices in counterpoint harmony. We will explore the art of typography, from sumptuous illuminated letters to the austere Helvetica phenomenon.
The goal was to help my apprentices create artesian works with a 21st century spin. Ultimately, I imagined our spring Salon filled with 21st century relics offering a nod and wink to medieval artisans.
Because this year we would add drama to our Arts workshop, what better way to begin than crafting persona poems from the perspective of king, queen, lord, lady, knight, monk, merchant, jester, servant, and serf? We would get to know the world of the artist before exploring the actual works they crafted. The persona poems would be crafted on the page, set to memory, and delivered dramatically in hand-fashioned costumes. And so my research began with the feudal system.
Little did I know then, but my preparation for fall lessons was raising the volume on a persistent internal whisper, "What's the rush?"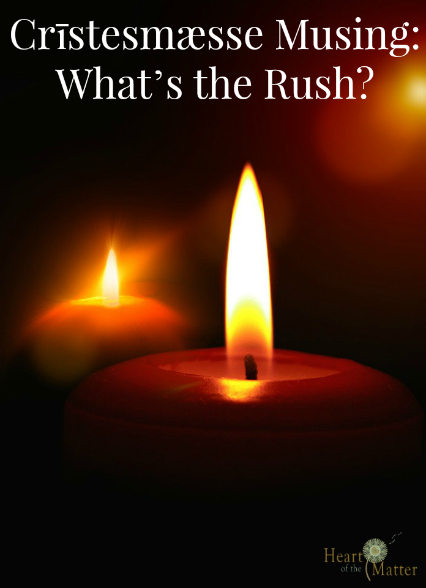 In the fall, with the chaos of back-to-school, why is it that the days grow shorter and everything else speeds up? It's always Thanksgiving before you know it, Christmas galloping off to another year.
In medieval circles, Christmastide lasted nearly a quarter of the year, not a handful of days dotted staccato like our bleak 21st century tradition. I wonder if I'm the only one who longs for tide-like ebb and flow, medieval fusion, an 21st century amalgamation? Christmastide.
Medieval preparations began in November, the blood month, when feed was scarce and work was grueling. No doubt the severity of winter impacted the agrarian community and forged dire necessity. Perhaps this necessity cultivated a reverence for and fear of God that somehow led to a cycle of gratitude.
From All Hallows in early November to Twelfth Day, Epiphany, in early January and stretching beyond to Candlemas at the beginning of February blending like watercolor bleeding to the Lenten Fast and Easter, the medieval calendar was centered on faith.
Something in the lesson preparation made me thirst. My first instinct was not for water but to rummage my closet for the vintage tinselesque purse I had tucked away for December. I wanted to loiter Christmastide, permit it to linger with me through all of my days. It was August and I was parched for Advent.
Mid-August triggered a bout of pneumonia and kept me close to home. As I pressed into my Medieval research from the confines of the couch, I became captivated with a book, King Alfred's English: A History of the Language We Speak and Why We Should Be Glad We Do by Laurie White. The poet in me cannot resist a rabbit trail of words and the rich timeline led the teacher in me to concoct this year's Lexicon activities based on my sickbed read. It all began with one little question, "Where did the word "Christmas" originate?"
Crīstesmæsse
is (literally) "Christ's Mass."
Crīstesmæsse
Is Old English for Christmas—
a mass for Christ
and mass is Old Latin; missa;
a dismissal; release,
and a we-are-set-free
and a mission
with a purpose;
a call to action
to Journey.
Then, having several more down days, I became curious about the date itself. Why Christmas in December? I mean, can anyone really pinpoint the true day of Christ's birth? Turns out celebrating in December might have been an effort to eclipse the pagan Roman winter solstice celebrations. Saturnalia took place first, around the 17th of December and Natalis Solis Invicti was slated for the 25th of the month. This is all fascinating fodder, especially that the latter celebration translates, "Birthday of the Unconquered Sun." And my mind is set a wandering…
"But for you who fear my name, the sun of righteousness shall rise with healing in its wings. You shall go out leaping like calves from the stall." Malachi 4:2
And I begin to see,
this Crīstesmæsse
is bequest
a gift given for our earnest reflection,
for our insistent
contemplation—
And this Crīstesmæsse
is anticipation, full to bursting
to quell; to allay
night closing in
on both sides of day.
And I wonder
is this Crīstesmæsse
simply medieval
And so fall began at a slower pace, "O come, o come Emanuel."
And now, days before the Eve of Christmas, anticipating our celebration of Nativity, I can't help but marvel that lesson planning and summer illness led me to a sweeter alacrity than I could have ever imagined.
Medieval Fusion.
A 21st century Amalgamation.
Crīstesmæsse is true revelry,
not Lucy Van Pelt's
desire for a pink aluminum tree.
Crīstesmæsse
is the roaring yule log
and the embers that stoke
the fires of our heart
all the year long.
Medieval folk are not so far removed from us 21st century folk. All these centuries later we are still estranged, toiling to sustain our basic needs, envisaging beauty, wandering in lonely exile, hopeful.
Winter stars burn brisk,
but Crīstesmæsse
festoons the implacable dark.
Here's to anticipating and enjoying the curiosity of days this coming year.
Kimberly has been a homeschool mom for 16 years and is an advocate for reform in education. Her book, Habits of Being: Artifacts from the Classroom Guild, is a collection of snapshots from this experience woven to a philosophy of education. She is a founding partner of Blackbird & Company Educational Press, which develops and publishes innovative literature, writing, and poetry curriculum, plus collectivebanter.com, an online opportunity for young writers, visual artists, and musicians to compete and publish their work. She is also a regular contributor to fourandtwenty.typepad.com. Her writing and visual art students have received numerous awards including regional and national recognition by the Scholastic Alliance for Young Artists & Writers and have been published in online and in-print journals. Long ago the California resident, mother of four, received her Bachelor of Arts degree in biological psychology and fine art, graduate training in clinical art therapy, and more recently earned her MFA in creative writing from Antioch University in Los Angeles.