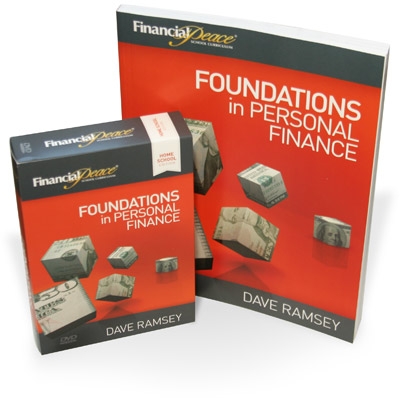 Financial expert Dave Ramsey has helped thousands of families get out of debt and live in control of their finances. Through his highly effective Financial Peace University courses, Dave Ramsey teaches adults the tools and behaviors they need to adapt in order to gain their own financial peace.
Now it's easy to bring that same important financial knowledge to the teens in your life using the Dave Ramsey's Foundations in Personal Finance (Homeschool Edition).
The entire homeschool package consists of 4 DVDs of lessons as well as one DVD Teacher's Guide. It is also critical that each student has their own workbook for recording notes and applying the financial lessons covered in the DVDs. The DVDs cover four units, with each unit containing 3 chapters:
Unit 1: Saving and Investing
Unit 2: Credit and Debt
Unit 3: Financial Responsibility and Money Management
Unit 4: Insurance/Risk Management and Income/Careers
The DVDs lessons are short and entertaining, but filled with good solid financial lessons. The workbook follows very closely to the DVD lessons so a homeschooling teen could go through this course with minimal adult supervision. Honestly, an adult should probably go through this course with the teen though, because the Dave Ramsey's financial advice is so good that adults and teens could benefit from the same course. This DVD package is a great way for your homeschooling teen to earn high school credit in Economics, but the advice in this series could shape their entire financial life.
The financial lessons and course content in this homeschool package does not differ too radically from the package sold to the adults. The homeschool student lessons contain all of the sound financial teachings of Dave Ramsey as well as some Ramsey-isms such as "baby steps." Good financial advice is good financial advice. At first teens might be a bit overwhelmed with lessons on more sophisticated topics such as Private Mortgage Insurance or Roth IRAs, but this DVD package covers very necessary information that teens will need to know, either now or later.
This homeschool DVD package does differ from the adult package in the way it is targeted for teens. In the videos, Dave Ramsey is joined by his daughter. The audience in the videos appears to be a college-aged crowd. Comments and questions in the workbooks at times are specifically for teens, such as the "Stupid Tax" comment "I bought a monkey and my mom grounded me." Bullet points and side notes highlight important financial advice that young kids need to be aware of such as the aggressive marketing of credit cards on college campuses.
In these tough economic times, parents want to ensure that their kids have what it takes to financially survive. Dave Ramsey's Foundations in Personal Finance (Homeschool Edition) is one way parents can take an active one-on-one approach to help their kids live with financial peace.
How would you like a chance to win a set of this curriculum? Dave Ramsey is giving away TWO sets (valued at $129.99 each) at our conference next month! Registration is only $14.95 and includes a chance to win even more door prizes. Not to mention, everyone who registers will receive a fabulous swag bag currently worth over $145, Q&A time with some of the greatest speakers we know, MP3's of all the sessions, and opportunities to have fun and fellowship with parents from around the world. Register today!
I received a complimentary copy of this item in exchange for an honest review, but the opinion is all mine.
Pamela has been homeschooling her kids since 2005. She has visited 41 states and 16 countries and now calls the beautiful Pacific Northwest home. You can find her writing about homeschooling, books and downsizing her life at I Read. Do You?