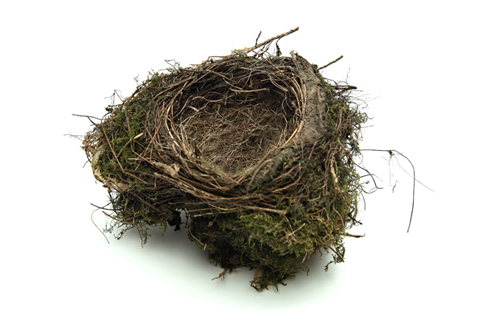 I woke up…climbed the stairs…and quietly started the coffee…trying to make sure the kitchen floor did not creak as I walked around. I didn't want to wake my son. And then, I realized…he wasn't here. No one was here but John and I. No one was going to be here but John and I for the next 50 days. There was no child related activity to go to…no homework to follow up on…no one to tell "Good Morning Bud!"…no one to share my coffee with (John doesn't drink coffee). Yesterday I was excited…today, I fluctuated between excitement and a feeling of being a bit lost.
In preparing for this empty nest preview, I made a list of a ton of things I wanted to do, places I wanted to go, projects at the house I wanted to complete, work projects that needed uninterrupted time.  John and I had talked about what type of schedule we would keep, what our priorities would be, day trips we might take and more.  Now that the empty nest preview was here, well…..
I got up early…not by choice…just my mid-life clock.  After my coffee was ready, I went outside and pulled out one of the lawn chairs and sat down to just admire the green pasture and the morning view of the Buffalo Peaks.
The horses seemed glad to see me.  We had been traveling for the past couple of weeks and they all came to the fence to greet me and let me know they were hungry.  As I sat down in my red chair, I took a long, deep breath and realized that I had no pressing responsibilities for today.  Everything could wait until I returned to the office on Monday.  I had no appointments, no conference calls, no nothing.  Instead of feeling relaxed, I felt uneasy.  It has been a marathon of a year so far, so the thought of nothing on my agenda made me feel like I was forgetting something.  So, I sat there and really worked hard at unwinding.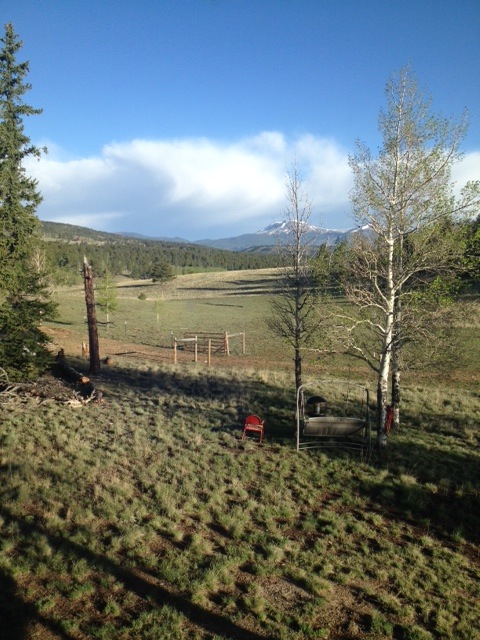 When John woke up, we quickly got ready and went down the mountain into town.  We were excited to spontaneously go off together. We drove down the mountain the back way on the dirt road that goes through Mushroom Gulch.  We took our time, excited to see that the Aspen were leafing out and that summer was right around the corner.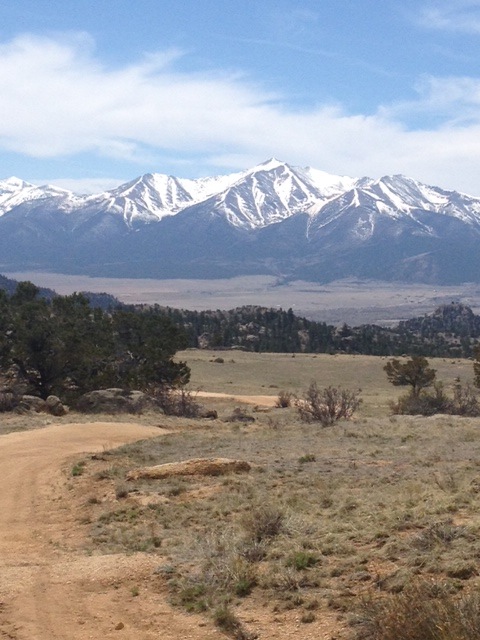 My plan was to buy a few simple things that would make the outdoor space on the deck and around the house feel fresh and a bit more ready for summer.  I wanted to get some giant ground peat pot full of flowers (the only way I don't kill them up here at almost 10,000 feet), some hummingbird nectar, a hummingbird feeder, some more birdseed and a replacement bird feeder for the ones that had broken over the winter. Perhaps we would even get a couple of fresh chairs for the deck since our were not looking so "fresh" after such a long winter.  But, there were no giant ground peat pots available at the nursery yet due to the cold spring we have had, and no fresh chairs that were in my budget.  I did get the bird supplies and a cup of Americana from the BV Roastery and we headed home.  I have to admit, I felt a bit dejected that my first "outing" was not going as I had planned. I know that was silly…but alas, it was the way I felt.
I think we are still tired from the past few months.  We only got home yesterday to realize the school year and the marathon that had been second semester was behind us.  So, I guess it's a little early to say how our empty nest preview will really end up going or what it will really feel like.  I can say that this first day, like yesterday, was again filled with a bit of uneasiness as well as excitement, uncertainty as well as expectation.
I texted with our youngest son yesterday…the one that is gone from home for the next 50 days.  In talking, I assured him that his wanting independence and space to make his own decisions is a good thing, a natural thing, and a part of growing up.  I encouraged him to embrace this "preview" of a time to come but to also know, that we are here if he needs to talk or if he just wants to visit.
I guess the same goes for me.  I want to embrace this time…with all of its mixed emotions as well as its opportunities.  I need to keep reminding myself that this time and the times to come are a good thing, a natural thing, and a part of my life's journey.  It's not an end…it's a beginning to something new.  I recently heard someone say something like this…"We are all looking for evidence to support the reality that WE believe to be true."  I wonder what reality I am believing for this next stage of life.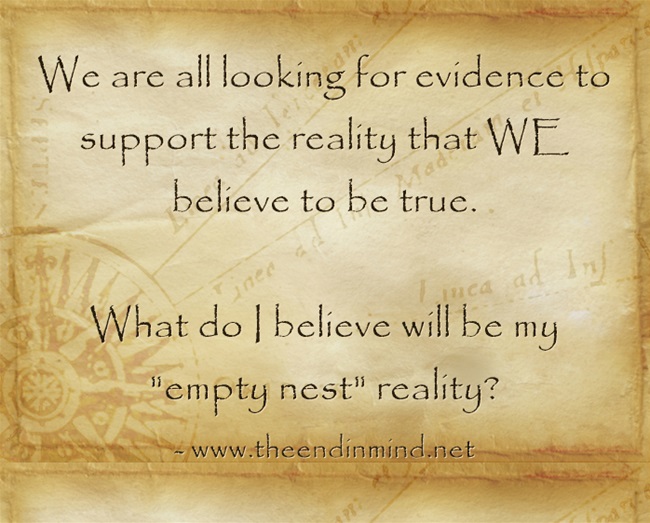 Faith and Courage,
Lori