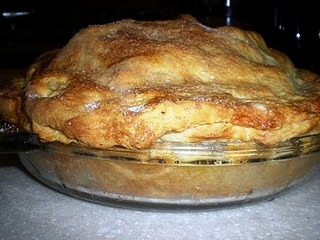 Deep Dish Apple Pie
Picking apples in the fall is one of my all-time favorite things to do with my children. We love to go down to the local orchard every year and pick a bushel and that keeps me busy in the kitchen for a week! My first baked apple goodie is my deep dish apple pie.  This apple pie crust is easy, light and flaky and I've changed this recipe to my liking over the years and is absolutely amazing. You've got to try this recipe!
Ingredients:
Filling:
4-5 medium assorted apples (try some Gala, Jonathon and/or Granny Smith)
Instructions:
Prepare crust. Cut butter into dry ingredients with a pastry blender until mixture is granular. Add cold milk, sprinkling on gradually and mix with table knife. Work mixture into a ball. Divide it into 2 unequal parts, using the larger portion for bottom crust. Roll thin and place larger crust in 9-inch pie pan. Mix dry ingredients of filling and put half on bottom crust. Slice apples thin and fill pan slightly above level. Sprinkle remaining dry ingredients on top of apples. Dot with butter. Cover with top crust. Flute the sides of the crust working around the pie using your thumb and forefinger. Coat crust with cream using a pastry brush and sprinkle granulated sugar on top. Take a knife and starting in the center top of the pie, make 4 equal 1-inch slits around the pie enabling steam to escape.
Bake at 450 degrees for 10 minutes and then at 325 degrees for 45 minutes. Makes 1 (9-inch) pie
Enjoy!!

Jenny Penton is a homeschooling mother of seven children and loves the closeness that being home with them provides. Un-schooling is how they live and learn and she blogs about their learning experiences at Homeschoolingbelle.com. Jenny also has a passion for inspiring women to become master life planners and that includes menu planning. Check out her sites for life planning and her inspiring recipes on her food blog at plannerperfect.com and plannerperfectmeals.com