Fun, hands-on manipulatives don't always have to be expensive or store-bought. Many of my kid's favorite learning tools have been inexpensive and homemade. One of their favorite such manipulatives are our geoboards.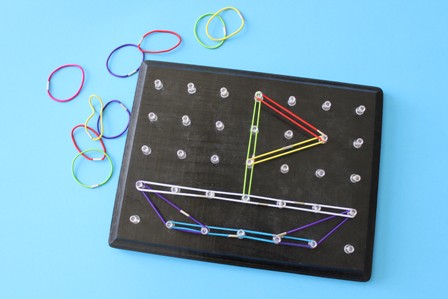 Geoboards are multi-purposed and can be used for children of various ages. For the younger child, a geoboard serves as a great tool to build fine motor skills. For the older child it serves as a tool used to explore basic concepts in geometry, perimeter, and area, as well as the polygonal characteristics.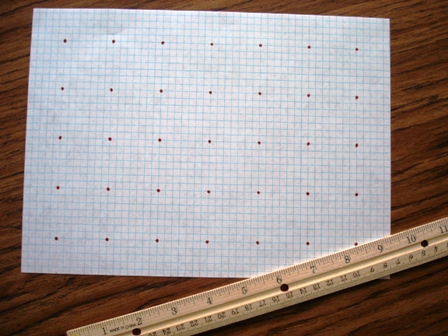 So before you purchase a geoboard, consider making your own.
Supplies Needed
a wooden board (The board shown is from Michaels. It came sanded with beveled edges for about $2.)
spray paint
hairbows or rubber bands
push pins or nails
graph paper
pen/pencil
hammer
Instructions
First, spray paint the wooden board. Using graph paper, create a template for the placement of the push pins. The geoboard made in the photos was created with a grid about 1.5 inches apart.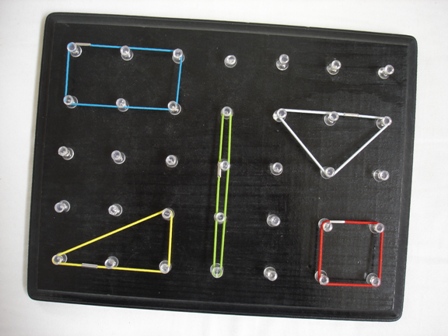 Lay the graph paper grid onto the board. Take one push pin and push it in to mark the placement of all the holes. Push it in just enough for you to see the little holes. Remove the graph paper template used to mark to holes and hammer one push pin into each of the holes. Once the board is complete, use some hairbows or rubber bands and enjoy your new, inexpensive geoboard!

Jennifer is a happily married, Christian, homeschooling mama of five little ones (ages 7,5,5,3,3). Yes, two sets of twins! She has a BA degree in Mathematics and holds a masters degree in Education. A former high school math teacher, she now uses all her education to teach her own kids! In her "spare" time she enjoys scrap-booking, though blogging seems to be taking its place. She currently has five blogs. Mama Jenn is her main blog. Education Cubes features customizable learning blocks. The Homeschool Resource List is a collection of free online resources. The "Brown Like Me" Book Review showcases books featuring "brown" characters. The Living Math Book List is a collection of living math books.