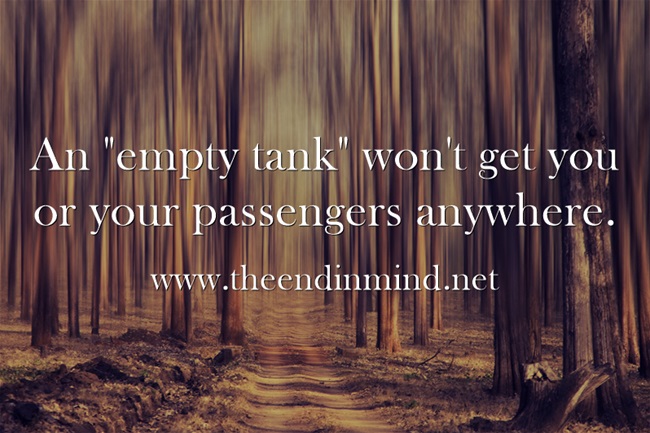 One thing that I have noticed over the past week or so is that I'm running on empty and I'm pretty much out of gas.  Now that the dust has settled from the school year and I've taken a deep breath, I'm realizing just how out of gas I am.  I knew my tank was pretty low but when there are deadlines and people counting on you, somehow you find a way to tunnel through.
Over the course of the last two years, it has become evident to me that I have been running dangerously low in my personal "gas tank."  Once I recognized that I began taking steps to take better care of myself, to slow down and to quit feeling responsible for the entire world.  I've made some great progress in these areas.  However, I've also had an obligation to complete responsibilities that I had previously agreed to and to continue to "run the race" so to speak.  You can't just resign from life!  However, since starting this empty nest preview summer, I've realized that this empty tank I've been feeling goes a bit deeper than I thought.  No, my life is not coming to an end and the sky if not falling…but I'm tired…BONE tired!
So, I have some words of advice for those of you who are not quite as far along on this life journey as I am right now.  I have some advice for those of you who think an "empty nest" is so far away it is just a dream. I have some counsel for those of you who are chronic over achievers….those that are chronic over-schedulers…those that are constantly running.  Here it is!
You may be a person that thrives on activity…and that's not a bad thing.
You may be a mother at the start or right smack dab in the middle of your child rearing years….that's a wonderful thing.
OR
You may be someone that over-schedules and overachieves because of past experiences and fears….that could be a bad thing.
But I would suggest one thing…
Take the time to take care of yourself….spiritually, mentally, physically, emotionally, relationally….
Take the time to nurture you.
Take the time to rest, refresh and renew!
An empty tank won't get you or your "passengers" anywhere!
A starving mother can't feed her children!
Life goes in stages.  Some times are busier than others.  Some periods require more mental energy, others require more physical energy….and still others require emotional energy and stamina.  The key is making each of those periods a stage, not necessarily a permanent way of life.  If you don't make it a stage, you'll end up with an empty tank.
I'm really striving to use this time of "empty nest" to do just that.  My tank is running on empty and I have to stop and get gas…and I know just where to do that.
"Come to me all you who are weary and heavy-laden, and I will give you rest."  
BUT, it takes time and it takes diligence to make myself stop and "gas up." It takes patience to see the results and the renewal.
But I trust it will come! 
What about you?  Running on empty?
Faith and Courage,
Lori