Dare to Compare High School Diploma Programs from Excellent Colleges and Universities Nationwide
Students can broaden their prospects of acceptance into college after graduation from high school through support available from the National College Counseling Center and earn their high school diploma from a regionally accredited college or university, while accelerating their progress to a degree.
Home schooling of children has occurred since this nation first began, yet has become a growing practice over the past few years to levels never before seen in America.  Societal acceptance of home schooling has also increased, as it has become more common for people with children in public or private school settings to have friends, co-workers, or others in their congregation in church that home school their children.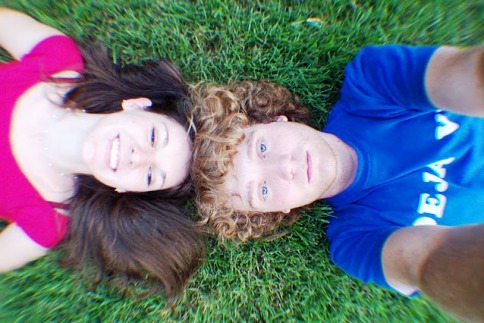 There are many reasons why parents choose to home school their children: For some, it is because of their remote location, especially in remote farm areas.  Others who live in heavily populated areas realize that their children are not getting the attention that they need in overcrowded classrooms where the student-to-teacher ratios essentially eliminate any possibility of individual support to students.  In other cases, it is to provide a safer environment for their children. Regardless of the reasons, students typically do quite well in academic achievement when taught in a home school environment.  Most states require that students take standardized academic achievement tests to ensure they are meeting or exceeding the expectations for the grade levels completed.
Research in the past[1] revealed that home school students scored exceptionally high (in the 70th to 80th percentile) on standardized academic achievement testing and that 25% of home school students were enrolled in courses one or more grades above their age-associated public and private school peers.
What an excellent testimony to the success of home schooling in this nation.  However, some high school graduates who were home schooled face obstacles in entering into the college or university of their choice – barriers that can be easily overcome, as will be described in this article.
Let's face it … the entire nation is currently facing economically difficult times, which is impacting both large and small businesses, as well as government agencies.  Anyone who has watched the news this past year has seen the reverberations of the economic downturn; however, what many do not realize is how this is impacting higher education across this nation.  Education and employment are intrinsically related – the more education one has attained, the better the prospects of employment, retention, and promotion in the workplace.  Enrollment at degree-granting institutions has actually increased over the past few years, even in these tough times. For example, the State of Tennessee reports that they have experienced a 6 percent increase in enrollments at State Colleges and a 15 percent increase at Community Colleges for Fall Semester of 2009.
Although it may at first seem illogical, when the economy turns downward, enrollment in degree granting institutions turns upward. Similar results to this example evident across the nation.  When economic downturns occur, as we have experienced over the past year, many organizations downsize and those employees remaining may need to sharpen their skills academically to carry the additional workload.  Many are seeking to earn a degree when they are away from work in case they do later become a casualty of the downsizing and closures that have been all too common in America this past year or more.  Take a look at the nationwide results that are reflected on this graph: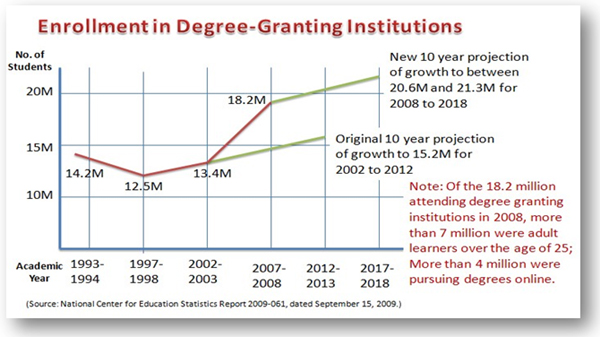 Notice the sharp upward red line that presents the unprecedented growth in attendance at degree-granting institutions that has occurred over the past five years.  As you can see by the lower green line, when the Department of Education projected growth over a ten-year period from 2002-2012, they expected an additional 900,000 to 1 million students to be attending college at the half-way point.  When they received the statistics from the mid-point, the 2007-2008 academic year, they discovered a growth rate 5 times that which they had previously forecast.  We now have more than 18.2 million students pursuing degrees in America.
What does this have to do with high school students? It means that the competition is tougher than ever to get into the college or university of their choice, as institutions of higher learning are being stretched to the limits with the new students seeking enrollment.
How can high school students, particularly those that are home schooled, sharpen their competitive edge to help them get into the college or university of their choice after graduation?  By not getting a home school high school diploma.
Whoa, now!  Don't stop reading.  We're not saying high school students should stop being home schooled.  On the contrary, the superior academic achievement of home schooled students testifies to the effectiveness of the process, as we stated in the beginning of this article.  What we are saying is that high school students may be better served when they have their high school diploma conferred from a regionally accredited college or university, rather than through their home school program of study, if they intend to compete for acceptance in top ranked colleges and universities across the nation.  Read on to find out how easy this can be.
Although research has shown that home school students typically outperform students at public and private schools across the nation, many colleges and universities are hesitant to accept a home schooled high school graduate into their student body, even though academic achievement tests are required by most states throughout their secondary education.  Some institutions of higher learning even require home schooled high school graduates to pass a GED for admission into their college. This can be very discouraging to students and can place students at a competitive disadvantage when seeking admission into a very selective college or university.  There are numerous regionally accredited high school programs offered at a distance from higher education institutions across the nation.  These include the University of Nebraska, the University of Alabama, Indiana University at Bloomington, the University of Missouri, and many more.  Students are typically required to complete just a few courses from the institution online to meet their academic residency requirement.  The remaining credit may be completed through the student's home school program of study, as long as it aligns with the curriculum requirements of their high school diploma program.
The National College Counseling Center has created the most technologically advanced degree exploration program in the nation, Degree Quest, which, in addition to thousands of degrees from hundreds of colleges, also includes the curricula of high school programs of study from regionally accredited institutions of higher learning.  They are able to empower students and their parents to compare where the student should stand toward these programs of study and provide them with a detailed plan to take them from where they currently are to the finish line – graduation and conferral of the high school diploma from one of the participating colleges or universities.
Take for example, Anna R. – a high school student in Central Georgia who aspired to attend the university in another state that her father graduated from many years ago:  After reviewing several high school plans created in Degree Quest by the National College Counseling Center, Anna selected the University of Oklahoma through which to earn her high school diploma.  The university required her to complete five courses through them online, allowing the rest to be completed through the home school program taught by her mother using A Beka courses that aligned with their curriculum requirements.  When she graduated from high school, she actually received her high school diploma from the University of Oklahoma, which helped fast-track her into the university she desired to enter to pursue her degree.
Parents of home schooled high school students are encouraged to check into these excellent opportunities for their children to earn a high school diploma from regionally accredited colleges and universities nationwide, especially with the support of the National College Counseling Center serving as advocates for their students.  These opportunities also can serve as a means of having experts provide instruction in those subjects in which the parent feels least prepared to teach their high school student, while allowing them the liberty of teaching the other subjects they enjoy sharing with their children as they follow their trek to high school completion.   In addition, the National College Counseling Center provides students with access to their student support website, HERC – the Higher Education Resource Connection.  On HERC, students will be able to access hundreds and hundreds of resources to help them succeed in their educational endeavors, including more than 320 semester hours of tuition-free college courses that may be used to prepare them for national college examinations.  These may not only be used to help students complete requirements for their high school diploma, but can also give them a jump-start on earning a college degree.
The national college examinations mentioned above are also an inexpensive way to help students earn college credit while completing their high school diploma requirements, as the cost of the exams is typically a fraction of the cost of a college course in the same subject.
The tuition-free college courses that are linked to the student support site of the National College Counseling Center address multiple methods of instructional delivery.  Many of the courses are online classes in which the students may download the syllabus, professor's lectures, and student discussions on the subjects.  Others are virtual classroom session, in which cameras are positioned in the back of classes conducted at many of the nation's best universities.  Others are Hollywood-style video courses which are as entertaining as they are educational.  In fact, more than $2 billion has been spent by PBS over recent years to create these incredible video courses, many of which have won national and international acclaim, including the Emmy.  What better way for a student who is a visual learner to acquire the knowledge they need in the subject to do well on a national college exam than to capture their interest in an awesome video series on the subject.
Not only do high school home school students do well with these courses, but many of their relatives often use these resources to help them earn a college degree.  It only makes sense for high school home schooled students to take advantage of these opportunities, especially with the support of the experts at the National College Counseling Center (NC3) guiding them — not only in the completion of their high school diploma but from a regionally accredited institution of higher learning.  When the student completes the requirements for high school diploma conferral, the NC3 counseling staff can then take them to the next level and show them how the college credit earned by challenging national college examinations can be applied to degrees at hundreds of colleges across the nation.   In fact, there are thousands of degrees available that can be completed at home, from Associate's to Ph.D. from accredited colleges and universities nationwide.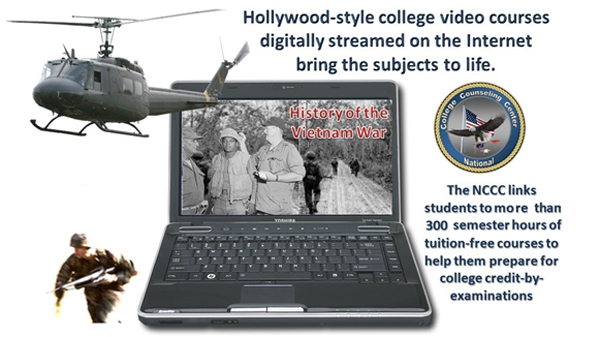 Many home school graduates desire to transition to a campus to pursue a college degree.  The upward trend in college enrollments is not expected to subside, so the time to sharpen the competitive edge of your high school student is now. As we pointed out above, the surge in attendance that occurred between 2002 and 2008 is continuing, as evidenced in the 6 to 15 percent increase in enrollments that occurred in this 2009-2010 academic year.  The National College Counseling Center can provide assistance to home schooled high school students across the nation and offers a significant discount on their one-time administrative fee to home school families.  (Visit www.NC3degrees.info or call 850-819-3891 or 850-478-3662/3663.)
[1] Educational Policy Analysis Archives, ISSN 1068-2341, Volume 7, No. 8

Tim N. Scoggins is a retired Lieutenant Commander and former head of the US Coast Guard Voluntary Education Programs from 1994 to 1998, and the founder and CEO of the National College Counseling Center.
…
…