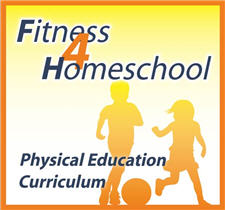 It's no secret that most families could use more physical activity in their day. Homeschoolers are no exception. In fact, in might be safe to say that, for the majority of homeschooling families, P.E. probably consists of simply sending the kids outside to run around. Sound familiar? Running around outside certainly can be a lot of fun, but can it truly be called Physical Education? Are your kids exercising new muscles or learning health and nutrition throughout the day?
Family Time Fitness has created a great curriculum for those families that just might be lacking when it comes to incorporating total physical fitness into their homeschooling routine. The program is impressively well organized and easy to use. At the core of the program is a series of four workbooks that are available for different age groups (K-1, grades 1-2, and grades 4-5). Each workbook has 20-35 activities that are spread throughout the workbooks so students have a variety of activities and (hopefully) never get bored.Within each workbook is a daily fitness plan. Each specific exercise is written with detailed instructions and also contains a video link, if necessary. In addition, Family Time Fitness sends its members daily emails to motivate and instruct families on a journey of total physical education.
The activities are fun and will engage the whole family. For example, instead of assigning repetitive leg lifts on a certain day, Family Time Fitness asks kids to lift their leg in the air while using their leg to write the alphabet. Kids love doing the "Superman" pose which consists of laying on the floor, bringing your straightened arms and legs off the floor and holding the pose for 10 seconds.
In addition to utilizing typical workout items such as balls and jump ropes, exercises might incorporate music and hula hoops. A supply list is included in the workbooks, but most of the equipment consists of common household items.
Family Time Fitness really is an impressive comprehensive curriculum for Physical Education. In addition to physical activities, Family Time Fitness incorporates lessons in anatomy and nutrition. And most importantly, with Family Time Fitness, Physical Education can be lots of fun.
Pamela has been homeschooling her kids since 2005. She has visited 41 states and 16 countries and now calls the beautiful Pacific Northwest home. You can find her writing about homeschooling, books and downsizing her life at I Read. Do You?