When the little package arrived in the mailbox that sunny afternoon in May, I was not sure what to expect inside. My two daughters were busy playing in the backyard, so I was alone when I cut open the cardboard box and found the five tiny caterpillars inside a little cup. It was just what I had ordered. The cup had a thick layer of gooey brown food on the bottom and a nice tight lid on top. This project was to be the highlight of our homeschool unit on butterflies, but I secretly feared these caterpillars were dead upon arrival. I could not detect any movement whatsoever.
Thankfully, I was mistaken. The caterpillars were very much alive, and ever so slightly they began moving. Exposure to the light of day must have awakened them from the deep sleep they experienced inside that dark cardboard box. Now it was safe to introduce them to the children.
At first my daughters were only somewhat intrigued by the caterpillars, but that soon changed. Right away we observed that one caterpillar was notably smaller than her counterparts. She was the runt. For days we watched her and the others eat, eat, eat. We watched her and the others grow, grow, grow. And then we watched as the other four miraculously hung from the lid in a J-shape and dried to form their shimmering chrysalises.
The runt caterpillar was stubborn, sluggish. My then 6-year-old daughter encouraged her emphatically, "You can't be a caterpillar all your life!" Finally, she joined the others hanging from the lid. We carefully moved the chrysalises to a mesh butterfly habitat and then we watched, watched, watched for several days as seemingly nothing happened.
Becoming New Creatures
One afternoon while we were away, not watching, our first Painted Lady butterfly was born. The next morning two more butterflies fluttered around in the habitat, and another one wiggled around still in her chrysalis. We watched ever so intently as she miraculously broke free and made her way out to dry and pump her wings. How amazing!
We kept and fed the butterflies for a few days. The last stubborn chrysalis remained, trembling sometimes. Because we were leaving town for the long weekend, I arranged for our next door neighbors to keep the one remaining chrysalis. Then the girls and I drove to the park where we planned to release the four butterflies at a special grassy spot.
Hand in hand, the girls sauntered up the meandering path to the meadow. It was a breezy and overcast morning. I lingered a few yards behind them so I could capture the moment with my camera. A curious passerby stopped to ask my daughters what they were hoping to capture in their mesh bag. With much pleasure, the girls began to explain their mission was not to capture but to release butterflies.
After listening intently to the girls' lively account of the previous three weeks, the woman looked on admiringly as the girls displayed the Painted Lady butterflies we had raised. This stranger kindly wished us well in our endeavor, and we continued along the path, moving faster as the anticipation mounted.
Once we reached the meadow, my firstborn unzipped the mesh butterfly habitat and carefully folded back the lid. Then something strange happened. The butterflies hesitated. All along I had envisioned the butterflies rapidly rushing out of the habitat in one soaring mass exodus. I did not envision having to coax them to fly away!
After what seemed like hours, the first brave butterfly fluttered up to the edge of the habitat and rested on the zipper. Then she slowly unfolded her wings. Was she posing for my camera? I snapped the shot. Then faster than the shutter speed, the butterfly was gone – sailing up with the breeze so quickly I couldn't even follow her with my eyes, much less my feet.
In all His wisdom, God gives 6-year-olds swifter reflexes. My oldest chased the butterfly across the meadow and stooped down in a lush green patch of tall grass and unkempt dandelions. She smiled back at me, rejoicing that she had found the butterfly. "I gave it leaves and flowers," she later reported with satisfaction.
The other three butterflies hung back uncertainly as my 3-year-old daughter enticed them with dandelions. Her efforts didn't lure them from their cozy home. But eventually – each taking her own sweet time – two more Painted Ladies took off.
Gazing skyward I noticed the dark, thickening clouds above us. Rain was coming. I decided the last butterfly needed some additional encouragement or we would get wet. So I grabbed a wilted pink tulip petal from inside the habitat and scooped her up. She sat obediently as I gently lifted the petal and delicately handed it to my daughter. The butterfly paused right there on the petal for a few glorious seconds. I promptly snapped two pictures before she – just like the others – caught the breeze and swiftly flew out of sight. Just after the girls and I slipped safely into the minivan, the first wet droplets gathered on the windshield. And the butterflies were gone.
The Joy in Letting Go
After studying these beautiful creatures so closely, I expected saying farewell would feel bittersweet. I expected to miss them. However, I did not expect to be overcome with joy. Setting these creatures free to fly as high or as far as they wished – it was exhilarating! Although they had hesitated to fly away at first, once they tasted freedom those butterflies never looked back or longed to return to the confining habitat in which we had kept them. Instead, some soared up past the trees, up to the sky, rising up until they were completely out of sight. Free. Others fluttered far into the meadow and disappeared. Free. Each of them had flowers to visit and work to do.
Flying high and flying far was exactly what God created these butterflies to do. God wisely equipped them to grow wings. Their time on earth is brief. Painted Ladies usually only live a few weeks, pollinating plants. Only with wings can they accomplish God's purpose for them. Only with wings can they fly.
Praying for Spiritual Wings
While my children are still young and at home with me, I study them closely. These early years are caterpillar years. They eat, eat, eat, and they grow, grow, grow. I imagine someday soon, though, they will be more like those chrysalises. I will not so clearly see the wonders going on inside them. They will feel awkward as they change. Maybe they will tremble. Maybe they will hesitate. Maybe they will be notably different than their counterparts.
But then, Lord willing, the caterpillar and chrysalis will pass away. Our children will unveil. They will be beautiful butterflies in Christ – captives freed from darkness, new creatures.
"Therefore if anyone is in Christ, he is a new creature: the old things passed away; behold, new things have come." (2 Corinthians 5:17 NASB)
As my children taste freedom in Christ, I pray they never look back or long to return to their old ways. I pray that they rise up and do the work God establishes for them.
And as we look toward another year of homeschooling, I ask God to give my husband and me Christ-centered dreams for our children. I ask God to work through us as He equips our children with spiritual wings. And I pray we let our children fly as high and as far as God created them to fly. They, too, are on earth for just a brief time. They were purposefully created to glorify God in unique ways. Only with wings can God accomplish His purpose for them. Only with wings can they fly.
_______________________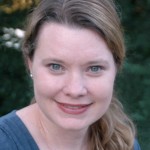 Diana Barto
Married to her high-school sweetheart for 18 years, Diana Barto is a homeschooling mom of two daughters. She lives in Minnesota and is a baker, shutterbug and sweet tea sipper in her spare time. You can follow her blog at http://starlightwriter.wordpress.com.