Sometimes people ask how I instilled the love of reading in our pre-teen boys. I usually reply that I read to them when they were young.
However, another mom remarked that she read to her kids too, but none of them like to read, which made me ponder this question further.
What causes one child to love reading while another considers it a chore? Does the parent instill the love of reading, or is this something a child develops on his or her own?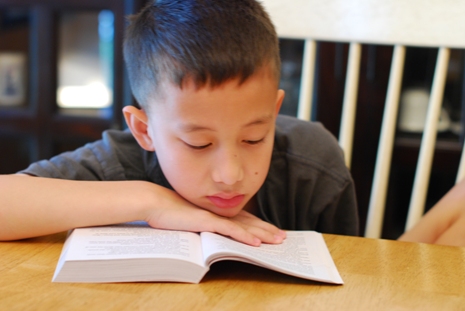 Photo Credit: Marsha, Other Such Happenings
I believe there are steps a parent can take to encourage a love of reading in a child, but ultimately it is up to the child to devour the books, newspapers, and magazines that we provide for them.
Techniques we've used to encourage reading in our home include:
Read aloud to your kids when they are little and continue when they can read on their own. Jim Trelease's Read-Aloud Handbook is an excellent resource on this topic. Children can understand a higher level of reading than what they can read for themselves.
Have the kids read aloud to you, especially in the elementary years. This develops their speech as well as their reading skills.
Have the children read silently while you read too. After breakfast each morning, our two boys and I silently read a chapter from the Bible according to our own Bible reading schedules. Sometime we'll write down a verse that we read that day and share it with a family member via email.
Have lots of books, magazines, and newspapers on hand. We visit the library weekly and stock up on books the kids are interested in. These include science and social studies topics such as the planets, presidents, and Landmark history books. Our kids have subscriptions to Clubhouse Magazine, National Geographic, and Lego Magazine. We also subscribe to the Wall Street Journal and our local paper.
Invest in quality, educational books. A few years ago, my friends started consulting for Usborne Books. By hosting parties, I've obtained boxes of Usborne titles for free or half-price. These truly are the books kids love to read.
Since we've been married, we have never had cable TV. Thus, we only have access to a handful of channels. We keep the TV in the basement, so we're not tempted to watch it excessively. Our boys generally don't watch TV on the weekdays, though we enjoy watching football as a family on the weekends.
Limit the children's screen time, whether that be TV, computer, or video games. Our boys' doctor recommended no more than one hour of screen time a day. It seems many children are plugged in 24/7, which can diminish the joy of reading a good book.
Our boys both started reading at the age of 6. Last year when they were 8 and 11, I tested their reading level and discovered they both read at a high school level.
The above ideas have worked for us. Please share your thoughts for encouraging a love of reading in your home.
Lisa (aka Morning Rose) has been teaching her two elementary-aged sons for four years and incorporating study, work, service, and play into their homeschooling days. She enjoys reading, writing, and photography and blogs publicly at Pockets of Time and privately at Scooter and B.