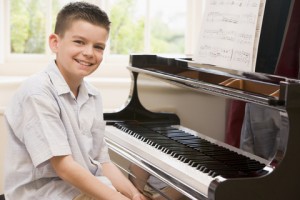 Over the last couple of weeks our 5-year-old son has been using the website FreePianoLessons4Kids.com trying out the free piano lessons. The website is very easy to use and all of the lessons are 100% free. These lessons are intended for beginning piano students and can also be used to supplement instruction if your child is already taking piano. The lessons start off from the very beginning, so if your child has already had some experience playing the piano, you can find where their skill level is and start them at the appropriate level.
Currently there are 50 free lessons listed at the website that are all watched in video segments. The segments are all around 10 minutes or less making it very manageable to schedule the time to get them done. Since our son has had no previous training, I started him from lesson 1. This lesson gave him the basic understanding of the piano keys, high and low notes, and he even learned his very first song: Hot Cross Buns. The lessons are very easy to understand and kept our 5-year-old son engaged the entire 2-weeks of evaluation.
In addition to the free online lessons, optional supplemental materials are available that you can purchase.
Here is an example of the materials you can purchase for $14 for lessons 1-20:
* Complete Materials for Lessons 1-20 (36 pgs)
* Piano Listening Album (33 tracks .mp3 files)
* Parent's Guide (5 pgs)
Although these materials are optional, I would recommend that you consider buying them to help reinforce and give depth to the online lesson. I have a background in music but still liked having these materials to reference and reinforce the skills my son learned through this course.
As per the instructor's advice, we did three lessons a week in 5-15 minute increments. In addition we had practice time 2-3 days a week ranging from 10-20 minutes depending on my son's interest level and what concept he was learning at the time. I found that this was an acceptable amount of time for our young son.
The best part about this free online resource is the simple fact that you can schedule it virtually anytime and anywhere you have an internet connection. I think this is a great option for parents who are not able to get lessons for their children with an actual physical teacher. This program is a very economical option for homeschooling families who desire to give their children a music education but are not able to commit to piano lessons at this time. If your child is showing an interest in piano, I would recommend giving the program a try. After all, it's free.
FreePianoLessons4Kids.com is generously giving 10 free copies of the Materials for Lessons 1-20, with the Listening Album (this sells for $14 on the website). To enter this giveaway, simply leave a comment here on this post. If you are reading this on Facebook, please visit our website. The giveaway will be open until Monday April 16, 2012 at 10:00pm eastern.
UPDATE: Congrats to our 10 winners!  All winners been notified by email.
1) Brandy
2) Dawn
3) Britney
4) Sandy
5) Valerie
6) Craig
7) Stephanie
8) Janeira
9) Jennifer
10) Catie
Carlie has been blissfully married to the love of her life, Michael, since June of 2000. She has been a stay-at-home homeschoolin' mama to their 3 children since 2001. Carlie currently resides with her family in Germany courtesy of the US Army. You can read about her homeschooling adventures and Christian faith at her blog: So You Call Yourself A Homeschooler?
Carlie received this item complimentary in exchange for an honest review but the opinions in this review is all hers.