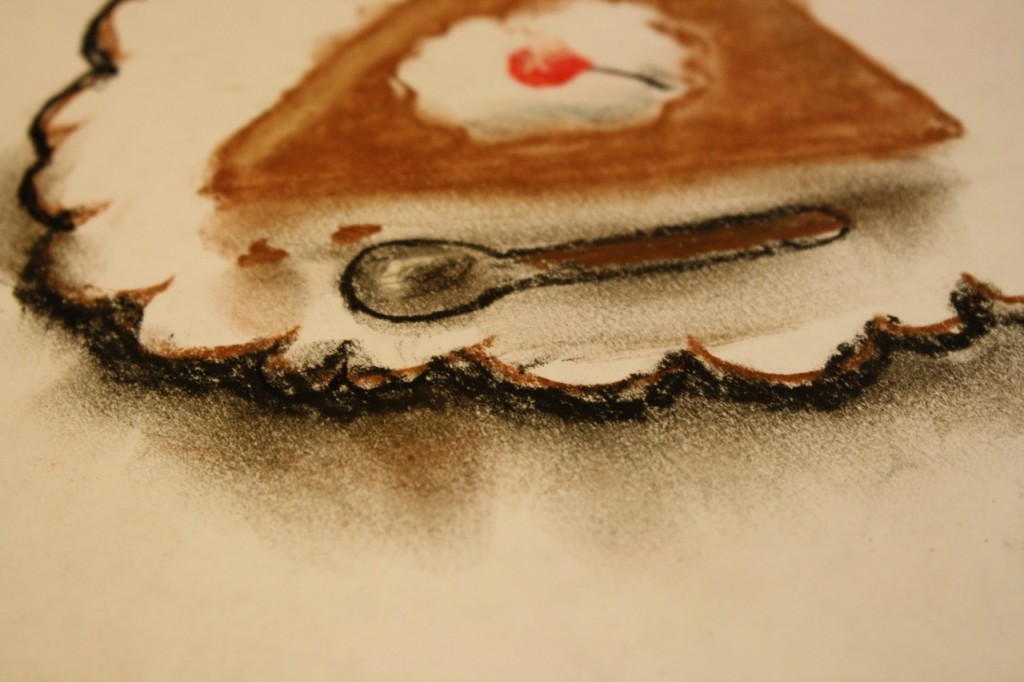 Are you ready to whip up a fudge pie? Well, guess what? Today, you can either stir up a pie on your paper or use the recipe below to bake one in your oven – or both!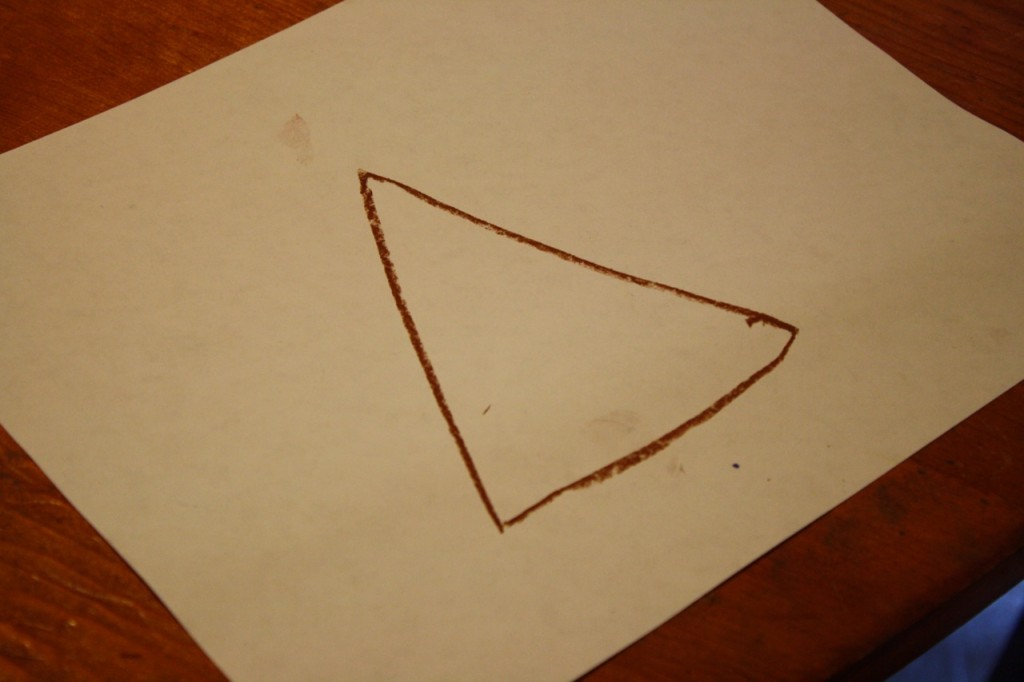 First, let's make a fudge pie with chalk pastels. If you've never used this medium before, scroll down for more details on supplies. For this pie pastel, you will only need brown, black, red and white pastel sticks. When you are ready, get your brown and draw a triangle. Then turn your paper around, upside down and now you have a piece of pie! Next, let's make it delicious…
In the center of your piece of pie, draw a fluffy circle of whipped cream. Then, use your red pastel and draw a cherry with a stem – right in the middle of your puff of whipped cream. Add a small, black stem to your cherry.
When looking at your cherry, remember where your light source originates. You will want to draw a spot of light on your cherry with your white pastel stick. Next, take your brown stick, being careful not to get 'fudge' on your whipped cream, and fill in your chocolate pie.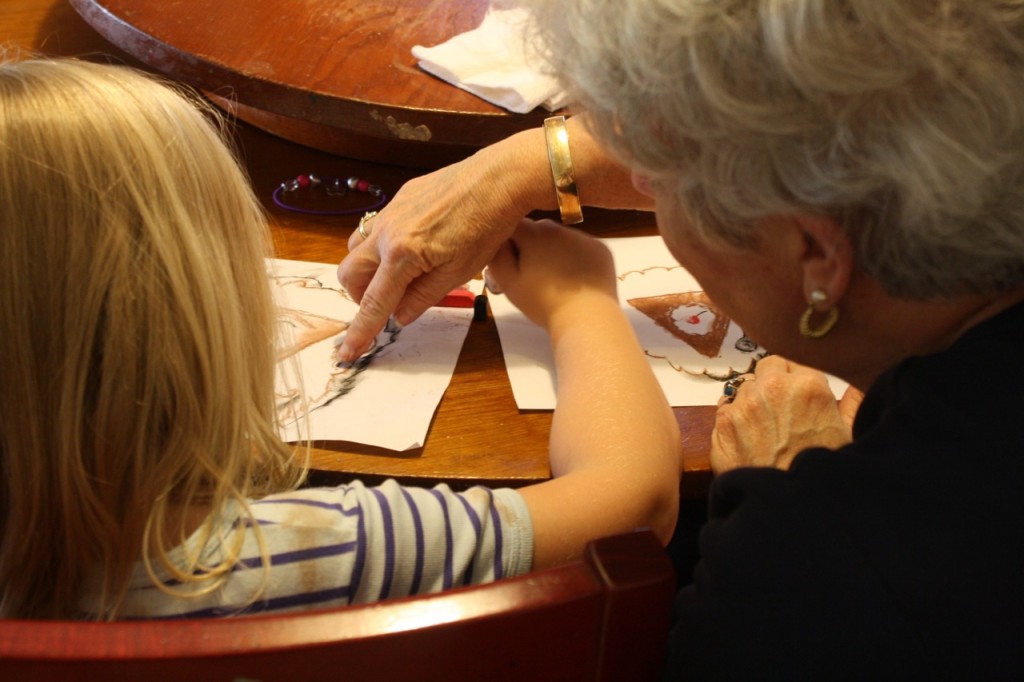 Take your finger and fill in any of the edges you've missed.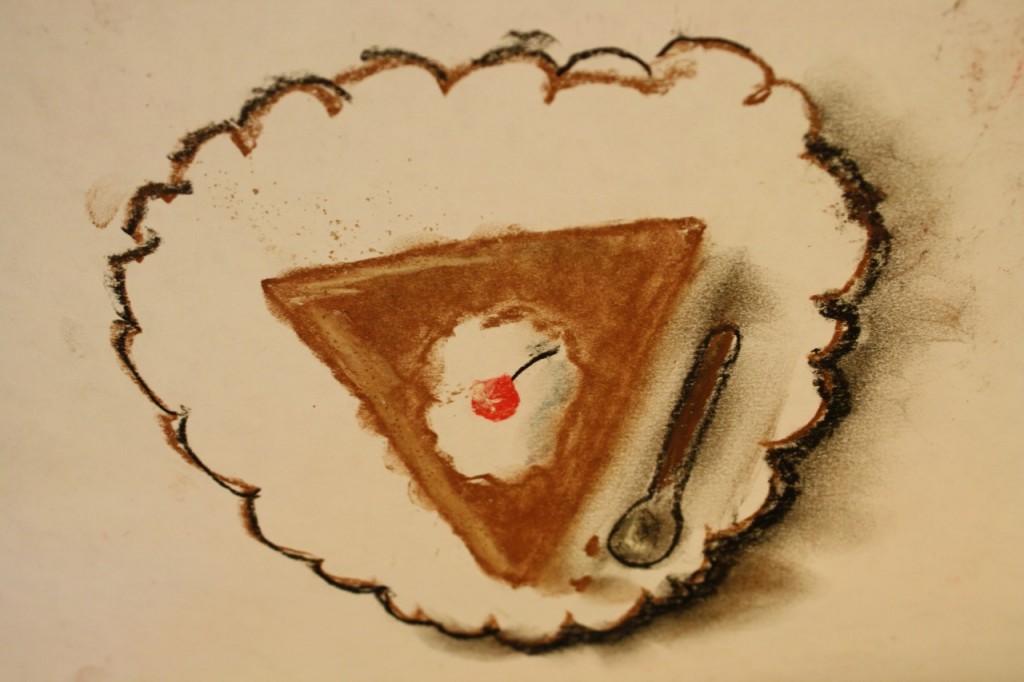 Now you have to put the pie onto to something for serving, so make a plate with your brown pastel. Our plate was scalloped but feel free to make yours round or square. Go back and outline the plate in black. If you are looking at the pie, the light source is coming from the left. To make the shadow, on the right hand side, take your finger and smudge the black just a little bit.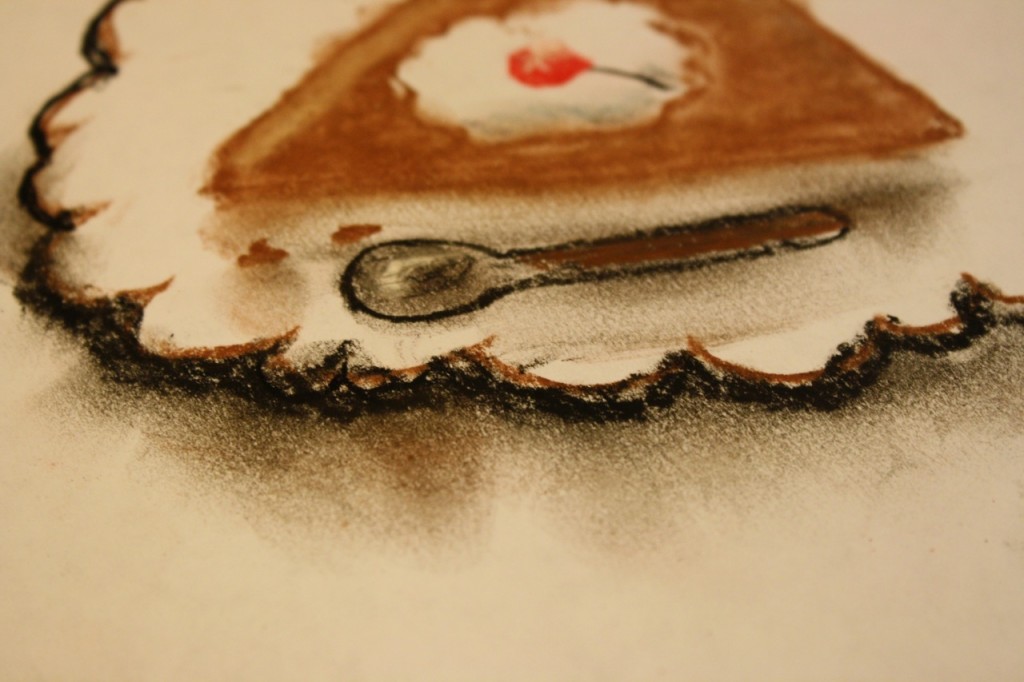 You may choose to eat your pie with a spoon or a fork. Just draw a simple shape. Shadow your utensil just like you did your plate.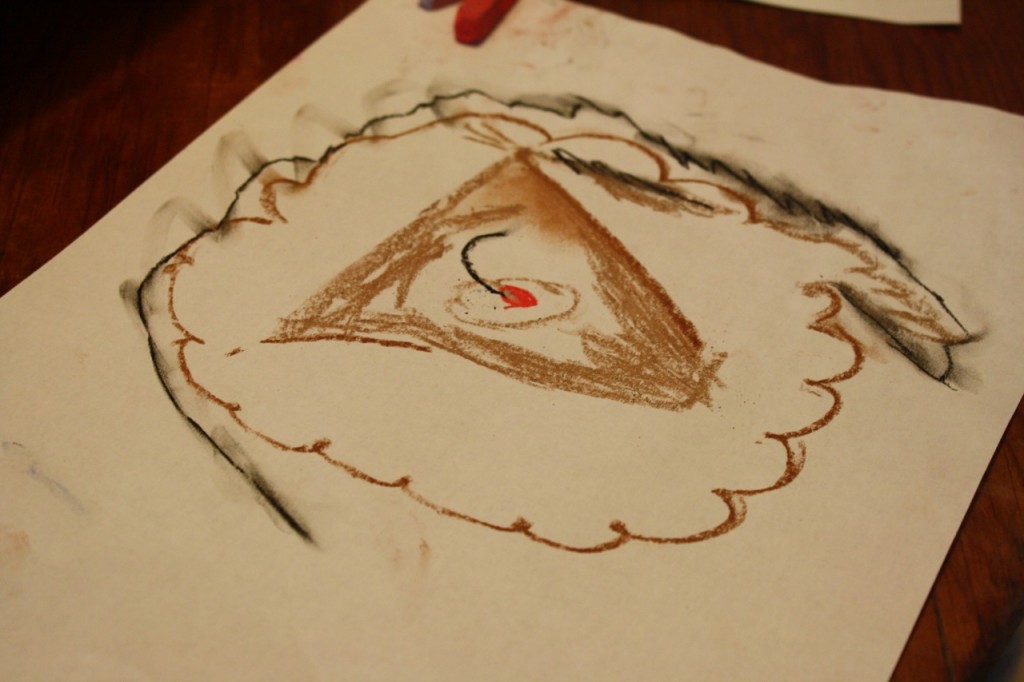 Five-year-old's fudge pie pastel
Make your spoon or fork a nice silver color by lightly coloring your utensil with black then gently smudging. Finally, reflect the brown of the pie in your fork or spoon. Be sure to pick a color and sign your name in a lower corner of your paper. Yum!
Want a bite?
A note on chalk pastels: Pastels are an easy, forgiving medium. Fun for children and adults alike! Details on the pastels and paper we use, how and where to purchase, and links to all of Nana's free pastel lessons (over 30 tutorials now!) are all contained in the post Pastels plus links to tutorials. A simple set is very affordable.
The practical aspects of a mess: Pastels are blessedly messy. We always have baby wipes close by to wipe hands. We wear something we don't mind getting stained or don a smock.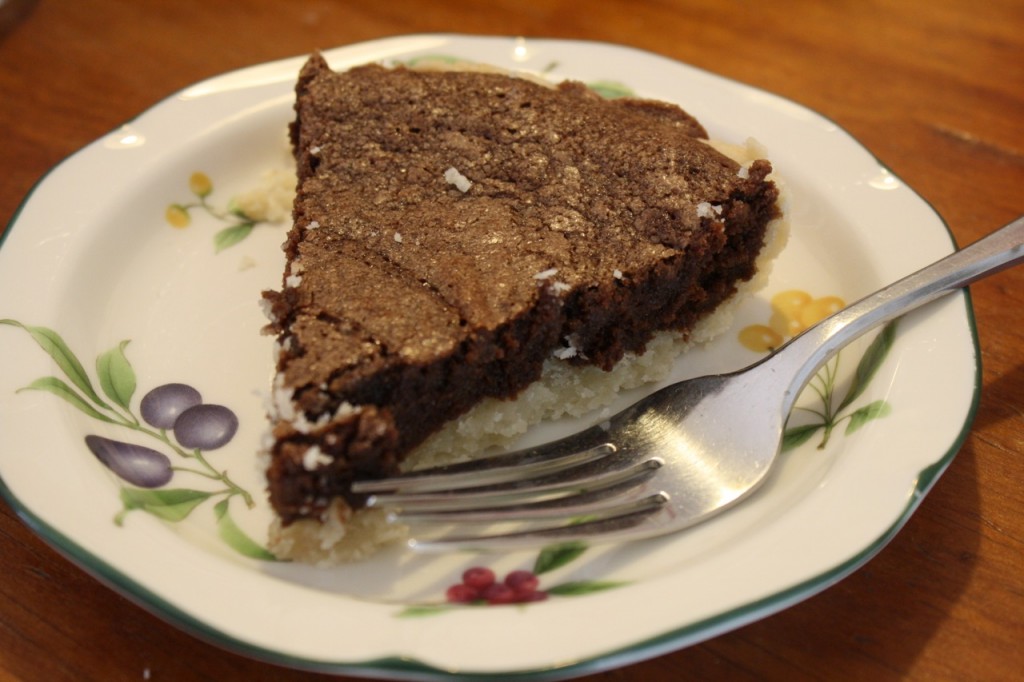 Next, celebrate your creation by making a real fudge pie you can truly taste!
Easy. Few ingredients and usually those you have on hand. Sure to satisfy any chocolate craving.
Fudge Pie Recipe

4 Tbsp unsweetened cocoa
4 Tbsp flour
1 cup sugar
1. Sift above ingredients together.
2. Add:  2 eggs, 1 tsp vanilla, 1/2 cup melted butter
3. Pour into unbaked pie shell. Or make your own – mix in the pan pie crust recipe. Cook at 375 degrees for 25 minutes.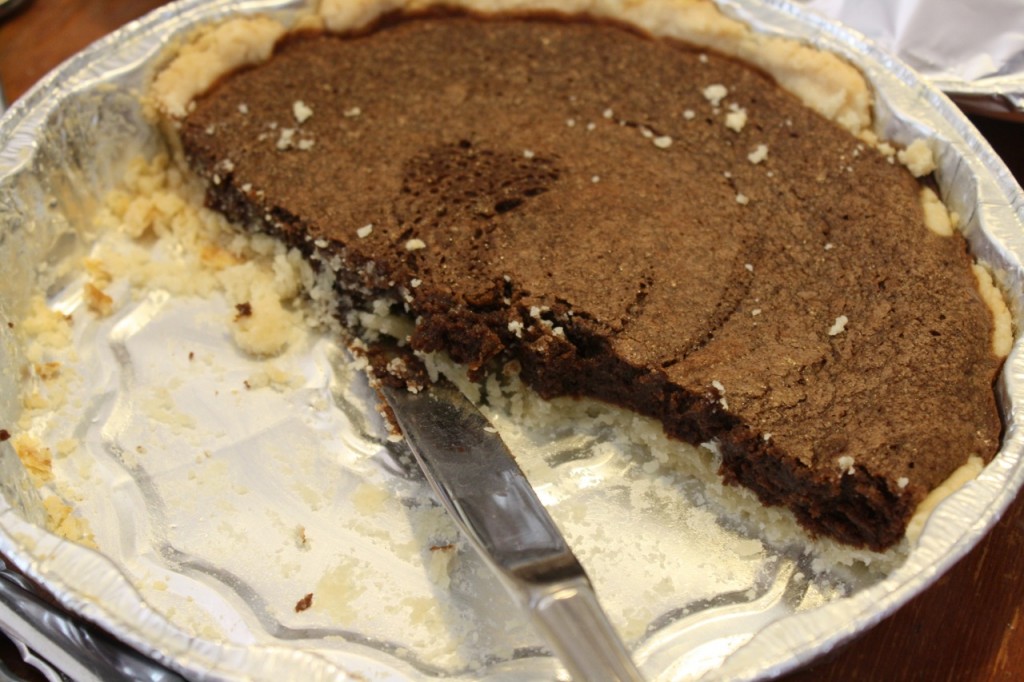 Then enjoy! It won't stick around long. But your pastel picture can grace your fridge for as long as you like.
Tricia gave up life in the drive thru lane for the joy-filled road home. She homeschools five children from preschool to middle school. You can find her facing that daily dose of chaos at Hodgepodge. There she writes about practical schooling strategies and shares how she is saving bucks and her sanity with the frugal recipes of her Southern roots. Tricia is also known as Hodgepodgemom.