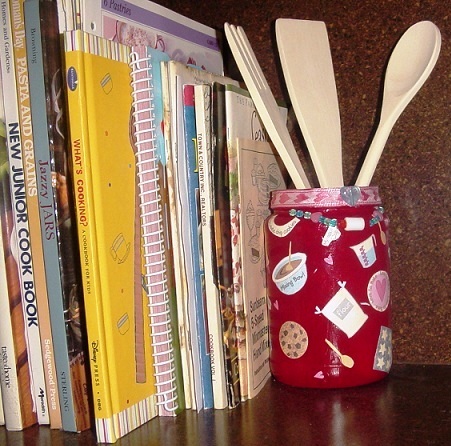 Glass jars can easily be turned into an inexpensive Christmas gift. I like to use the 8 oz pickle jars, as long as you wash it well, the smell will go away. I usually just rinse it and turn it over in the drain board to dry and have never had a problem. If you are using it to put food items in I suggest putting through the dish washer or soaking well with water and dish soap.
The great thing about gift jars is that there is so much you can do with them. One Christmas, finances were really bad and I made a variety of gift jars for my family. For my niece and nephews I took their interests and decorated the jars with images I retrieved from Google. I cut them out and used Modge Podge to put them on the jar. I did paint some of the jars with acrylic paints and others I left, depending on the theme. I found a recipe on line for homemade hot chocolate mix that cost very little to make and was easy. I put that in the jar with some festive plastic wrap on the top, tied it with holiday ribbon, and stuck a candy cane in the ribbon. I figured once the contents were gone they could use them to hold pencils and pens on their desks at home.
I also made my pastor's wife a jar. She loves snowman and I happen to have some glitter Modge Podge, so all I needed were some snowman images. I purchased those at Hobby Lobby. For the snowman I used white acrylic paint, placed the stickers around the jar and then with a paint brush applied the glitter Modge Podge. To tell you the truth I do not remember what I put inside of hers, but you can put potpourri or even candy.
Here are the items I like to keep on hand for this craft: stickers and scrapbooking paper for images, gloss Modge Podge, various colors of acrylics, different size paint brushes, tissue paper, ribbon and embellishments. For embellishments I have used beads, scrapbooking items and little Christmas ornaments. I use a hot glue gun to put on the ribbon around the rim, which you can leave plain if you want. You may also want to use the glue gun to attach beads or other embellishments. While I love tacky glue I have not been able to successfully use it with this craft. I have also used clear bead 'n stretch for adding embellishments like the one shown with the utensils in it. I also want to add that I have tried to use the self adhesive ribbon with this project but was not successful. With this is the type of craft you can really be creative and let your imagination fly as far as what you are using to decorate.
Be sure to plan out your theme before you start and be sure you have all materials on hand. If you have never used acrylic paints before beware that while they are water soluble and very forgiving to work with, they will stain materials. One of the nice things about acrylics is that they dry fast, so when you need to add a second coat, which you most likely will, you do not have to wait long. The Modge Podge is also water soluble and for this reason you should inform your recipients that they are strictly for decorations and cannot be washed. I recommend just dusting them off with a dry cloth.
I have saved the best gift jar for last, after receiving a Bali jar with potpourri and Christmas lights in it my daughter came up with this wonderful idea. When you plug in the lights it heats the potpourri and fills your room with a wonderful scent and no flames. You will need the following items for this project: pastel tissue paper, potpourri, Modge Podge, a paint brush and a strand of mini lights, I have used various counts such as 50 and 70 which work fine. You should also have a 24 oz jar, the ones from applesauce work best. Remove the label and any access paper and glue from the jar and wash.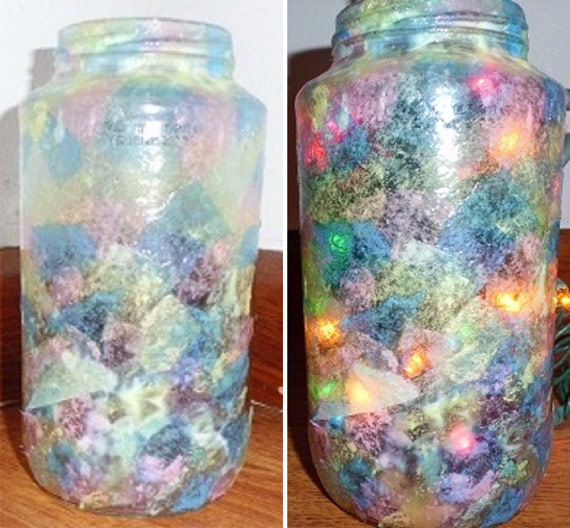 Once the jar is completely dry you are ready to begin.  First, choose which colors of tissue paper you will use. Tear off a piece of the tissue paper and using the Modge Podge adhere it to the jar. The more jagged and random the shapes the better.  Place some Modge Podge on the jar where you want to place the paper and than put a coat of Modge Podge over that continuing to add paper. Overlapping the pieces will give it a stain glass effect after you plug in the lights. This is why it is important to use only pastels for this project. Do this to the whole jar.  You can choose to do the rim or decorate it with ribbon or something else such as raffia. If you have any creases you have some options: try to straighten them out gently by using the paint brush or tooth pick, remove that area, or cover over it. In the past we have never had to remove an area. Once the jar is covered look over the jar carefully for any empty areas.
Now it is time to insert the string of lights and potpourris, and this is where things get kind of tricky. Make sure you have the lights on so you can see how it will look when you are done. Starting at the bottom of the jar put some potpourri into the jar and then put in some of the string of lights. You will need to continue with this process adjusting the lights and potpourri as you go along. Do not worry if you add to much just continue adding the lights and arranging them until you achieve the look you want. This is why the applesauce jar works best, it has a big enough opening to get your hand in. If you are unable to get your hand in, use the end of the paint brush or another item to aid in the arranging process.
I hope the images have helped you to understand this project, if you have any ideas for gift jars we would love for you to share them with our other readers.
Joyce Wheeler is the mother of three and has been homeschooling since 1997. She has one daughter, already graduated, a son she is homeschooling through high school, and the other is a junior high student. Currently she is re-organizing her nonprofit organization, Education Jump-Off. Her mission is to aid in the education of the world's greatest natural resource, the children, and "never stop learning" is her personal motto. A blogger and free lance writer you can find her at Homeschooling High School and Baton Rouge Homeschool Examiner.