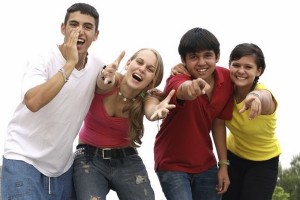 My son stood before me, rather unenthusiastically reading his report on Spotted Salamanders, and I was thinking to myself, 'What is up with this boy?' I would never have put so little effort into my report when I was a kid. I always worked harder than this. I would have died if I'd been forced to read something like this to my fellow classmates. And that's when it hit me–my son has no peer pressure.
Now I'll be the first to admit, most of the time, this is a good thing. There's all that bad peer pressure that we're all quite happy to avoid—stuff like drug use, swearing, exposure to a hyper-sexualized culture. There's even more stuff, like exposure to unrepentant cheating, the pressure to own more, have more, wear more, or even to just becoming cynical at such an early age. Most of it I'm relieved to do without.
But up till that moment, I hadn't realized there was also some good peer pressure. Some of the effort that I had put into my school work was due to a decided desire to avoid public embarrassment. My work was going to be shared with the class. And the desire to not look like a total idiot pushed me to efforts and heights of creativity I would never have attempted otherwise.
That's when it hit me. I can borrow the good peer pressure, while still staying at home and enjoying the many other benefits of our choice to homeschool. And that's just what I did. In fact, I found there were several easy ways to make this happen.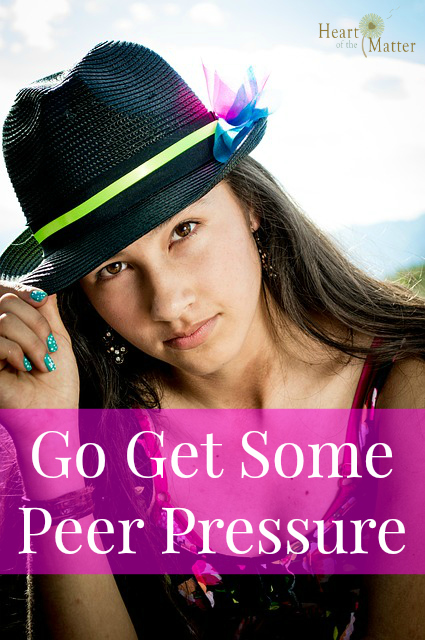 • Have a Presentation Night at your house. Mom, Dad and all the siblings sit on the couch, facing the staging area, making for a more formal presentation. Each child has to present something assigned by the teacher. This ups the ante of just standing in front of Mom and rattling off their report.
• Invite one or two other homeschooling families and create Group Presentation Night. All the children have a 2-3 minutes presentation to give. Now they are sharing their efforts outside the protective family circle. Choose dates of maybe 3 or 4 times a year, and your kids have got that big circled date on the calendar to remind them that they should do their best.
• Put out a Family Newsletter every so often. Send it to grandparents, aunts, uncles, some friends, a couple of other homeschooling families. Here's the key: include a survey about the newsletter with a self-addressed-stamped-envelope. Not only will your children's work be read by others, those same others will be sending in feedback about what they liked and enjoyed. Also key: choose your mailing list carefully so that your children will be motivated, not overwhelmed by possible criticism.
I'm sure there are more possibilities. But whatever you choose, you can borrow the good peer pressure that encourages children to give that extra which shows others, and themselves, what their best looks likes. It also gives them practice at larger social settings. And best of all, it does it while never leaving behind the clear benefits of our educational method of choice—homeschooling.
Carol Barnier is a fresh, fun and popular conference speaker unlike any you've heard before. Her objective is to have the wit of Erma Bombeck crossed with the depth of C.S. Lewis, but admits that most days, she only achieves a solid Lucy Ricardo with a bit of Bob the Tomato. She is a frequent guest commentator on Focus on the Family's Weekend Magazine broadcast, has been a guest on many radio programs and is a speaker to conferences nationwide. She's the author of three books about dealing with (or possessing) a non-linear mind in a linear world: How to Get Your Child Off the Refrigerator and On To Learning, If I'm Diapering a Watermelon, Then Where'd I Leave the Baby?, and The Big WHAT NOW Book of Learning Styles. Her main websites are CarolBarnier.com and SizzleBop.com. You can also find Carol at her blog for moms with distractible kids at SizzleBop. And for fun, see her church humor blog at CarolBarnier.