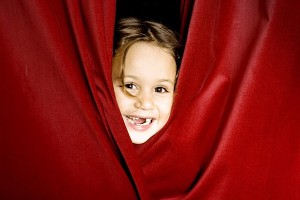 We are starting our last unit study of the year this week. While we're moving through some early American History, I'm also working though my usual checklists to make sure we've covered our subjects, filled in all the gaps, completed what matters and have something to show for it all. Rather than go to a pinning website for new ideas, I'm digging in the archives of my memory to resurrect some fun, classic, tried-and-true projects to end the year with. Spice up the end of your school year with some of these old-school ideas.
1. The Shoebox Diorama. Really — every child needs to make 1 or 5 of these. Whether you re-create the setting of your read-aloud, create a science habitat, or illustrate a particular time in history, just pull out a shoebox and let the kids create a miniature world.
2. The Play. Take a deep breath and just let your little extroverts do it. They can recite a poem in character, act out a scene from a novel, re-enact a battle, or demonstrate the circulation of the blood. Let them into your closet, the craft cupboard, and the recycle bin to create their props and costumes. Yes, it's chaos but another year will soon be over and you still won't have at least tried this.
3. The Cardboard Tube T.V. I remember making these in Sunday School as a very young child. There is an Instructables.com tutorial here for a small version of what I remember. In essence, take your own roll of butcher paper and find a box slightly wider than that. From the side of the box, cut out a square about 12 x 12 or so to create your big screen. Use some paper towel or wrapping paper tubes for the rollers and spear them through the box above and below your screen hole. Roll out the paper and let your kids draw scenes from the life of Abraham Lincoln, make up their own illustrated story, or create their own "how-to" instructable slide show.
4. The Travel Brochure. Everything we study has a setting. Finding out more about it can be interesting but you really learn it when you try to sell it to someone else. Have the kids make a tri-fold travel brochure about any location (it's okay to start dreaming about summer vacation) and market it so that people will want to visit. Do it all by hand or let your kids use computer software.
5. The Salt Dough Map. You knew this was coming, right? The recipe is 2 cups of flour, 1 cup of salt, and about ¾ cups of water. Craft it into any terrain you like such as a state, country, or deep-sea trench. But if you don't want to re-create the Rocky Mountains know that salt dough also makes nice wreaths, ornaments, beads, crowns, or can be the flat base for a bean mosaic. Let air dry, paint if you desire, and coat with varnish if you want it to last.
6. The Video Show. When I was a child, we used tape recorders with background sound effects to give oral book reports. When I was in high school we wandered the halls interviewing fellow students with super 8 mm film cameras. In the digital world, this kind of techie project becomes even easier. You can design any kind of show you like. My kids have enjoyed making our own old-school "Reading Rainbow" shows. They read a book aloud while filming each page, go in a field trip, do read-alike book reviews on camera, and demonstrate related experiments. My son edits everything together on Windows Movie Maker but you may have other software that will work as well.
7. The Diary of a Character. If they're learning about a specific person it's fun to walk a bit in their shoes. While acting as a historical or fictional person the kids can write about how they'd change the course of events, have a different conversation, or pursue a missed opportunity. What made this even more fun was
to make our own paper-bag journals and burn the edges to make them look old.
8. The Sugar Cookie Anything. The sugar cookie can become the medium for learning just about anything provided you have the right cookie cutters. You can practice numbers, letters, spelling words, and times tables. Put the cookies on a lollipop stick and decorate them into puppets. Construct the Sears Tower, Scarlett O'Hara's Tara, or your neighborhood. Cover cookies in fondant and paint or stamp on them with edible ink. Color the dough to learn the order of the rainbow, the magnitude of stars, or the parts of a flame. Don't think of it as a cookie. Think of it as a canvas.
You can search any of these ideas on the Internet to get some visuals and even video instructions. These are meant to be open-ended, creative, kinesthetic experiences that everyone can be involved in and personalize to their own tastes. And these are just the tip of the iceberg. Next, month I'll have seven more projects you can add to Old-School Projects list. As you begin to remember your own favorites from when you were a child be sure to share them with your children. When they see your excitement bubbling up, they'll get excited too.

Debra Anderson has three sons ages 11 and younger. Her passions are education, mentoring, her husband, writing, church ministry and missional living — not in that order. She has her seminary Masters degree in Christian Education, is married to her pastor-husband of 16 years, and resides in their newish home in Denver, CO. In spite of moves between four different states, she has always home educated her boys — even on the hard days. She maintains a blog at www.emergent-homeschool.blogspot.com.