Copying the work of masters was once the main way that artists learned their craft. In your own homeschool, making reproductions of famous works of art is a great way to add a hands-on component to your artist study while you learn some drawing or painting skills alongside.
Why should you make your own reproduction of a piece of art? I can think of two main reasons:
To practice drawing
To practice careful observation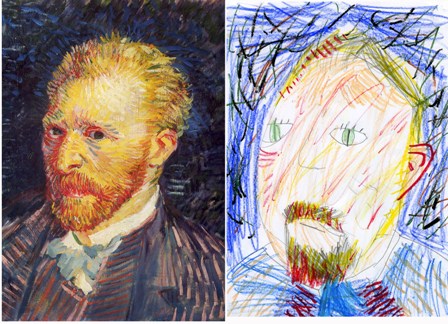 To look at a painting in a museum or in a book and appreciate it is one level of observation. To narrate it back in words is a deeper level. But to duplicate it requires a much more sustained level of concentration. After you've copied your own version of Van Gogh's Sunflowers, you will forevermore recognize that painting. It almost becomes your own work since you've spent so much time interacting with it.
There are several different ways to reproduce a famous painting. Choose what best fits your children's patience level, personal interests, and your time constraints.
Tip – make your paper the same size or at least the same proportions as the painting you are reproducing. This similarity will help you get your proportions right on the page.
After you've chosen your method, you'll want to plan a bit. Study your painting and chose what should be drawn first (the main subject) and then later (the background and props). Study the proportions and the layout on the page. If you don't use the gridded framework method, at least make a vertical and horizontal halfway mark on your paper as a guide.  By all means use pencils and have plenty of quality erasers on hand for revising your sketch.
Allow plenty of time for the project, stretched over several days. And make sure your children understand upfront that you're not expecting the reproduction to be completed in 15 minutes. When someone gets frustrated, it's time to stop. Put it aside for another day. But on the other hand, if your child is really enjoying the creative process, by all means don't stop her mid-stream. Allow as much time as needed or desired each day until the project is complete.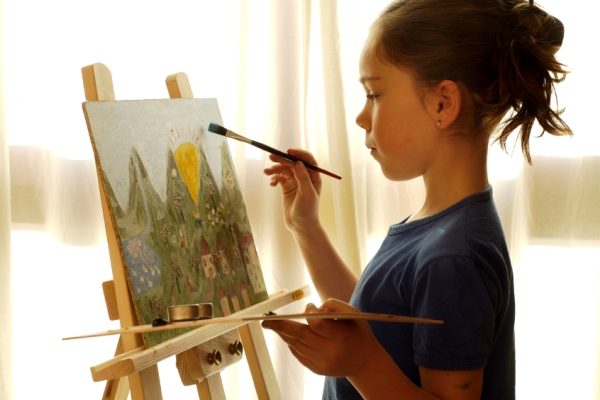 Professional artist create in this way, working on a project over days or even over months. You can also make comparisons to the writing process of drafting, editing, and revising before publishing. Making your own reproduction gives you the chance to explode the myth that masterpieces are instantly created in their perfection. Here is a perfect chance to talk about perseverance with your children.
Fill in your sketch with the medium of your choice – colored pencils, oil pastels, or paints. I enjoy using watercolor pencils because they are so easy to control. Simply brushing on water can mix the colors and fill in the shapes nicely. At this stage, encourage your children to match the colors as precisely as they can. To do this well, you'll need some quality art materials that allow blending colors.
What if your child truly despises drawing or coloring? There actually is another option. You can physically reproduce the painting. This works especially well for portraits of people. Have your child dress in clothes similar to the painting and pose in the same position with similar props. Take a few photographs, trying to get as close to the original as you can.  Look at these examples — Seurat's SundayAfternoon on the Island of La Grande Jatte and Picasso's Old Guitarist.  After your reproductions are complete, be sure to showcase them somewhere.
What have your experiences been with reproducing art? Was it a success or a disaster? Share your ideas in a comment; feel free to link to an art project post on your own blog.
Jimmie is a former public school teacher turned homeschooling stay-at-home-mom. A sense of humor, faith, and creativity keep her "pressing on" in her unique situation — living and traveling abroad with an only child in a bilingual environment. Visit her blog at Jimmie's Collage.