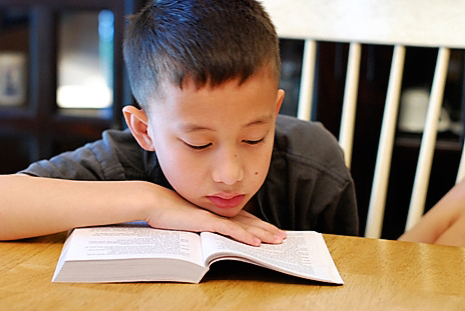 I've taken surveys of all my homeschooling friends, shrugged off the comments from ones whose children taught themselves to read at age three, and have persevered these last three years that we've been teaching our second child how to read.
If I hadn't successfully taught one child how to read, I probably would have flunked myself out of homeschooling by now, but with the encouragement of friends who have walked this road before me (and lived to tell about it) here's what I've been learning:
1.) Take everything to God in prayer.
Phonics lessons, readers, reading games – none of these are too small a care or concern for my heavenly Father. He created my son's brilliant math brain and knows which resources will help strengthen his reading skills.
2.) Variety is the spice of reading life.
With a child that easily gets discouraged when he realizes he's repeating the same phonics lessons that he has been working on for what seems like forever, variety throws some fun and change into the game plan. Check out books from the library on phonics games. We like ones by Scholastic like this one.
3.) Read aloud.
We're certain our reading challenged child loves the written word because he loves to be read to and will peruse books on his subject of interest for long periods of time.
4.) Get your child a library card.
As soon as he could finish a simple three letter word reader, the big excitement in our home was the trip to the library for a library card. Painstakingly our seven year old filled out the paperwork himself and was handed his yellow card. There was no mistaking the pride beaming from his face. He had earned that card!
5.) Finally, don't become weary in well-doing.
Have or find at least one supportive parent whose been in shoes similar to yours. Ask advice, pray it over, implement as needed. Sometimes just having a sounding wall to bounce thoughts off of is the greatest encouragement!
Now it's your turn! Do you have any great tips for me and my learning reader?

Hannah Hagarty is a relaxed homeschooling mama of five. Her and her family are big on the outdoors, big on family days, and big on making memories in everyday small ways. She loves handcrafts, iced lattes, re-arranging furniture and counts falling into bed exhausted a sign of a really great day. She and her husband make a home in upstate New York with their energetic children and a menagerie of animals. Hannah blogs at Cultivating Home.