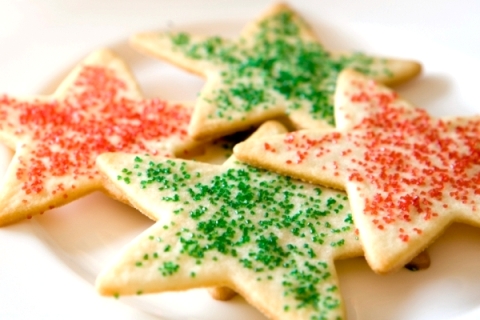 We love to host parties.  Hospitality ranks at the top of both my and my husband's spiritual gifts, and it's inevitable that we will host at least one holiday gathering every year of some sort.  Planning a party, preparing the food and decorations, and making guests feel welcome is a learned art, one that we can easily teach our children how to perfect.  We love to have our children help us in our party planning and preparation each year!  It gives them a sense of pride and helps refine their social skills.  (And nothing beats the pleasant, surprised smiles on guests' faces when our children greet them politely at the door!)
Over the past several years, I have compiled a fun list of holiday party themes and ideas that we've used in the past or hope to host one day in the future. Maybe these will help if you're wanting to throw some sort of Christmas celebration this year!  There's something here for everyone, every budget, every interest:
1. The quintessential ornament exchange party. These get a bad rap — but if it's well-planned, if everybody sticks to the price range suggestion, and there's lots of goodies provided, this can be fun. One way to make this seem less commonplace is to take out the "Dirty Santa" part — whichever ornament you open, you keep. It makes for a much more elegant (and less stressful) occasion.
2. The ornament crafting party. I hosted an ornament-making party the first Christmas we were married. Everyone brought clear glass ornament globes and a few other crafty knick-knacks, and we provided all of the other fixings. Sure, these weren't stellar and ready for an all-state craft market when we were done with them, but these ornaments were perfect "starting out/newlywed" ornaments to help adorn our humble trees at the beginning.
3. The Christmas cookie exchange party. This is only a good idea if you are at a lack of sugary treats during the holidays — which for us is, well, never. You do end up with a few dozen mixed cookies, but many people I know just use them as serving platters for other holiday drop-ins they have planned. And don't forget to ask for your guests to bring copies of the recipes!
4. The cookie decorating party. This is a fun one for kids!  A messy one, so this one might be better for a warm winter afternoon so that you can have it outdoors.
5. The "It's a Wrap" party. Everyone brings their gifts still left to wrap (a week or two before Christmas Eve is a good time for this one) and wraps them together. At my most recent "It's a Wrap" party, we all chatted, nibbled on cookies and sipped peppermint hot cocoa, and even swapped wrapping embellishments.
6. The Christmas caroling party. Gather at someone's house at a certain time (dusk is best), then bundle up and go out to Christmas caroling to your unsuspecting neighbors (or a local nursing home). Return back for fun and food.
7. The Christmas music exchange party. This one focuses entirely on the music of the season. Bring some of your own music to throw into the party mix, plus your all-time favorite Christmas CD (or LP!), wrapped, for an exchange. How about throw in some Christmas-themed karaoke?
8. The Winter Wonderland dessert party. With this color-themed event, very dessert and finger food is white-ish in color…think meringue mushrooms, pecan sandies, petit-fours, white chocolate fondue, white hot chocolate, and eggnog. For more fun, ask everyone to come dressed in shades of white.
9. The 12 Days of Christmas party. This could go two ways. One option: You could find 11 other friends who'd be willing to host some sort of gathering every day for just that, the 12 days leading up to Christmas. OR you could host one party with all 12 guests invited responsible for bringing a food or other treat to share that corresponds to the lyrics of the popular song.
10. The old-fashioned Christmas party. Have assembly lines for stringing popcorn and cranberries onto garlands. Have a fresh pine bough pile and wreath forms for a historic wreath-making station…or cloves and oranges so everyone can make their own pomander to take home. Ask everyone to bring an ingredient to compile into a huge batch of spicy potpourri. Have historic Christmas favorite treats and even an old-fashioned piano sing-along to round out the evening.
11. The scrapbooking party. This one could be hosted before Christmas for those who like to construct the page layouts first — OR after the holidays (around New Year's) so that you can all scrap holiday memories before they get scattered!
12. The Christmas memories party. Get all nostalgic. Ask everyone to bring a dish/recipe that they fondly remember being a part of their childhood Christmas events. Also ask them to tote along a photograph or two of Christmas memories from their pasts, as well as a favorite childhood toy received on a Christmas of old.
13. The quick & easy recipe exchange. This one needs to be done pretty early in the season. Have a simple-themed food table (light hors d'ouvres or even a salad and soup bar). In an effort to help everybody out, ask everyone to bring along their favorite go-to recipes for quick & easy, no-fuss weeknight dinners. These can be filed away for those hectic weeks in December at our own houses.
14. The holiday movie marathon. This one might be a fun girls-only party! Send out invites with a voting ballot so everyone can pick (or submit) their top 2 or 3 holiday movies. Everyone arrives on movie night with snacks in hand, and the top movies are debuted.
15. The birthday party. Another great one for kids!  Make a birthday cake and decorate it for Jesus. A great teachable moment. His birthday should be celebrated just like (and more than) any other! This is a great way to take the focus off of "getting stuff."
16. The Christmas card addressing party. Much like the gift-wrapping party, this party holds to the belief that anything semi-tedious is more fun with friends.
17. The gingerbread house decorating party. You can all bring over candies to decorate one, big, collaborative gingerbread house, or everyone brings their own house (or kit) and shares supplies and decorations. Either way, this one is bound to be a sugar-driven fun fest for kids and adults alike!
-originally published December 6, 2010

Meg Wilson is a devoted wife to her husband, Ken, of 10 years, and mom and homeschooling teacher to her 5-year-old son and 3-year-old daughter. When she's not writing or creating something, Meg loves to cook for, host and entertain friends and family. She also enjoys reading, the outdoors, eclectic music, yoga, and studying history. You can read all about her adventures (and misadventures) at her blog, Muses of Megret and read her product reviews at Muse Reviews.