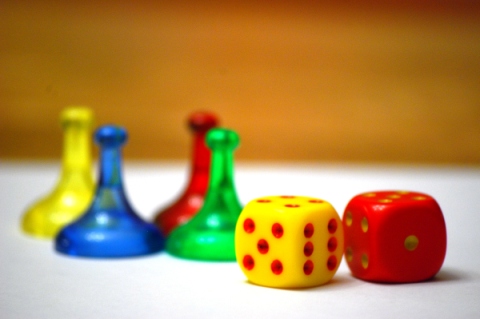 More than likely your home has quite a few board games. You may even have frequent family game nights.
But how about making your own homemade board games?
Your children can design the game , create it, and then play it! Here are some steps, but they are not linear. So expect to cycle through the steps back and forth as you work out the plan for your own personalized game.
Your first step is certainly to choose a topic for the theme of your board game.  Here are some ideas to get you started.
a read aloud novel
a period in history
a science unit
a grammar skill
a math concept
an artist or composer
See how sneaky this project is? Your children are reviewing academic subjects by creating a board game. You could be overt about it and suggest making a board game as a narration activity, an end of unit assignment, or a portfolio product. Or you could keep the secret to yourself and make a board game  "just for fun."
Next, work on your game board by making some sketches and drafts before you start work on quality cardstock.  Illustrate your game board to reflect the theme you've chosen. To give younger children help with the project (or simply to shorten the time needed for this activity), you can use a printable game board template and let them fill in the path to finish.
Sources for free online game board templates
The HomeSchool Hutt (Look for the  printable games section, and click on file folder games.)
Jefferson County Schools (Word templates)
The School Bell
ABC Teach's File Folder  Board Games
MSSS – Crafts and Resources for Bible Stories
ESL Lounge Board Games (Word templates)
The Teachers' Lounge
A Board Game Image (right click to save to your computer)
Your next step is to decide how you want to move the pieces. Will you draw cards, use a spinner or throw dice? Or maybe use a combination of these methods? Index cards cut in half make excellent cards for games. You could even make your own specialized dice or spinner.
Dice & Spinners
Crayola (basic die template)
Sparklebox (super sized die!)
SEN Teacher (fully customizable dice)
HomeSchool Hutt (spinners to print)
How to Create a Spinner (PDF)
Use small toys, coins, or beans as playing pieces. Or make your own with polymer clay.
Think about rules for the play of the game, and write them down. You can even use some directions from a store bought game to help you think of what to write. Consider using aspects of your favorite games.
go back to start or go to jail
drawing cards with special rewards or penalties
special places on the board that reward or penalize the player
speaking special words at certain times of the game (think UNO) to avoid a penalty
Play some trial runs to make sure that everything works. You are likely to encounter some situations that you didn't consider.  For example, can two players land on the same space? As you play, edit your rules for more detail. And then have the whole family come play your new creation!
Consider laminating your board game and storing it in a shirt box or a zippered bag. Oh, and take some photos and share your game on your blog. It's sure to inspire others to inject more creative, hands-on fun into each day.
Jimmie is a former public school teacher turned homeschooling stay-at-home-mom. A sense of humor, faith, and creativity keep her "pressing on" in her unique situation — living and traveling abroad with an only child in a bilingual environment. Visit her blog at Jimmie's Collage.