There are many traditions and customs with each holiday and Easter is no different. For some Easter represents the resurrection of Jesus Christ and His promises of eternal life for all who believe in Him. For some it is characterized by the new life that emerges each spring after a long winter.  For some Easter means coloring eggs and egg hunts. In the midst of all of the different traditions, customs, and celebrations associated with Easter, it often means a brand new outfit to wear on Easter Sunday. For many ladies, the highlight of the Easter outfit is the notorious Easter bonnet!
Throughout history, an Easter bonnet has often been looked upon as a luxury and ladies often purchased brand new hats each year just for the Easter Sunday church service! However, with a few household items you and your daughter can easily make a very inexpensive Easter hat that is sure to be a show-stopper! Here is my daughter's homemade Easter bonnet from last year…made from a paper plate and bowl!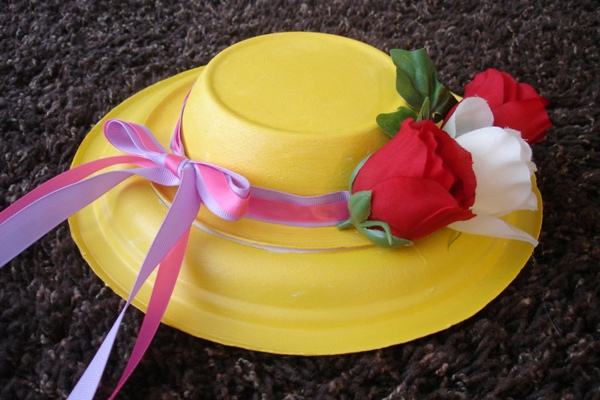 Supplies Needed:
sturdy paper plate
sturdy paper bowl
paint
ribbon
silk flowers
glue
Instructions: Turn the plate and bowl upside down. Place the bowl on top of the plate and trace around the circle. Cut about an inch or so inside the circle in order to make the hat is wearable!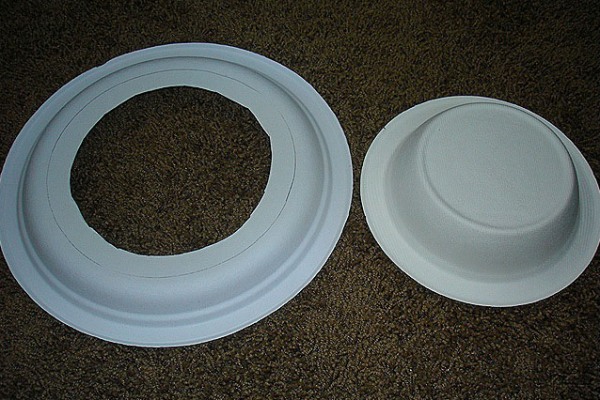 Next, glue the bowl onto the plate. For quick drying, use a glue gun. Once the glue is completely dry, paint the plate and bowl. We used a glossy, yellow acrylic paint. Allow the paint to dry completely.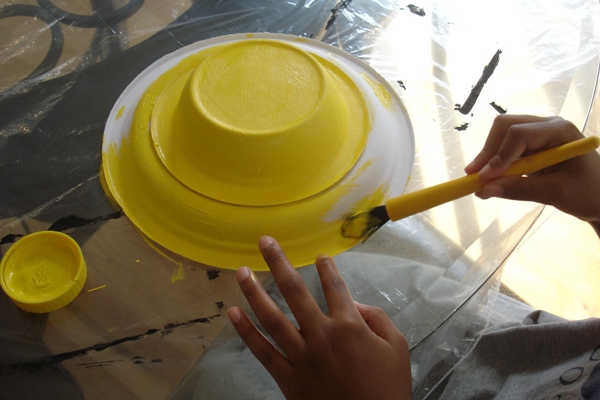 Finally, once the hat is dry, embellish it with silk flowers and ribbons. Use glue to hold the flowers and ribbons in place!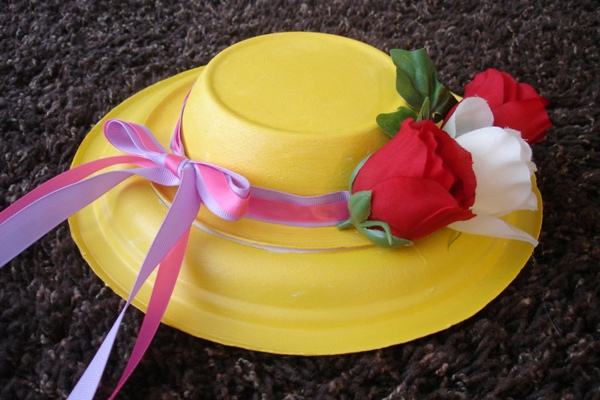 Now, enjoy wearing your homemade Easter bonnet!!!
Two fun books to go along with the homemade Easter bonnet craft are Queen of Easter and Miz Fannie Mae's Fine New Easter Hat. Both books are about a special surprise that each girl finds in Easter hats!

Jennifer is a happily married, Christian, homeschooling mama of five little ones (ages 7,5,5,3,3). Yes, two sets of twins! She has a BA degree in Mathematics and holds a masters degree in Education. A former high school math teacher, she now uses all her education to teach her own kids! In her "spare" time she enjoys scrap-booking, though blogging seems to be taking its place. She currently has five blogs. Mama Jenn is her main blog. Education Cubes features customizable learning blocks. The Homeschool Resource List is a collection of free online resources. The "Brown Like Me" Book Review showcases books featuring "brown" characters. The Living Math Book List is a collection of living math books.