Looking for a fun winter activity you can do with your family? Look no further! Today I'll be teaching you how to make homemade snowflakes!
Snowflakes are simply a form of crystalline water ice. They begin as snow crystals and come in a variety of sizes and shapes. As the flake falls through the cloud, tiny changes in temperature and humidity affect the way the water molecules attach to the snowflake. The variety of shapes form as the flake moves through the air. Have you heard that "no two snowflakes are alike"? That is because each flake grows independently and each side of each arm grows independently so they are not completely symmetric, this process of formation makes each one unique.
The largest ever recorded snowflake is listed in the Guinness World Book of Records. It was found in January 1887 at Fort Keogh, Montana and was said to measure 38 cm (15 inches) wide!
Ready to make your own?
The ingredients are simple: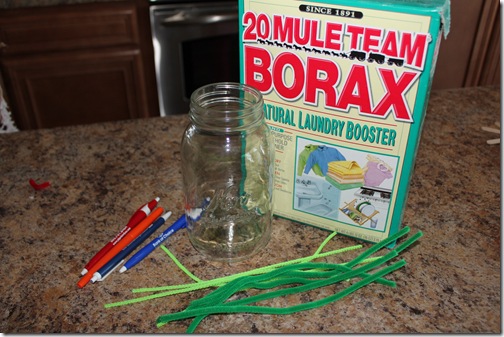 Borax (2 Tbsp per jar)
Pipe Cleaners (3 per snowflake, we used green, but I think white might have been a better choice!)
A pen or pencil to secure the snowflake while it's crystalizing
Boiling Water
Wide mouth glass jars
Scissors
Directions:
Step 1: Cut your pipe cleaner into 3rds. Lay one section horizontally on your workspace, then lay another one on top of it and twist it into a v shape around the horizontal piece. Lay your 3rd pipe cleaner section on top of that and create a v shape again only going the opposite direction of your first one so you have something similar to the below: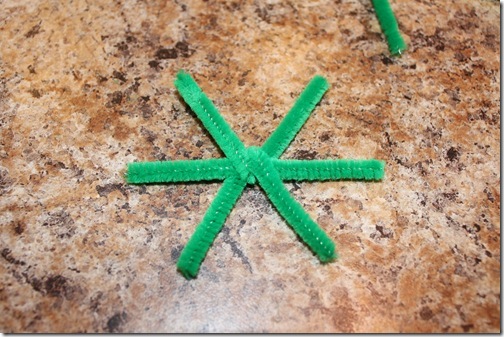 Step 2: Using your 2nd pipe cleaner tie it around the center of your flake, leaving a long tail, you will use this to secure your flake in the crystallization solution.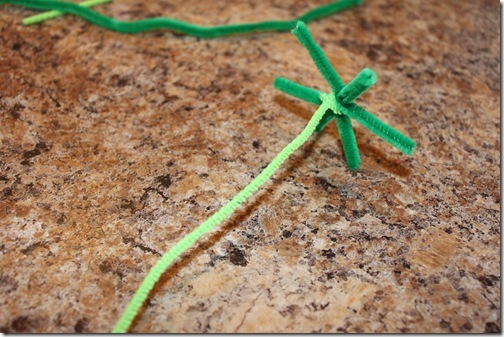 Step 3: Using the 3rd pipe cleaner, cut six 1.5 inch sections. Tie one around each tip to create your flake detailed edges.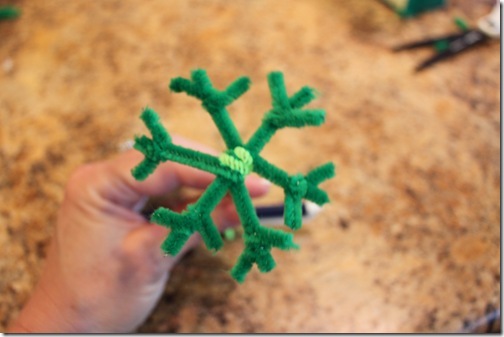 Step 4: Pour 2.5 Tablespoons of Borax per each cup of boiling water to each wide mouth jar. (I used about 2 cups of water per jar, so about 5 T of Borax.) Just make sure you have enough water to cover your snowflakes. Stir the solution until the borax is dissolved.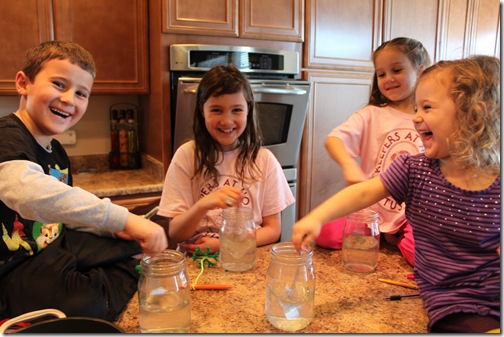 Step 5: Tie the end of your long pipe cleaner around a pen or pencil and gently place the snowflake end into the solution, making sure it is completely covered by liquid. Wait about an hour sometimes a little longer to see your crystals form on the pipe cleaners! (If crystals are not starting to form, you can add a little more Borax to your solution, just stir to make sure it dissolves.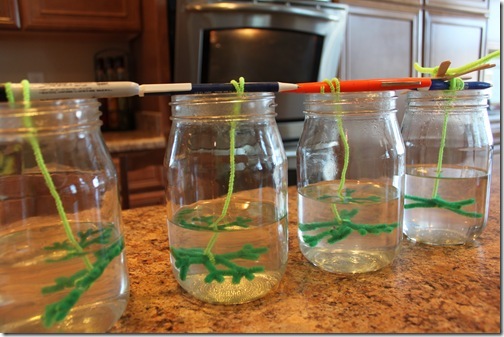 This flake was created using some twine and a white pipe cleaner: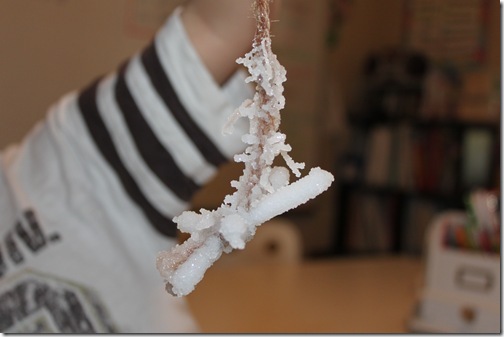 Erica is a Christian wife, a mom, and a homeschooler. She authors Confessions Of A Homeschooler that offers tons of printables, resources, ideas and homeschool curriculum. She likes to digi-scrap and dabbles in graphic design in her *free* time. Feel free to drop by for a visit anytime! www.confessionsofahomeschooler.com