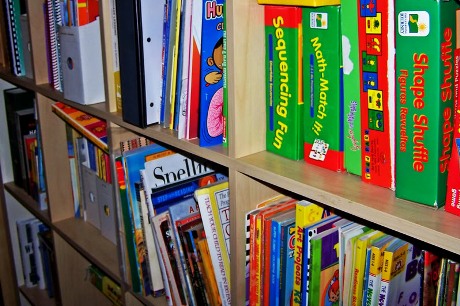 I'll admit it … I'm a curriculum junkie.
I love books, first of all. Give me words on a page and I'm a happy camper. Reading was always my ticket to escape as a child and I used it often, wishing for a kinder, gentler time than the one I found myself in and preferring the company of Meg and Jo, Mary and Laura, even Beauty and Blaze to my actual neighbors. I also love to teach, plus I love to research, plus I love to buy things (I know, I'm a woman—shocking, right?) All these factoids put together mean I can be in serious trouble come a new catalog or homeschool convention.
It also means my shelves are overflowing with products I've gleefully purchased and not so much used. My eyes are bigger than my dayplanner, if you know what I mean. And so it is that this summer, as I determined to declutter and simplify my family's life, the plan was that I'd go through my cabinets, find piles of curriculum I could give away or sell, and hurrah, I'd have empty cabinets perfect for holding all the things I actually needed to keep.
What actually happened was such a surprise to me that I knew I had to share it with you.
Ready?
Come in close.
Here goes: You might not need to buy much this year. And maybe not anything at all!
Did I say that in my outside voice? Yikes! But it's absolutely true. If you've been homeschooling for more than a couple of years, you might just have everything you need for the upcoming year already on your shelves.
That math curriculum you started and then put aside thinking something else would work better? It might be just right for your younger child. The grammar you put away three years ago when your older child finished it, and promptly forgot all about? Guess what? The next one is ready for it now! That set of Latin videos you bought and never got around to? They're in there. So are the games and puzzles and workbooks that looked so fun at the store, but have been squeezed out by various something elses ever since.
Your regular bookshelves may just hold plenty of treasure, too! Older children can try your Shakespeare, Aristotle, and Mary Shelley. Perhaps this is the year for home ec, and you could hand over your favorite cookbook, that gardening tome you haven't taken down in years, and the sewing machine gathering dust in the corner of your closet. Many craft projects can be found in magazines, and homeschool magazines specifically often offer many articles your children can learn from.
There's probably a library nearby, right? Talk about a find! If they don't have what you want, the chances are you can order it. And don't get me started on the internet! There are massive lists of free classic books available for e-readers—and if you don't have one of those, there are free online versions too!
Consider holding a curriculum night with some friends who homeschool. Many would love to loan you books they aren't currently using, or swap for something they need themselves.
The moral of the story? Let's get creative! Most of us are feeling the pinch of a difficult economic season. Why not look at the resources around you with new eyes? See if you, too, might be able to make do with what you have, borrow what you don't, and bless your family with a lower cost for this year's back-to-school season.
Here are some resources to help you in your quest:
http://www.homeschoolfreebieoftheday.com
http://www.freehomeschooldeals.com/free-homeschool-deals/
http://www.1plus1plus1equals1.net/
http://www.survivingthestores.com/how-to-homeschool-for-free
http://thehappyhousewife.com/homeschool/free-homeschool-resources/
Misty Krasawski is the overly-blessed mom of eight children whom she homeschools in sunshine-y Florida. She has been clinging tightly to the hand of her Lord since she was knee-high to a grasshopper, homeschooling for the past fifteen years, and has fifteen m

ore years of homeschooling ahead of her with the children who are glad she will have done most of her experimenting on those who went before. Her wonderful husband Rob has much treasure laid up for him in heaven for having been called to such a daunting task. She also is the author of Back to Homeschool, an ebook designed to help moms plan their homeschooling year; Community Director and a writer for MomHeart Online; hostess of an online mentoring program for moms called Titus 2 University, and a regular contributor to Home Educating Family Magazine. When the house goes to sleep, she can often be found blogging at www.encouragingbeautifulmotherhood.com.